Michael Vlahovich
Master Shipwright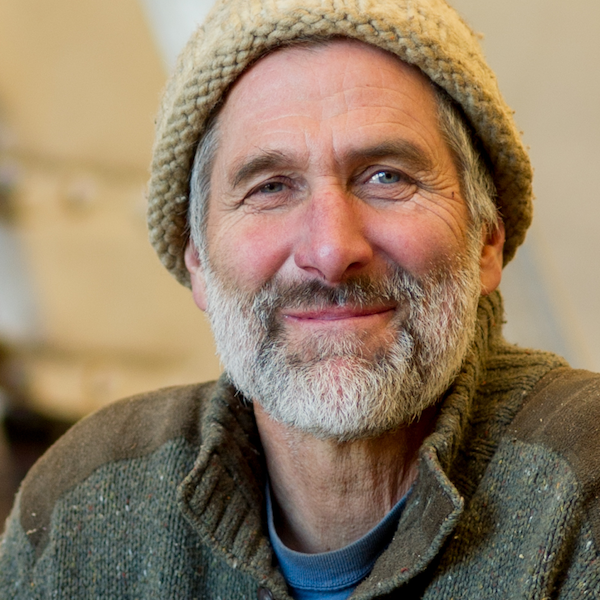 Bio
"When what you know as a master is your greatest treasure, it's kind of a matter of your inheritance. Who are you going to leave that with? And how do you leave a skill? Well, only through education and teaching. Yes, it can be documented: you can interview people, you can photograph people. But, really, if it's to stay alive, that treasure needs to be implanted in another human being."
Mike Vlahovich is a master shipwright and third-generation commercial fisherman who has dedicated his adult life to the preservation of the cultural, material, and environmental heritage of fisheries of the Northwest and the Chesapeake Bay.
Born in Tacoma, Washington, to Croatian immigrants, Vlahovich began fishing for salmon commercially at age 15. Following high school, he pursued a calling to the Roman Catholic priesthood, but after a year in the novitiate, he experienced an epiphany during a walking meditation within smelling distance of the kitchen: "I smelled the coffee. Well, immediately that aroma took me to the coffee you smell on the fishing boat. I mean, I was on the deck of the boats again. And it came to me: Wow! I have to be back with my people!" Shortly thereafter, Vlahovich was fishing the Pacific waters between Alaska and Mexico.
In the off-season, Vlahovich was taught by shipwrights back home on Tacoma's working waterfront. His inspiration and mentor was Joe Trumbly, a member of the Osage Nation, who himself had learned in the boat yards of Tacoma and Gig Harbor, most of which were run by members of the Yugoslavian-American community. Vlahovich served as shipwright and foreman in wooden boat yards in Bristol Bay, and Ketchikan, Alaska, before returning to Tacoma to settle down and raise a family of four children with his wife, Paula Clark.
In 1982, Vlahovich opened a boat shop in Tacoma, and by 1992 launched his heritage education efforts with the restoration and conversion of the Commencement, a 65-foot wooden purse seine salmon boat that now functions as a floating classroom. By 1999, his reputation as a master shipwright and as an advocate for the heritage of Northwestern fisheries earned him Washington's prestigious Governor's Heritage Award.
In 2001, Vlahovich was lured across the continent by the Chesapeake Bay Maritime Museum in St. Michaels, Maryland, and the Maryland Historical Trust to help sustain the region's iconic―but rapidly diminishing―fleet of sail-powered oyster-dredging boats known as skipjacks. "I didn't come here to build museum pieces," Vlahovich told the New York Times in 2002, instead focusing on "saving what matters:" the skills and the culture of shipwrights and seafood harvesters.
Vlahovich founded Coastal Heritage Alliance in 2003 with bi-coastal operations in Maryland and Washington. Coastal Heritage Alliance has trained over 120 apprentices (including minimum-security inmates) in shipbuilding. He and his daughter, Teresa, have trained Maryland watermen to serve as heritage tour guides to supplement their incomes and provide education to the public. Vlahovich has received numerous apprenticeship awards from Maryland Traditions, and has been a featured artist at the Smithsonian, Northwest, and Maryland Traditions Folklife Festivals. He has lectured throughout the Republic of Croatia as a guest of the Croatian-American Society in Zagreb.
Bio by Clifford R. Murphy, Director of Folk & Traditional Arts, NEA