Nellie Vera
Mundillo Master Weaver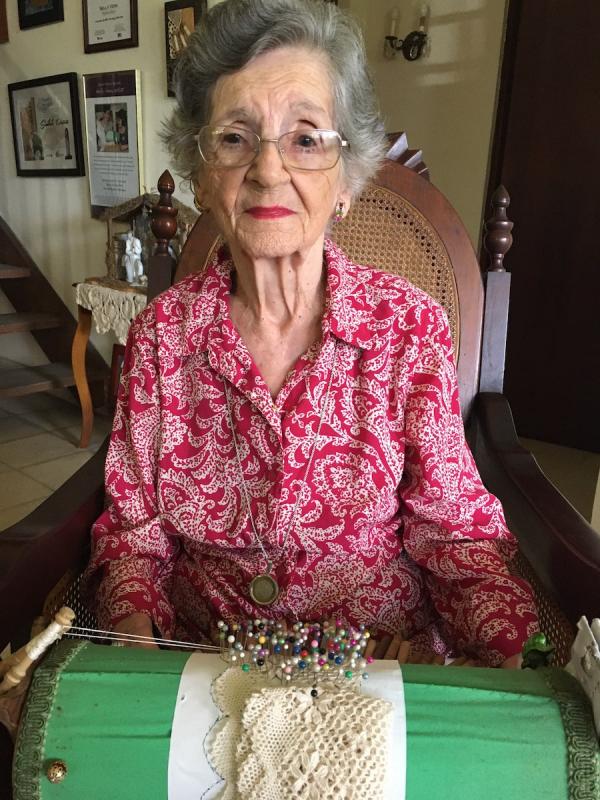 Bio
The soothing sound of the wooden bobbins meeting each other as they weave the mundillo lace have always been part of the life of Nellie Vera, known affectionately by everyone as Doña Nellie. Born in the town of Moca, known as the "Capital of Mundillo" in Puerto Rico, she learned this traditional art form from her mother, Manuela Sánchez, when she was seven years old. Mundillo is a handmade bobbin lace made in a lap box called a telar. It holds a rounded pillow with a pattern secured by pins that guide the process of maneuvering the threads holding the wooden bobbins. The lace is produced by the weaving of the wooden bobbins, which in turn make a harmonious click-clack melody.
That sound is what made Vera fall in love with mundillo as a child when she visited with her mother and other weavers in town. This was in the Puerto Rico of the 1930s, when mundillo was a strong labor force in Moca. Industrialization brought many foreign and cheaply made laces, which led to the decline of the mundillo art form. Along this time, she earned her bachelor's degree in education from the University of Puerto Rico and worked as a teacher. After retiring in 1980, she reunited with mundillo.
In 1982, she was one of the founding members of the Borinquen Lacers, a respected mundillo weavers collective affiliated with the International Old Lacers. She also presided for 20 years in the Taller de Artesanos Mocanos, a nonprofit that fostered the work of more than 300 artisans from the town of Moca, and, alongside other mundillo weavers, pushed for the creation of the Museo del Mundillo. On an island where most of the cultural institutions are established in the capital of San Juan, Vera was adamant that if a mundillo museum was going to be created, it had to be in Moca, where it is now established.
In 2000, her work received an honorific mention in the first edition of FERINART, the International Arts & Crafts Fair in Puerto Rico. Then in 2004, she was awarded a national recognition as a Master Artisan by the Puerto Rican Artisanal Development Program under what is now the Department of Economic Development and Commerce. In 2009, she received the Artisanal Excellence Award from the Institute of Puerto Rican Culture. In 2012, Vera was recognized as an Outstanding Artisan by the Puerto Rican Artisanal Development Program and in 2014, as National Symbol. Then in 2015, she was inducted into the Artisan Hall of Fame of Puerto Rico. She has also been lecturer in the Incarnate Word College of Texas (1995) and in The Field Museum de Chicago (2006).
After dedicating more than 40 years to the art of mundillo, Vera not only still finds the essence of nature in its intricate designs, but also describes it as her way of life.  
By Jessabet Vivas-Capó, Program Advisor and Interim Director of the Folk Arts and Creative Industries Program, Instituto de Cultura Puertorriqueña