Ofelia Esparza
Chicana altarista (Day of the Dead altar maker)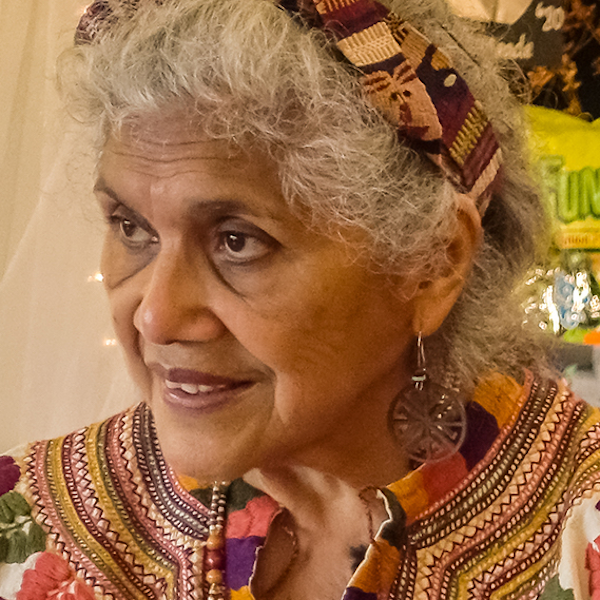 Bio
Ofelia Esparza is a Mexican-American altar maker, or Chicana altarista, whose work is informed by a deep spiritual belief in the traditional process, which pays homage and evokes memory of people, events, or places through multilevel structures embellished with photos, traditional foods, flowers, and handmade and found adornments. For nearly 40 years, Esparza has shared her knowledge and art about el Día de Los Muertos (Day of the Dead) with people in schools, museums, community centers, prisons, and parks throughout the Los Angeles region and beyond.
Esparza was born in 1932 in East Los Angeles, where she has lived her whole life. The cultural practice of altar making in Chicano communities extends from devotional home altars for Catholic saints to the spiritual activities around el Día de los Muertos, which come from Mexico. Day of the Dead is an indigenous tradition that occurs on All Souls Day, where families build altars to remember ancestors and deceased loved ones. Mexican traditions such as altar making were shared within Esparza's own family, specifically by her mother and great-grandmother, and she in turn passed them along to her own nine children, who continue to develop their own talents within the custom of altar making.
Esparza went back to school in her early 40s to become a teacher and taught elementary school for 30 years. She infused her curriculum with Mexican art and culture, teaching folklórico dance to the students and staff, introducing cultural practices and celebrations such as the Day of the Dead, and conducting multicultural training for district teachers.
In 1979, Esparza created one of the first large-scale public altars in the U.S. at Los Angeles's Self Help Graphics. She has also created a large body of work in printmaking and visual arts, informing her altar-making process, from designing and painting the structure that supports the assembled items to making paper flowers and other adornments.
Esparza's altars—which range from personal ofrendas, or offerings, to assemblages that address larger issues facing the Chicano community—have been exhibited widely, including at the Los Angeles County Museum of Art, the Japanese American National Museum, the National Museum of Mexican Art, and internationally at the first Day of the Dead exhibit in Glasgow, Scotland. In 2018, she installed a monumental permanent altar in the Los Angeles County Museum of Natural History.
She has received many recognitions, including the Art Legend Award from Watts 3rd World Art Festival, Pueblo de Los Angeles People's Choice Awards, and grants from the Alliance for California Traditional Arts and the California Arts Council. Recently she worked as a cultural consultant on the film Coco.
She is currently an artist fellow with the Alliance for California Traditional Art, giving altar-making workshops in the Building Healthy Communities Boyle Heights initiative and at the State Correctional Institution for Women.
By Amy Kitchener and Russell Rodríguez, Alliance for California Traditional Arts