Phil Wiggins
Acoustic Blues Harmonica Player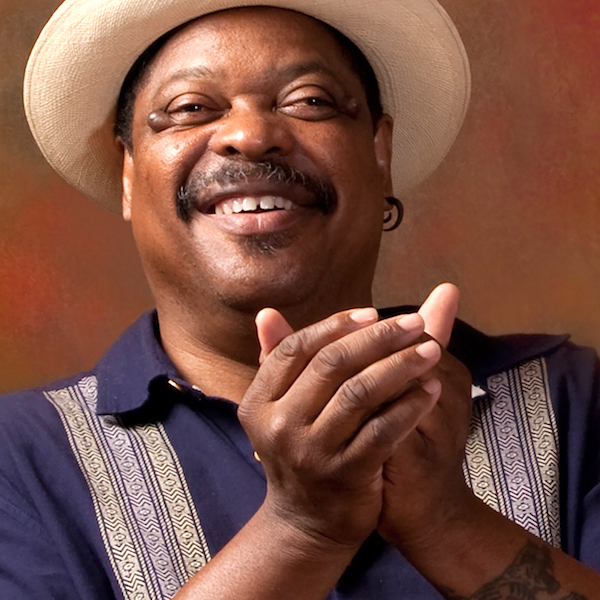 Bio
Phil Wiggins is a versatile harmonica player, continuing the Piedmont blues tradition, a gentle and melodic blues style of the mid-Atlantic region. He plays the diatonic ten-hole harmonica in the country blues style, cupping both hands around the instrument and playing acoustically. His sound is not shaped by the microphone or amplifier when performing, but instead by his complex syncopated patterns, breath control and rhythm, stylistic virtuosity, and fiery solo runs.
As a teenager living in Washington, DC, in the 1970s, Wiggins played at the Smithsonian National Folklife Festival with street singer Flora Molton, sitting in with blues greats Johnny Shines, Sunnyland Slim, Sam Chatmon, Robert Belfour, and Howard Armstrong. By the time he graduated from high school in 1973, DC blues elders John Jackson, John Cephas, and Archie Edwards had embraced him. He joined the Barrelhouse Rockers, a band fronted by pianist and singer Wilbert "Big Chief" Ellis, where Cephas played guitar. They toured regionally until Ellis retired in 1977, so they began performing as Cephas & Wiggins.
With Cephas as guitarist and primary singer, the duo performed together for 32 years as internationally renowned stars of the country blues, and a staple on blues radio, ever present on the concert and festival circuit. Cephas & Wiggins played Carnegie Hall, Royal Prince Albert Hall in London, and the Sydney Opera House, as well as small venues worldwide, touring every continent except Antarctica. They recorded more than a dozen critically acclaimed albums, on noted labels such as Flying Fish and Alligator Records, winning the prestigious W.C. Handy Blues Award in 1984 for Best Traditional Album of the Year and in 1987 as Entertainers of the Year. They even performed at the White House with B.B. King. In 1989, Cephas received an NEA National Heritage Fellowship.
Since the 2009 death of Cephas, Wiggins has performed with numerous musicians, including Nat Reese, Corey Harris, Australian guitarist Dom Turner, Ben Hunter and Joe Seamons, Sherman Holmes, George Kilby Jr., the Rev. John Wilkins, Jerron Paxton, and longtime friends Eleanor Ellis and Rick Franklin. He fronts the acoustic swing/roots/blues ensemble the Chesapeake Sheiks, and is actively engaged in reuniting the Piedmont blues with its origins of African-American buck and tap dancing.
Wiggins has taught thousands of burgeoning harmonica players and actively continues to teach and lead as artistic director in workshops, such as at the Augusta Heritage Center of Davis & Elkins College in West Virginia and the Port Townsend Acoustic Blues Workshop in Washington State. In addition, Wiggins serves on the board of directors for the National Council for Traditional Arts.
Bio written by Frank Matheis