Rahim AlHaj
Oud Player and Composer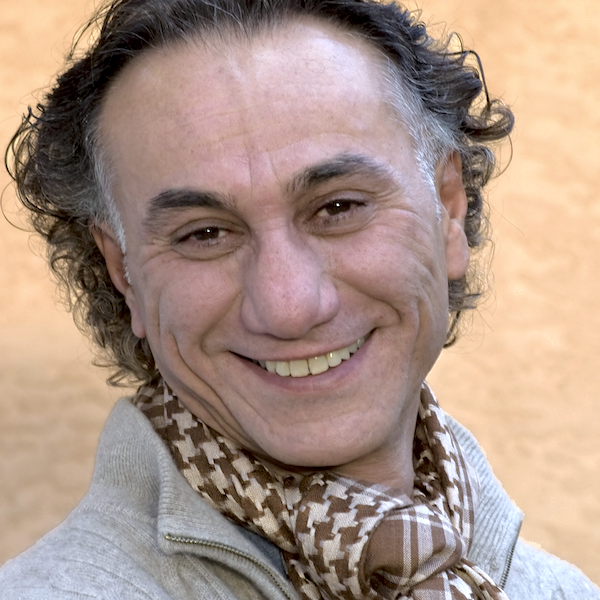 Bio
Hailed as "one of the top oud players in the world" by the San Francisco Chronicle, Rahim AlHaj is a performer and composer who combines a traditional Iraqi musical foundation with contemporary styling and influences.
AlHaj was born in Baghdad, Iraq, and began playing the oud—a stringed instrument dating back at least 5,000 years—at age nine. By the age of 13, AlHaj was already known in Baghdad as both a musician and a composer. Out of 2,000 applicants, he won one of five spots to study at the Institute of Music in Baghdad under Munir Bashir, one of the most renowned oud players in the world, and Salim Abdul Kareem, an influential composer and performer. At the same time, he became active in the underground revolutionary movement and composed the movement's anthem "Why?," setting to music a poem written by a friend. After being imprisoned twice due to his political activism, AlHaj graduated from the Conservatory in 1990 with a diploma in composition and began touring internationally with Bashir. In 1991, after the first Gulf War, AlHaj was forced to leave Iraq due to his activism against the Saddam Hussein regime and lived in Jordan and Syria before moving to the United States in 2000 as a political refugee. He has lived in Albuquerque, New Mexico, ever since, becoming a U.S. citizen in 2008. AlHaj held jobs as a dishwasher and night watchman, before renting a hall at the University of New Mexico for a solo performance. The positive reaction to his music ignited his career again and he began performing throughout the country and internationally.
AlHaj has released nine CDs, two of which were nominated for Grammy awards—Ancient Sounds, a duet recording with Indian classical musician Amjad Ali Khan, and When the Soul is Settled: Music of Iraq. He has composed pieces for solo oud, string quartet, and symphony. His compositions combine traditional Iraqi "maqams," the system of melodic modes used in traditional Arabic music, with contemporary styling and influences, marrying Eastern and Western traditions. AlHaj continues to perform nationally and internationally as a solo artist, in duo configuration, and with his septet Little Earth Orchestra, and has performed with such varied musicians as jazz artist Bill Frisell, the string quartet Kronos Quartet, and the rock band REM. In 2009, he was awarded a United States Artists Fellowship.