Ramón "Chunky" Sánchez
Chicano Musician and Culture Bearer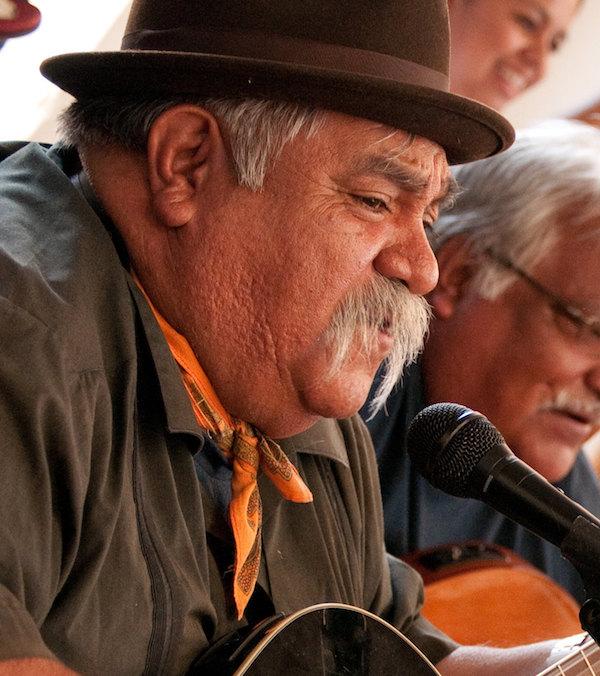 Bio
A musician, songwriter, educator, and activist, Ramón "Chunky" Sánchez has become a cultural icon and leader of the Chicano community. Born to Mexican immigrant parents in the California desert town of Blythe, Sánchez was taught traditional Mexican music by his mother and uncles who sang and played guitar. Both of his parents were farm laborers, and he himself worked in the fields, so Sánchez learned early on in life about the struggles in the farm labor movement. As he listened and learned, he began to compose his own music -- with a bicultural influence and often socio-political messages -- and he was frequently asked to play by César Chávez at rallies and marches for the United Farm Workers Union.
A multi-talented musician, Sánchez not only composes, but also sings and plays ten different instruments. Recruited along with other young farm laborers in 1969 to attend San Diego State University, Sanchez began performing with La Rondalla Amerindia de Aztlán, a noted musical group comprising both students and professors. He later became the lead vocalist for the Mexican-Chicano folklore group Los Alacranes (The Scorpions), which he co-founded along with his brother Ricardo, recording their first album in 1977. Using it as a platform to further the Chicano civil rights and farm laborers movements, his music has helped to define an era. He expressed the concerns and causes of the community with the rich Chicano musical traditions. One of his best-known pieces,"Chicano Park Samba," narrated the struggle for and successful creation of Chicano Park in San Diego and became an anthem for that community and Chicano communities throughout Aztlan.
As important as his role as a musician, Sánchez is equally notable for his role as a community elder and mentor. Having worked with local youth in myriad capacities -- including as an Encanto Little League coach, educator, youth center director, and gang intervention counselor -- Sánchez has been the recipient of numerous awards and honors, including several from the California Arts Council and the City of San Diego Commission on Arts and Culture. At the first César E. Chávez Music Festival in 2004, Sánchez received the César Chávez Humanitarian Award. Of the honor, Chávez's granddaughter Barbara Ybarra said, "Chunky and other musicians often were called upon to keep spirits high and empower people. Now is our turn to give back to the musicians of the movement and honor their legacy."
The subject of a forthcoming documentary by Paul Espinosa entitled Rising Souls, Singing Scorpions, Sánchez is a proud father and grandfather, and wishes to dedicate this award to his deceased son Fernando, and children Ixcatli, Ramon, Esmeralda, Mauricio, Tonantzin, and 13 grandchildren.
[Excerpts of "El Quinto Sol" and "Chicano Park Samba" by Ramón "Chunky" Sánchez with his band Los Alacranes Mojados, from the album, Rolas de Aztlan, used courtesy of Chunky Sánchez.]