Ray Hicks
Appalachian Storyteller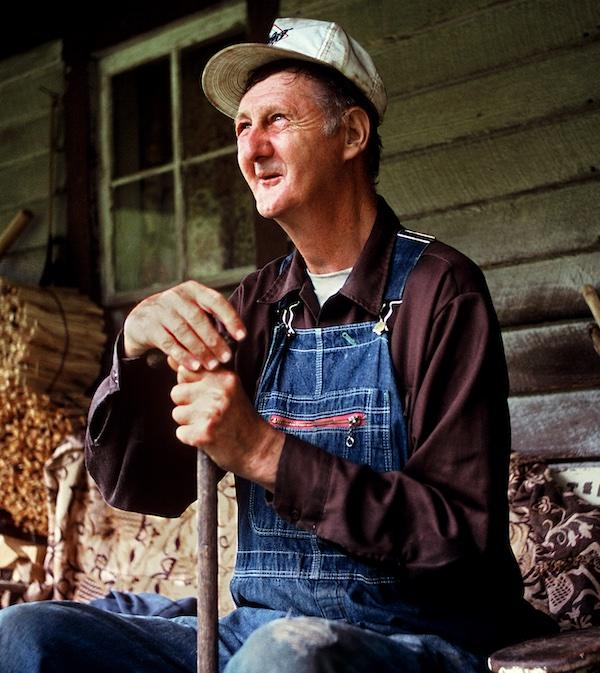 Bio
Ray Hicks was born August 28, 1922, in Banner Elk, North Carolina, a few miles from the North Carolina-Tennessee state line. Hicks is the fourth of 11 children born to Rena and Nathan Hicks. Both of his parents sang ballads, and his father was one of the earliest dulcimer makers in the Beech Mountains region where they lived.
As a young boy, Ray liked to sit by the potbellied stove in the front room and listen to his grandfather's tales. When he was about five years old, Hicks began telling stories himself. He credited his grandfather, John Benjamin Hicks, as his model and source for storytelling, although his grandmother, Julie, told tales as well. Hicks is the eighth generation of Hicks storytellers on Beech Mountain.
When Ray was eight, he began working the fields alongside his parents, plowing with oxen and mules over land too steep for tractors. To supplement his family's meager income, Ray and his siblings went into the forest, where they picked ferns and galax (an evergreen whose shiny green leaves were popular for floral arrangements) to sell to florists. They also collected pollen from ragweed tops to sell to wholesale drug houses, and gathered other plants for which there might be a buyer. Ray's father distilled wintergreen oil, and his mother hooked rugs to help feed the family. Despite these efforts, one of Ray's baby brothers starved to death.
Ray quit school when he was 14 to work full-time as a farmer. When he was 26, he married his wife, Rosa. "I would have married earlier," Hicks said, "but I couldn't get a girl to promise me. Somehow the girls weren't interested in me. God was holding me for the one I got." Hicks and his wife raised their five children in the house in which Ray was born, a cabin built by his grandfather. Their children helped them raise cabbage, potatoes, and onions, crops that Ray sold to the Mast General Store in Valle Crucis, a small town located at the foot of the mountain. For much of his adult life, Ray also worked as a mechanic, and when he needed extra money, he harvested plants from the woods, as he did when he was a boy. In addition to galax, he collected moss, and he twined white pine, balsam, and boxwood clippings into ropes.
Ray's storytelling repertoire included about 50 "Jack" tales, 12 of which he learned directly from his grandfather and eight of which are original. Ray's Jack tales are about the antics of a poor mountain boy, who might be described as an American cousin of the farm boy in "Jack and the Beanstalk" and "Jack the Giant Killer." In this cycle of tales, Jack, a clever lad, served his mother and himself by outwitting thieves, giants, witches, ogres, wild hogs, and robbers to win fame, fortune, and love. Supernatural beings and magic often come to help him, and his role is often two-faced — the savior of imprisoned maidens in some tales, and a trickster and murderer in others.
"Used to be, whenever we had a long, slow job to be done," Hicks recalled, "like corn husking or something, we'd just gather all the young'uns around and put them to work. Then's when we'd tell the old tales about Jack. Why, them kids would work for hours and never a sound out of them, long as I'd keep telling them tales."
Hicks said the dialect in his tales originated more than 200 years ago, in the days of Daniel Boone and Davy Crockett. Some have called his dialect the "purest" example of the speech of the Scotch-Irish and English pioneers who settled in Appalachia in the 1700s. Once discovered by folklorists, Hicks was invited to the annual storytelling festival in Jonesboro, Tennessee. Folk Legacy Records released an album of his storytelling entitled Ray Hicks Tells Four Jack Tales, and Appalshop included Ray in the film Fixin' to Tell About Jack.