Shaka Zulu
New Orleans Black Masking Craftsman, Stilt Dancer, & Musician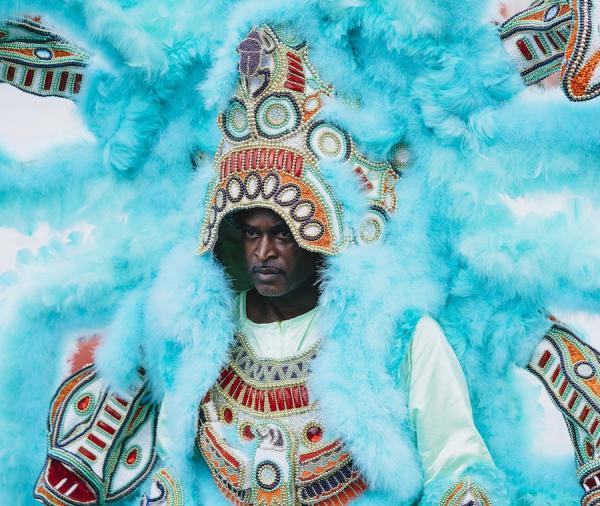 Bio
Shaka Zulu is a master of Black Masking suit design, an art form specific to New Orleans, Louisiana, which originated as part of the Indigenous and African culture in the city. The intricate suit-building of the New Orleans Black Masking carnival tradition usually involves sewing and designing for one full year, and are colorfully displayed during Mardi Gras, St. Joseph's Night, and Super Sunday in New Orleans. In addition to upholding the Black Masking tradition, Zulu is revered as a drummer and stilt dancer, both part of the city's West African traditions.
Born in New Orleans in 1969, Zulu grew up immersed in African and Caribbean culture by being a part of his father Zohar Israel's performing arts company, Free Spirit, in New Orleans. He started drumming at an early age and became a master of African and African diasporic percussion instruments, such as the djunjun, djembe, shakare, and congas. Under the masterful tutelage of his father, Zulu, at the age of 15, became a skillful and accomplished second generation stilt dancer.  In 1995, Zulu and his wife Naimah formed the performing arts company, Zulu Connection, and toured their company of dancers, stilt dancers, and drummers nationally and internationally.  Zulu  has also toured internationally with NEA Jazz Master Donald Harrison Jr. as a masking performing artist and percussionist in Harrison's band Congo Nation.
In 1999, he studied under Chief Darryl Montana, son of Chief Tootie Montana (1987 NEA National Heritage Fellow). His talent for impeccable sewing quickly led to his significant stature within the Black Masking tradition. He continues the "downtown" suit-making tradition pioneered by Chief Tootie Montana, distinguished by its three-dimensional or soft-sculpture pieces with sequins, beads, turkey feathers, and a more abstract style. Zulu is now Big Chief of the Golden Feather Hunters established in 2018.
A thought-provoking lecturer on the origin and culture of the Black Masking traditions of New Orleans, Zulu has exhibited his suits both nationally and internationally at museums and festivals. Following Hurricane Katrina in 2005, Zulu lectured and exhibited his suits at the DeYoung Museum in San Francisco.  His 2015 suit was featured in Sounds of the City, an exhibit in Berlin, Germany, featuring the culture of New Orleans. His suit "Shango" is currently on exhibit in the Netherlands at the Africa Museum.
A consummate teacher and culture bearer, Zulu has conducted workshops on masking, drumming, and stilt dancing nationally and internationally. On trips to Tanzania in 2009 and 2019, he engaged with the Masai and Meru communities about the connection between the African and New Orleans African American traditions. It was in Tanzania in 2019 that Zulu beaded his 2019 Suit "The Toucan" with the diligent assistance of the youth in the villages of the Masai and the Meru people.
As part of New Orleans' tricentennial in 2018, Zulu produced New Orleans Voices of Congo Square, a 30-cast member stage production featuring the Black carnival traditions of New Orleans, touring the show nationally and internationally, and making a film of the production.
According to Shaka Zulu's customs and traditions, he has passed down the Black Masking and stilt dancing traditions to his daughter, Sarauniya, who continues these practices.