Sophia George
Yakama-Colville beadworker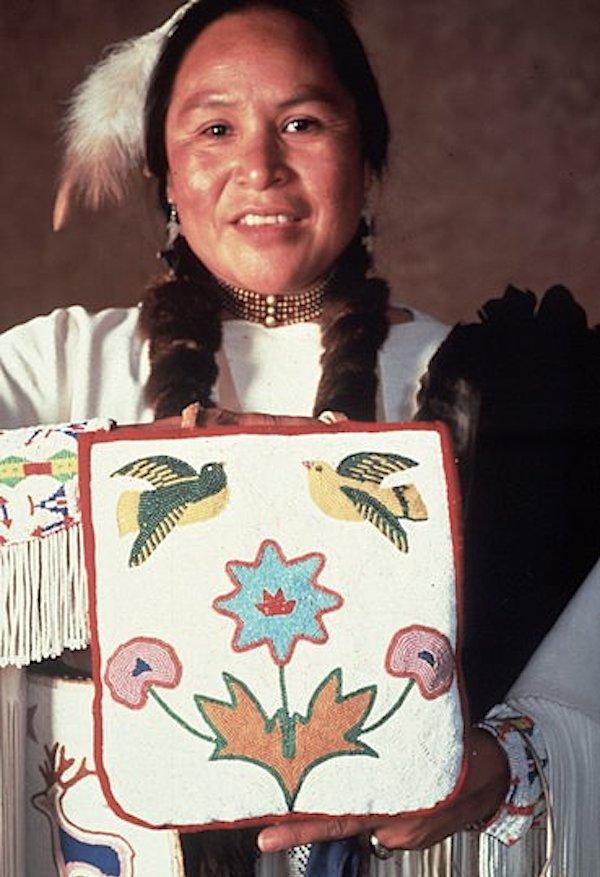 Bio
Sophia "Sophie" George was born September 22, 1950, near The Dalles, Oregon, at the ancient fishing grounds of Celilo Falls. She descends from the Wasco, Cowlitz, and Wenatchee bands of the Yakama and Colville tribes. She has traveled throughout the area and has seen the diverse traditional artwork made by her tribal ancestors.
In learning beadwork, George was inspired and guided by her mother, Elsie White, and her maternal grandmother, Ida Scowlole White. When she was five, George began stringing beads for her mother, grandmother, and aunts. At 16, she started making her own pieces. Her grandmother asked George to make a bag and give it to her, a traditional practice that George explained in this way: "We always give away the very first thing we make. When you give away your first making to your teacher, that enables you to walk on that path." And that takes time and concentration. "They only show you once. You can't go back and keep asking."
"Grandma showed me how to steal with my eyes," George has said. "Because the women could not afford fancy dresses, they studied them and got the design fixed in their minds, then they would go home and make it."
George worked for many years restoring old Native American artifacts, learning old techniques in the process. Fascinated by the intricacy of the designs, she started doing contour work in her beading. "I tried to put my feet in my ancestors' shoes," she said. "I wanted to see through their eyes."
George applies her colorful designs to traditional handbags, dance regalia, wedding veils, moccasins, dresses, hair ornaments, and other items. Her evocative artistry is coupled with a deep knowledge of the stories and meaning associated with the motifs she portrays, such as hummingbirds, deer, bald eagles, frogs, plants, and other aspects of nature.
Her work has been featured in many museum collections and exhibits in the region. She has worked hard to document her tribal heritage and to keep it a part of her people's cultural future. She has demonstrated and taught her work to many others, and her daughter and five nieces have devoted themselves to beadwork. "If there is just one child that says, 'This is who I am, this is where I came from, this is what I want to be,' then I want them to be able to reach and identify themselves," George said. "The only way that things will always be is if you keep them the way you were taught," she said. "My grandmother always stressed that."