Suni Paz
Nueva Canción Singer and Songwriter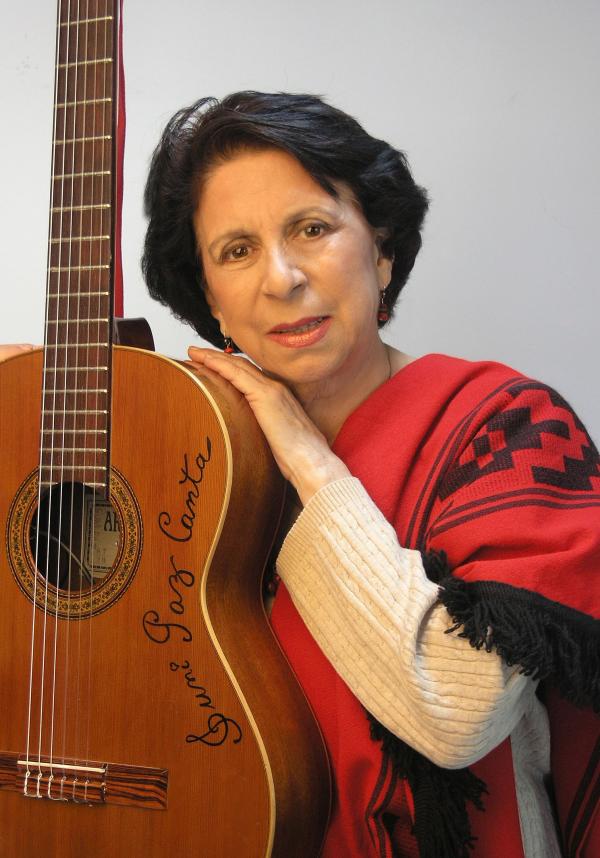 Bio
Suni Paz was one of the first artists to bring the nueva canción tradition—the "new song" music of the 1960s and 1970s—to North American audiences. For more than half of a century, her work as an American songwriter and performer of Latin American folk music has resonated as a cultural force, engaging people of all backgrounds and ages.
Born with the name Elsa Calandrelli Solá, she was raised in Buenos Aires, Argentina, by a family with Italian and Catalonian roots, all lovers of music and art. By her teens, she was already singing, writing, and playing guitar. Her skills were honed at peñas folklóricas—spirited social and dance gatherings. Atahualpa Yupanqui, an Argentinian legend, championed the music of indigenous people and fueled her passion for música con conciencia or "music with a conscience."
When she came to California in 1965, she chose the stage name "Suni Paz," which means "everlasting peace" in the Quechua language of the Andes. After earning her master's degree, she wrote a curriculum for teaching Latin American culture through songs, stories, and dances, and began performing in schools. She sang at United Farm Workers Union rallies and was heard in 1980 on the first broadcasts of Radio Bilingüe. She performed at folk music concerts both nationally and internationally. In 1973, she recorded her first album, Brotando Del Silencio/Breaking Out of the Silence, on Paredón Records, accompanied by her son, Ramiro Fauve. Twenty-two albums followed, including 11 on Smithsonian Folkways. Since 1976, she recorded and performed with cellist Martha Siegel, and recently with Elizabeth Mitchell and Lisa S. Garrison.
Paz's instruments include the Spanish guitar, the Andean charango, the Colombian caja, the Argentinian bombo legüero, Caribbean guiro, and maracas. She has recorded more than 500 songs for children and performed alongside American icons such as Arlo Guthrie, Pete Seeger, Bob Dylan, Don McClean, and Phil Ochs, to name a few, and at Madison Square Garden with El Grupo. Her passion for music was passed to sons Juan Cruz Fernandez and Ramiro Fauve. Fauve produced her Bandera Mía album and has co-written dozens of songs with her as well as having performed with her on stage since the age of seven, carrying on the folk tradition in his own work.
A 1985 project to create a Spanish-language reading curriculum led to decades of collaboration with renowned authors Alma Flor Ada and Francisca Isabel Campoy (Del Sol Books). "Suni's gifted voice and exquisite performance reaches all, from young children to adults," wrote Ada. "Her life has been a determined commitment to support the development of a positive identity in all Latino youth."
Paz has received many honors, including the CMN Magic Penny Award, the National Culture Through the Arts Award from New York State Association of Foreign Language Teachers, the National Federation of Local Cable TV Programming Award, and successive ASCAP Plus Awards. In 2017, Paz's autobiography, Destellos, was recognized by the International Latino Book Awards.
By Rebecca Snetselaar, Folklife Specialist, Nevada Arts Council
---
Sample of Suni Paz's work: Suni Paz sings "Tierra Querida", Smithsonian Folkways