Tagumpay Mendoza De Leon
Rondalla Musician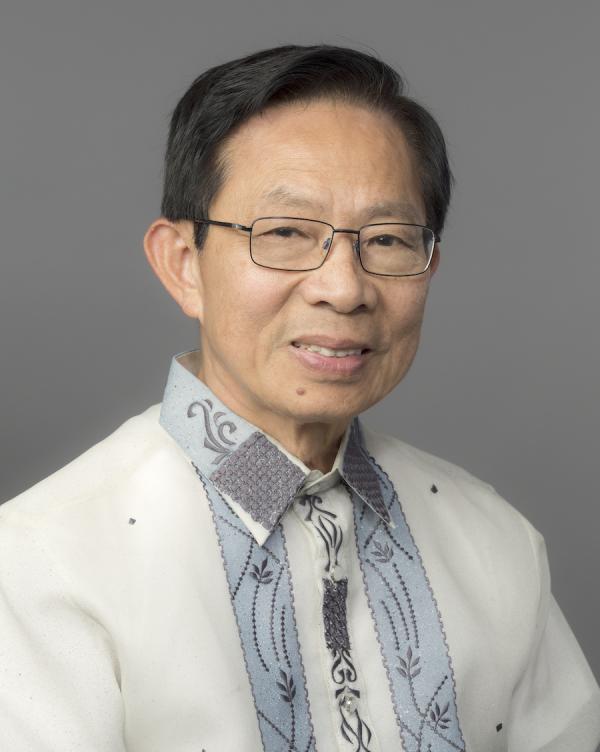 Bio
Tagumpay Mendoza De Leon is a master teacher and performer of rondalla, a traditional Spanish-influenced form of music from the Philippines. Within the Filipinx diaspora, the rondalla is profoundly meaningful as a key cultural symbol. With his easygoing style and avuncular warmth, De Leon has promoted this tradition to thousands of Filipinx Americans as fellow performers, students, and audience members. His quiet, unassuming presence has contributed integrity and deep cultural knowledge to communities in Los Angeles, Southern California, and beyond.
De Leon was born in 1945 in Nueva Ecija, Republic of the Philippines. His mother, Illuminada Mendoza, was an accomplished pianist. His father, National Artist Felipe Padilla De Leon, was a bandleader and composer. De Leon first studied the instruments he found around the house: the piano, the accordion, and the violin. When his siblings formed the De Leon Rondalla, he chose the upright bass to accompany them, an instrument at which he excelled. The De Leon children played for family and community functions in 1960s Manila.
De Leon emigrated to the United States in 1971, settled in Burbank, California, and began performing rondalla within the Filipinx diasporic community. De Leon first played bandurria (a 14-stringed tenor rondalla mandolin) and guitar with the Pamanlahi Dance Troupe, then worked with the Fil-Am Cultural Family Group under musical director Nitoy Gonzales of the famed Bayanihan Philippine National Folk Dance Company. De Leon joined the group as the assistant director in 1985 and performed widely in Southern California.
Within a broad network of West Coast Filipinx American musicians and dancers, De Leon rose to prominence as a teacher of rondalla instruments, an ensemble leader, and an expert on instrumental repertoire. His own group, the Rondalla Club of Los Angeles (RCLA), continues to perform with new members and experienced instrumentalists alike who play the bandurria, laúd, octavina, guitar, and upright bass. According to one RCLA member, rather than preach the importance of history and tradition, De Leon's stalwart reverence for their repertoire of traditional folk songs radiates outward to both fellow players and audiences.
De Leon uses both the classroom space and the performance stage to steward the rondalla tradition and transmit this rich heritage to the Filipinx diasporic community. Since 1991, the RCLA has regularly performed at Pilipino Culture Nights in many Southern California colleges and universities. De Leon is a popular instructor at the University of California, Riverside, where he teaches rondalla to eager Filipinx-American undergraduates of all experience levels.
With the Fil-Am Family Cultural Group, De Leon performed at the Chateau-Gombert International Folk Dance Festival in Marseille, France, in 1990 and 1993. In 2002, De Leon was a master artist in Alliance for California Traditional Arts' Apprenticeship Program. When not teaching or performing, De Leon plays bass with the Filipino American Symphony Orchestra of Los Angeles.
By Deborah Wong, Ethnomusicologist, University of California, Riverside, and Neal Matherne, Historical Interpreter, Oklahoma Historical Society, and Affiliated Researcher, Field Museum of Natural History.