TahNibaa Naataanii
Navajo/Diné Textile Artist and Weaver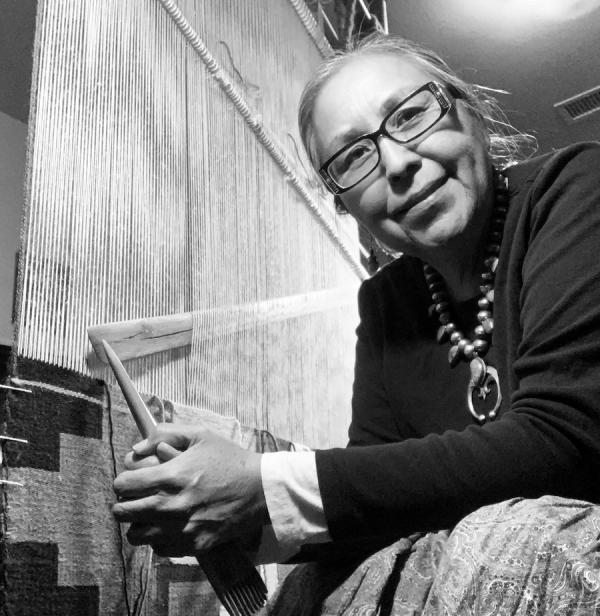 Bio
Landscape colors, scattered hogans, and the sweet fragrance of burning juniper characterize the community of Toadlena, New Mexico. This land and its people nurtured TahNibaa Naataanii, master weaver, whose inspiration and creativity extend far beyond Toadlena. As a relentless culture bearer, her weaving has immeasurably impacted both traditional and contemporary textile arts.
Naataanii began her path to weaving when her paternal grandmother, Sarah Belone, watched her granddaughter explore prized, precious, reddish-brown wool. Naataanii's innocent curiosity caused concern to some; a seven-year-old girl was handling wool and her grandmother's carding tool. But, the matriarch's wisdom prevailed: "Let her play with the wool, let her fingers glide through the wool. She is going to be a weaver and I am going to give my grandchild her Navajo name. She will be "TahNibaa Atlo hii gii." ("Coming into Battle with Weaving.")
From this life-altering experience, Naataanii began carding wool for her mother, and later created her first rug. By summer's end, when the forage plants on the high desert had ripened seeds, she was selling weavings to purchase school clothing. After graduating, she joined the U.S. Navy. As Naataanii recalls, it was while on duty in the Philippines that the Diné deities, Spider Woman and Spider Man visited her with the reminder, "You are 'TahNibaa  Atlo hii gii.'"
In 1998, engaging the "weaver within," Naataanii blossomed, unleashing her muse, the weaving way. She wove patterns that represented her individual creativity, beyond the regional patterns of European colonizers. By 2000, the strong weaving spirit synchronized with her own heartbeat and she located to her ancestral homeland, Table Mesa. There, she has flourished as a weaver and rancher of heritage Navajo Churro sheep, vowing to devote her life to this sacred way. For Naataanii, weavings are living beings: Sheep are life and ceremonially essential.
With the arrival of trading posts over a century ago, weavings had become "commercialized," although historically they were "utilitarian." Many of Naataanii's weavings are "functional," such as men's/women's shoulder blankets, early classic poncho, and TahNibaa shawl. Her return to functionality honors Diné heritage and authenticates the Navajo spirit of survival.
Naataanii's weavings are recognized in ways too numerous to list. She will humbly point to her pride in particular textiles that represent themes significant to her people, including a pictorial weaving based on the 'Navajo Code Talker' theme and another depicting phases of the Navajo hogan, including a male and a female hogan, and ways modern hogans are constructed. The latter typifies her ability to honor tradition, while making meaning in the present moment.
In addition to her own vision and artistry, TahNibaa Naataanii has become recognized as a gifted and prolific mentor and teacher of holistic Diné weaving practice – from farming sheep to harvesting and dyeing wool, and through the complex techniques of developing and weaving textiles on a loom. She is also a celebrated interpreter of Diné weaving traditions, working with museums and cultural centers to tell the story and process of this remarkable art. Naataanii's work has been exhibited by the US Department of State for display in Embassies across the globe. In 2020, she received two prestigious national awards: the Community Spirit Award from First Peoples Fund, and the Mentor Artist Fellowship from the Native Arts & Cultures Foundation.
--Dr. Robert Hill, Professor Emeritus, University of Georgia, Institute of Native American Studies
TahNibaa Naataani is the recipient of the 2022 Bess Lomax Hawes National Heritage Fellowship