Tsering Wangmo Satho
Tibetan Opera Singer and Dancer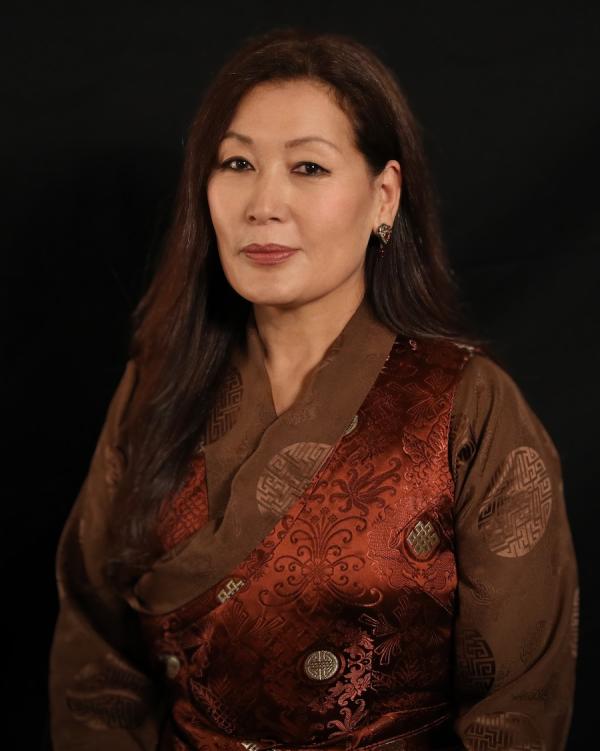 Bio
Exile is a dynamic force when telling the story of Tibetan dance and opera artist Tsering Wangmo Satho. For many immigrants, life in diaspora can be a negotiation of new opportunities coupled with a longing for home. For Wangmo, political danger and barriers to Tibet were the backdrop of her early years. When the Dalai Lama went into exile in 1959, many Tibetans followed their spiritual leader to India, where he found sanctuary. Wangmo Satho was born in a refugee settlement in southern India in 1967. Her elders served as living examples of tradition and language. She trained at the Tibetan Institute of the Arts (TIPA), founded by the Dalai Lama, that serves as a critical response to the threat to Tibetan culture, and to the Tibetan performing arts in particular, from Chinese occupation. Wangmo Satho has carried the vision of this work through her artistic direction and co-founding of Chaksam-pa (meaning "bridge builder") Tibetan Dance and Opera Company, comprised of Tibetan master artists, all of whom have trained in exile.  Since its founding in 1989, the ensemble is a powerful testament against cultural erasure through their sacred and secular repertoire. 
Wangmo Satho toured from India through Europe in 1986 and 1989 and traveled to the United States for the first time in 1989 for a showcase of Tibetan arts at the Texas Folklife Festival. Soon after, she applied for U.S. residency and was granted with a visa based upon her "extraordinary artistic abilities." She found California's Bay Area a hospitable home with its diverse communities and artistic offerings.  
Wangmo Satho initiated the Tibetan Cultural Preservation Project in 1995, organizing dozens of programs including a sand mandala ceremony by Tibetan Buddhist nuns, and in 2001, the Losar Tibetan New Year celebration featuring Tibetan elders from India. In 2001, recognizing that her mother held more than 200 regional songs from the Kongpo region of Tibet solely in her memory, Wangmo Satho began to document and learn songs from her. Songs of Kongpo, published in 2020, is a free resource available to the exiled community. The collection is meticulously handwritten by Wangmo Satho in the Tibetan language and is now recorded for posterity.
Another milestone in 2011 was the production by Chaksam-pa of presenting The Religious King Norsang, a seven-hour performance at the Craneway Pavilion in Richmond, California. This marked the first time a Tibetan opera was performed in its entirety in North America with master artists from all over the United States, Canada, and abroad, who performed the 700-year-old tale with its contemporary message regarding water resources that are increasingly threatened. The event drew a multigenerational diasporic audience from California and the Pacific Northwest to enjoy this rare opportunity. A Hewlett 50 Arts Commission was given to Wangmo Satho and Chaksam-pa to create the first Shoton Festival over two days in July 2022. 
Wangmo Satho continues teaching classes through the Tibetan Association of Northern California (TANC) where she served as vice president. Since 1989, she has taught in a Tibetan language school program known as Namchod Kyetsel or "Garden of Intellects." Designed for more than 200 students ages two to 18, the program includes the teaching of language through song, dance, and music. While the Bay Area Tibetan community is estimated to be 3,000 strong, Wangmo Satho's impact as a Tibetan traditional artist is felt across the diaspora and illuminates the beauty and power of Tibetan arts and culture on an international scale.
--Lily Kharrazi, Director of Special Initiatives, Alliance for California Traditional Arts