Valerio Longoria
Mexican-American Accordionist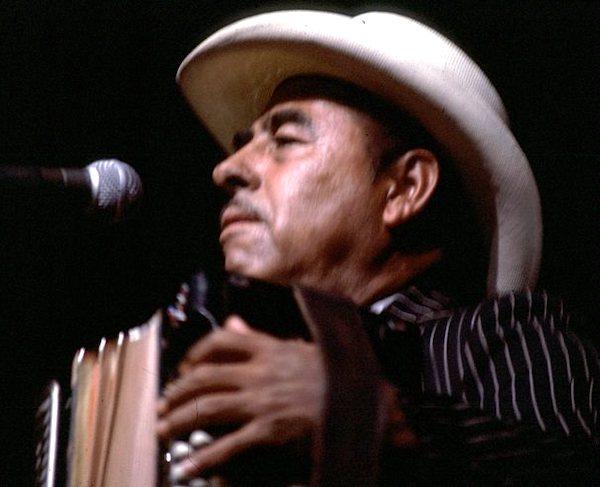 Bio
Valerio Longoria was born February 13, 1924, in Kenedy, Texas. As a young boy, he took apart a harmonica to see how it worked, and when he was eight years of age, his father, Valerio Longoria, Sr., bought an accordion for him for $10. In a short time, he taught himself how to play and gradually learned the intricacies of his instrument. He dismantled and rebuilt the instrument to learn about its construction and the creation of its sounds. Within months, he was playing on the streets of his South Texas hometown of Kenedy for friends and passersby and soon was hired for area weddings and parties, playing waltzes, schottisches, and polkas.
In the early 1930s, Longoria traveled with groups of migrant farm laborers. He worked in the fields by day and played stage dances at night. He was inspired by strolling musicians he saw in Mexico and devised a system of straps that allowed him to play and sing standing up.
In 1942, when he was 18 years old, Longoria enlisted in the Army. He put his accordion aside until he resettled in San Antonio in 1946. There he formed his own conjunto (ensemble) comprising accordion, guitar, stand-up bass, and drum set. He made his first recording, "El Pokerito," in 1947 for the Corona label, and over the next decade he recorded for nearly every Spanish-language label in Texas.
Longoria became known for his innovative accordion stylization, resulting not only from the instrumentation of his bands, but also his ability to renovate instruments and experiment with new sounds. To one of his accordions, he added a fourth row of buttons (the contemporary standard has three rows). Another has reed pairs tuned an octave apart to produce a rich, organlike sound. He also removed a standard set of bass stops, which he found insufficient, and replaced it with a larger set.
He was the first accordionist to combine his singing talents with his instrumental skills. He was also the first to tune and alter the accordion's metal reeds to give it a new hoarse sound and facilitate the immediate transition to keys other than the original key. He introduced modern dance band drums into the conjunto, and was the first to record the slow-paced bolero, a genre long associated with the genteel tradition, but that demanded more vocal finesse, greater technical skill, and more rhythmic and harmonic complexity.
In 1959, Longoria left Texas to record and tour the Midwest under the sponsorship of the Firma label in Chicago. He moved to Chicago, planning to be there for three months, but ended up staying eight years. From there, he moved to Florida, then back to Chicago. He traveled wherever people wanted to hear his conjunto music. After some time in Colorado and Idaho, he went to Los Angeles. Once again, he thought he was going to stay for only a few months, but remained eight years.
In the 1980s, Longoria moved back to Texas upon hearing rumors that he had died and that his friends and fans were planning a memorial album for him. He settled in San Antonio and steadily regained his musical reputation in the state. With the founding of the Guadalupe Cultural Center in San Antonio, Longoria became active in teaching accordion to children and aspiring musicians.