Verónica Castillo
Ceramicist and Clay Sculptor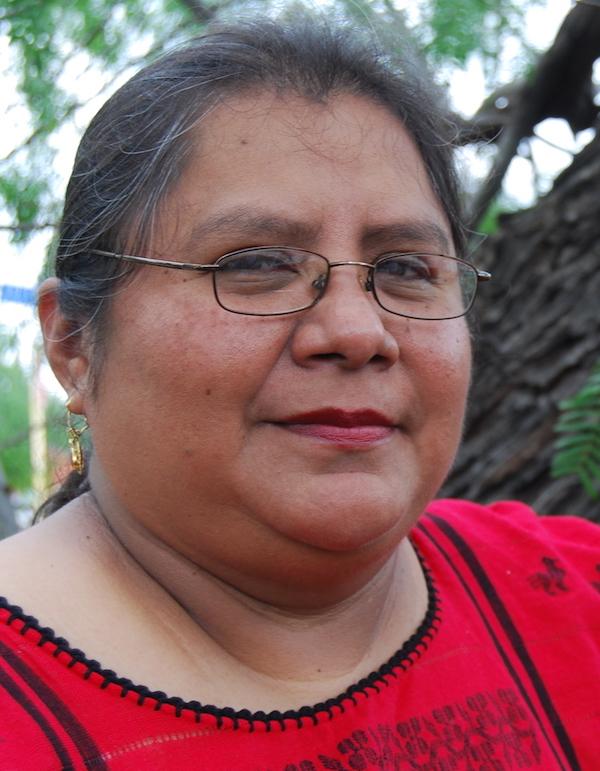 Bio
A third-generation clay artist, Verónica Castillo was born in Izucar de Matamoros in the Mexican state of Puebla. Castillo's family is known for their creation of Arbol de la Vida (Tree of Life) and candelabra sculptures, an art form which originated in Mexico's Puebla area. Delicate, intricate, and brightly painted, these clay sculptures traditionally depict religious scenes, but Castillo's works also focus and comment on social and contemporary issues such as the violence on the border. In a 2012 interview with the San-Antonio Express-News she noted, "I love my family's pieces. They fascinate me. We see traditions, customs directly in their work. And for me, I want to create another language in clay that shows the difficulties people have in everyday life that create an unjust world."
Castillo was initially introduced to this traditional art form by her grandmother, though a number of her family members were artists, including her father, Don Alfonso Castillo Orta, who was recognized with Mexico's prestigious national prize El Premio Nacional de Ciencias y Artes (The National Prize of Sciences & Arts). Castillo initially worked as an accountant while also working in her family's clay workshop developing her artistic skills. She came to the United States at age 24 and has continued to follow in her family's artistic footsteps, creating elaborate and finely crafted Arbol de la Vida artworks that, depending on the intricacies of the piece, can take up to six months to create. For the past 15 years, Castillo has taught at MujerArtes, a women's ceramic and clay arts collective. Until December 2012, Castillo was an artist-in-residence at Esperanza Peace and Justice Center in San Antonio, Texas.
Castillo's artworks were most recently featured alongside those of her family members in a 2012 exhibition Renacimiento desde las entrañas de mi ser (Rebirth from the depths of my being) at the Esperanza Peace and Justice Center. In the program book for the exhibition, Castillo was quoted as saying, " Since my parents conceived me, I have had an intimate and intense relationship with clay, as well as a fluid connection and contact with the earth and water that give shape to my art, a gift endowed at birth that has given my family its artistic legacy in folk art."
Interview with Paulette Beete on September 23, 2013
NEA: When did you realize you were going to be an artist?
VERONICA CASTILLO: Even though I began to work in my family's workshop early on, I did not create my first piece until the age of fourteen. It was my first job as an accountant, after finishing my BA that inspired in me the potential to see art as a cultural expression. Inspired to create art, I read many books about artists, including Frida Kahlo who showed me the possibilities of realizing my dreams as a way of expressing the injustices that takes place in our surroundings. 
NEA: Why do you like to work with clay and create figures? 
CASTILLO: I love to work with clay because it holds the four elements of life—earth, water, air, and fire. These elements are integral to life. Without them we would not exist. In them there is life, and, for me, life is art. Through clay we create a new language of expression from which we learn to value life.
NEA: How do you select the themes for your pieces?
CASTILLO: I am inspired by things around me—this could include memories I carry from my childhood, inequalities I have witnessed, felt, or experienced, as well as social problems and injustices experienced by the dispossessed, and the cruelty of dying in an unjust manner, as was the cases with the women of Juárez. Currently my greatest concern is the unjust and most devastating destruction of Mother Earth that inspires me to call attention to her plight. 
NEA: What is your favorite part of the process of creating your pieces?
CASTILLO: There is no favorite part of the process. From the beginning of creation I am invested, step-by-step to let the clay speak for me—it is the beginning and the end. 
NEA: What was your inspiration in creating "Alfarería y Cocina Poblana"? Can you speak about the design—what the cooking pots represent, the figures of the women at the base of the piece?
CASTILLO: That piece signifies the meeting of two worlds—the pots in natural clay reflect the purity and the innocence of the indigenous people that have preserved or maintained their way of life. The blue and colorful pots signify the conquest with its monks who taught a new formula or technique of decorating the domestic space, as they tried to strip away their cultural practices. The women at the base represent the foundation—mestizaje and the knowledge of the women who quickly acquired language skills, such as Malinche, always resisting and creating alternatives where others may see none.
NEA: What is your favorite piece and why? 
CASTILLO: My pieces are like my children. Each one has its special qualities and expressions and I cannot give one more importance than another… As the mother, you cannot choose a favorite, they all have equal value—I like all of them for different reasons and in different ways.
NEA: Why do you believe that it is important to promote this artistic expression in the community?
CASTILLO: It is important to sustain and maintain folkloric or traditional art to keep the cultural expression of the people. When we teach these practices of and by the people, we are able to convey that there are no differences of color or race, because we all have the capacity to say what we see and carry in our humanity.
NEA: What advice would you give a young artist who wants to work in the visual arts?
CASTILLO: I would tell them to not fear seeing with the heart or of self-expression, but to fear to not take the challenge to do it or to remain silent about what they want to express and witness to make this a better world. When we create art, we have the capacity to leave a better world for those who come after us.