Warner Williams
Piedmont blues songster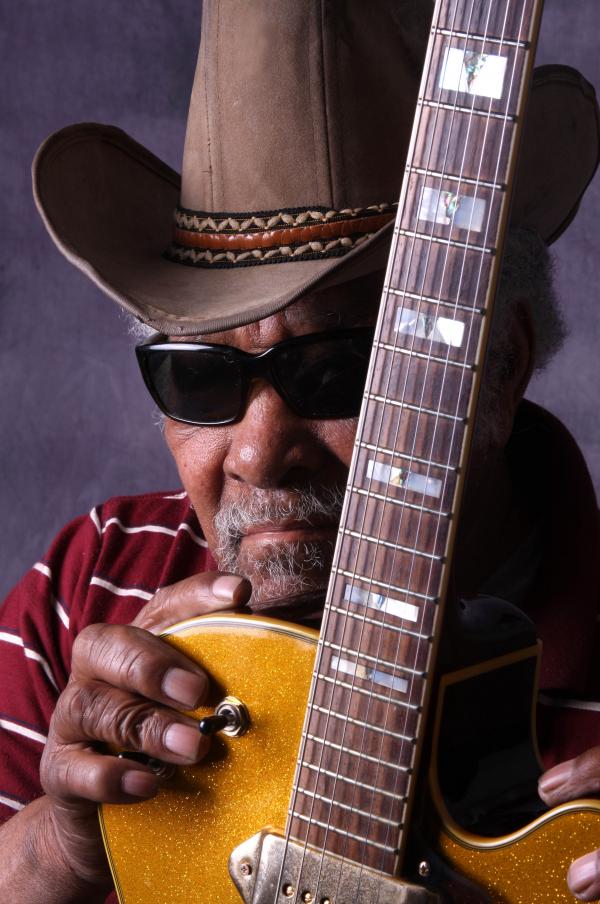 Bio
Born in 1930, Piedmont-style singer and guitarist Warner Williams grew up in a musical family in the Washington, DC suburb of Takoma Park, Maryland. His father played guitar, fiddle, and piano; his mother sang hymns; and all eight of his brothers and three sisters sang or played instruments. Warner began performing in public in his teens, first on the streets of DC and later at city night spots. While working for the Maryland-National Capital Park and Planning Commission and raising his family, Williams continued to play music at house parties, social events, church functions, and local clubs. Now retired, Warner brings the Piedmont blues to schools, blues clubs, and folk festivals with his musical partner and harmonica player Jay Summerour.
The Piedmont region runs from Maryland to Georgia and west to the Blue Ridge mountains. Dating back to the early 20th century, the Piedmont blues has included gospel, fiddle tunes, blues, country, ragtime, jazz, and popular songs. Williams' diverse repertoire shows the range of musical influences on him, from bluesmen Blind Boy Fuller, Lightnin' Hopkins, and Muddy Waters, to country artists Hank Williams, Ernest Tubb, and Gene Autry, as well as jazz, big band, and popular tunes.
Williams is often referred to as a "songster" for the breadth of styles, sources, and songs he is able to perform, but he prefers the term "Guitar Man." In 2004, Smithsonian Folkways released a CD of Warners' music titled Blues Highway. In the liner notes, folklorist Nick Spitzer, referring to Williams as a musical almanac, says, "Indeed, Warner Williams the guitar man brings consummate playing to his eclectic repertoire, complete with unexpected jazz chords, jaunty single-string work, ragtime strums, and basic Piedmont finger-picking -- all complementing his warm, gravelly voice."
Williams and Summerour have performed at National Folk Festivals, the Lowell Folk Festival, and the Smithsonian Folklife Festival, as well as three times on the Folk Masters series at the Barns at Wolf Trap.