Winnsboro Easter Rock Ensemble
Easter Rock Spiritual Ensemble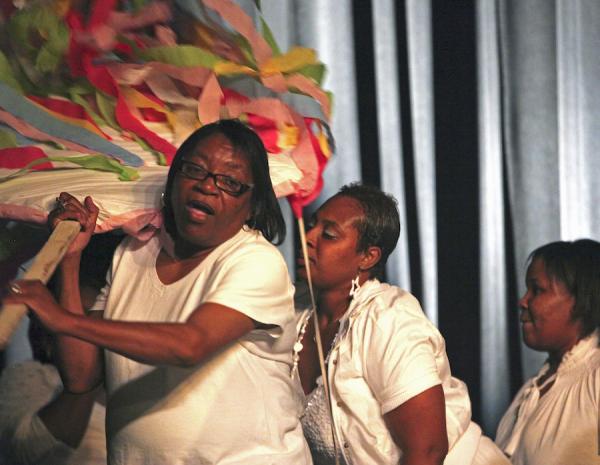 Bio
The Winnsboro Easter Rock Ensemble, under the direction of Hattie Addison Burkhalter, maintains a rare women-led African American traditional spiritual ritual, rooted in both Christian worship and West African ring shout tradition. Documented only in the Northeast Louisiana Delta region and first practiced by enslaved Africans during the antebellum period, Easter Rock was held from Lake Providence to Ferriday, Louisiana, typically in the Baptist church. Today, this Franklin Parish group appears to be the last practitioners of this once thriving tradition.
Easter Rock, held on Easter Eve to celebrate the death and resurrection of Christ, offers a visual, musical, culinary, and spiritual feast, filled with Christian and West African symbolism. The lighted lamps in the darkened sanctuary create an otherworldly, hypnotic atmosphere as the streamers of the banner representing Christ's cross sweep back and forth around the white table representing Christ's sepulcher. Moving counter-clockwise around the table, the Easter Rockers sing spirituals accompanied by the syncopated beat of their feet hitting the wooden floor of the Delta plantation church, echoing their ancestral drums and call-and-response improvisational singing.
Following in the footsteps of her mother Ellen Addison and five generations of the family, Burkhalter, born in 1953, began attending the rock as a child around age six. When she was older, she helped her mother, and later took over as leader when her mother stepped down. Since the rock ritual is embedded in a church service, the leader secures the venue, invites the musical performers and speakers, makes the program, repairs or makes the banner, fills the lamps, obtains the cakes and punch representing communion, and trains, rehearses, and coordinates the group of 12-20 participants.
As leader of the Winnsboro Easter Rock Ensemble, Burkhalter has recruited and orchestrated a host of family and community members with younger people coming in as older ones aged out or passed away: her daughter Laketa "PK" Addison Levy, her sister Pearlie Addison Whitten, grandchildren LaDejia Addison, Tyreal Addison,  Ha'Tia Levy, Roderick Levy, Jr., her brother John White, and community members Emma Jones Bradshaw, Felicia Brown, Jeria Brown, Jalissa Brown, Kelly Brown Tammy Lynch, Deadrea Marzell, Nikiya Pleasant, Yazmine Pleasant, Jada Robinson, Nikki Smith, Karen Whitfield, Ashley Winn, D. J. Johnson, Tyron Williams, and caller Emma Hagan.
While the Easter Rock is a sacred service, they have performed numerous times for the Louisiana Folklife Festival (1994-2005), the New Orleans Jazz and Heritage Festival, the Natchitoches Folk Festival, the Northeast Louisiana African American Museum, and the 1997 Smithsonian Festival of American Folklife. Burkhalter was inducted into the Louisiana Folklife Center's Hall of Master Folk Artists in 2015, and selected for the Louisiana Touring Directory.
By Susan Roach, Director, School of Literature and Language, Louisiana Tech University