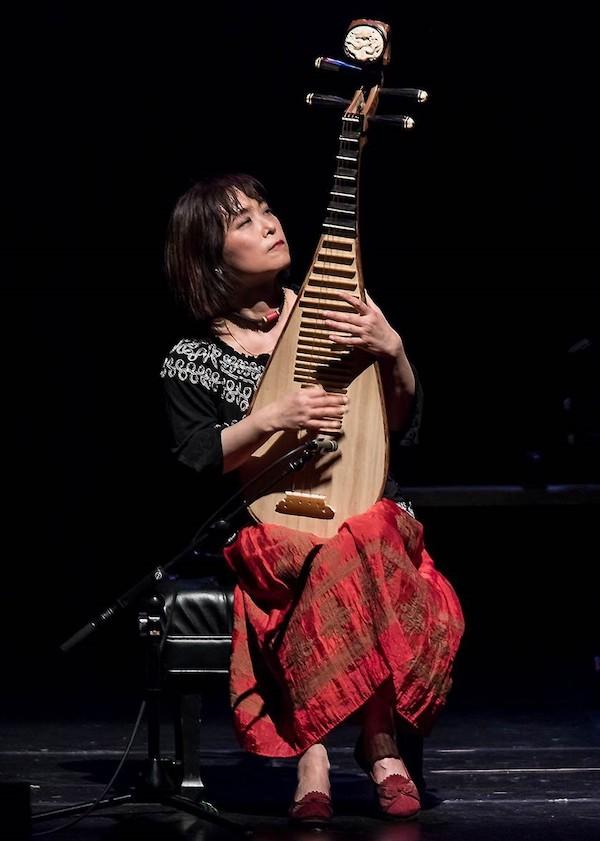 Bio
Wu Man belongs to a rare group of musicians whose vivid brilliance, commanding personality, and range of expression has redefined their instrument, in her case, the pipa, a centuries-old, pear-shaped, four-stringed Chinese lute. Wu Man stands alongside past Heritage Fellows like Bill Monroe (1982, bluegrass mandolin) and Zakir Hussain (1999, North Indian tabla) as virtuosic, improvisational, pioneering luminaries who transformed their respective traditions. The immensity of their transformational contributions to our musical heritage are clearly apparent.
Wu Man already stood out in her native China as the first recipient of a master's degree in pipa performance from the Central Conservatory of Music in Beijing. Prior to this, pipa instruction was transmitted orally from teacher to student, in the style and locality of the master, and was not taught in an institutional conservatory setting. Studying in a conservatory under pipa masters Lin Shicheng, Kuang Yuzhong, Chen Zemin, and Liu Dehai, Wu Man is the first of the new era of pipa players. Rather than stay in China to pursue a successful career as a soloist and teacher, Wu Man immigrated to the United States to expand the reach of the pipa in the wider world of music and explore new horizons for her instrument.
Now considered the preeminent pipa player in the U.S., she is often the first instrumentalist who comes to mind when traditional Chinese music is mentioned in conversation. Americans who know what a pipa is, will have heard of the instrument largely thanks to Wu Man. In her hands, the pipa becomes a perfectly vivid instrument with unlimited potential, not confined by the long and ancient history of its place in traditional Chinese music, but a proud member of that magnificent legacy. Wu Man is recognized as transforming the pipa into a gateway to Chinese culture. She has added the musical colors and textures of the pipa to concert music of all kinds. Composers now incorporate the pipa into their compositions, musicians regularly perform with pipa players, and audiences in the U.S. and across the globe are now familiar with the sound of the pipa.
From her solo concertizing, to performing with groups such as the Kronos Quartet, and the Silk Road Ensemble, to her work bringing traditional Chinese village musicians to the U.S. for educational symposiums and performances (as well as bringing traditional Western musicians to China), Wu Man does much more than just play her instrument splendidly. She is a gifted educator and takes every opportunity to foreground her instrument and its history, frequently giving master classes and demonstrations at all levels throughout the U.S. and the world. She continues to travel back to China to share her discoveries and traditional cultural links, such as the Li Family Daoist Shawm Band, Zhang Family Shadow Puppet Band, Sanubar Tursun, Abdulla Majnun, and others. Additionally, the sound of her pipa has been shared on over 40 recordings, including Grammy winning and nominated albums, amplifying her work to expand the pipa's reach beyond the traditional.
As an immigrant, she has woven this traditional Chinese instrument into the musical fabric of our country, and is truly a cultural ambassador for both traditional Chinese culture in the U.S., as well as Western culture in China. She has received a Bunting Fellowship from Harvard University in 1998, a 2008 United States Artist Fellowship, 2013 Musical America's Instrumentalist of the Year, and an Honorary Doctorate of Music from the New England Conservatory of Music in 2021. In 2023 she was named an Asia Arts Game Changer by the Asia Society. Wu Man's contributions to American musical culture, and specifically to traditional Chinese instrumental music, are still being written, and they will continue to be felt for generations to come.
—By David Harrington, founder and artistic director, Kronos Quartet