Zakarya and Naomi Diouf
West African Diasporic Dancers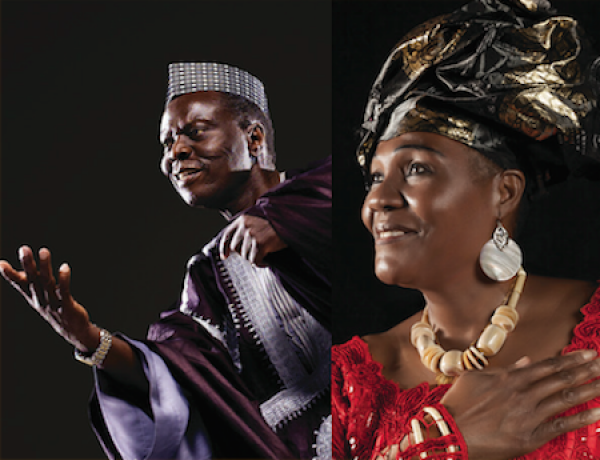 Bio
Dr. Zakarya Sao Diouf and Naomi Gedo Diouf are culture bearers and artists from Senegal and Liberia, respectively, who have contributed to the practice and performance of West African dance, drum, and culture in African diasporic communities for more than four decades.
One of the first native-born Africans to begin teaching traditional Senegalese dance in the U.S., Zakarya's pioneering work in the preservation, presentation, and transmission of African culture has contributed to the Bay Area's reputation as a center for African diaspora dance and music. Before immigrating to the U.S. in 1969, he led the Mali Dance Ensemble and served as artistic director of Les Ballet Africaines of Guinea and National Ballet of Senegal. In 1969, Zakarya joined the faculty of Southern Illinois University and was invited to dance with the dancer and choreographer Katherine Dunham. He later earned a PhD in ethnomusicology from University of California, Berkeley.
Naomi Gedo Diouf grew up in Liberia and began dancing as a child, learning from dancers of her Grebo ethnic group and Kendeja Cultural Center of the Liberian National Troupe and studying with Liberian dancers and later with prominent dancers and musicians from other West African nations. She came to Los Angeles as a high school student as a member of the Youth for Understanding Exchange Program and later returned to the U.S., earning a degree in sociology at University of California San Diego, an MA in organization management, and a California secondary teaching credential. In 1979, she met Zakarya who asked her to join his new dance company.
Zakarya and Naomi relocated to the Bay Area in 1987, with Naomi becoming the artistic director of Diamano Coura West African Dance Company. Established in 1975 at San Jose State University, Diamano Coura or "those who bring the message" in the Wolof language, has a vast repertoire reflecting Senegal and Liberia as well as material originating in Mali, Guinea, Côte d'Ivoire, and the Gambia. They have featured dances of the Wolof, Serer, Kpellé, Kru, Vai, Gio, Lorma, Mandingo and Bassa ethnic groups, just to name a few. The result is a complex presentation and understanding of Africa through its diversity of peoples, languages, rituals, beliefs, clothing, and masks. The company has performed both nationally and internationally—including in Ghana, the Ivory Coast, Senegal, and Mali—and Zakarya and Naomi's eight children are actively involved in the company.
For 28 years, Naomi also taught West African dance at Berkeley High School, designing the first public high school African American Studies Department curriculum in African dance. For her work, she was acknowledged with proclamations from the Berkeley City Council and the Oakland City Council, and received recognition from the Alameda County Supervisors Office.
Zakarya received an Emmy Award for his part in the musical score of Alex Haley's Roots "Part I" in 1976, among his many awards. Among Naomi's awards is the 2019 inaugural Dance USA Fellowship, intended to recognize dance artists engaged in social change.
By Lily Kharrazi, Alliance for California Traditional Arts
Sample of Zakarya & Naomi Diouf's work: Zak and Naomi Diouf + Diamano Coura West African Dance Company, Oakland Museum of California, 2015, Alliance for California Traditional Arts