Dick Hyman
Keyboardist, Composer, Arranger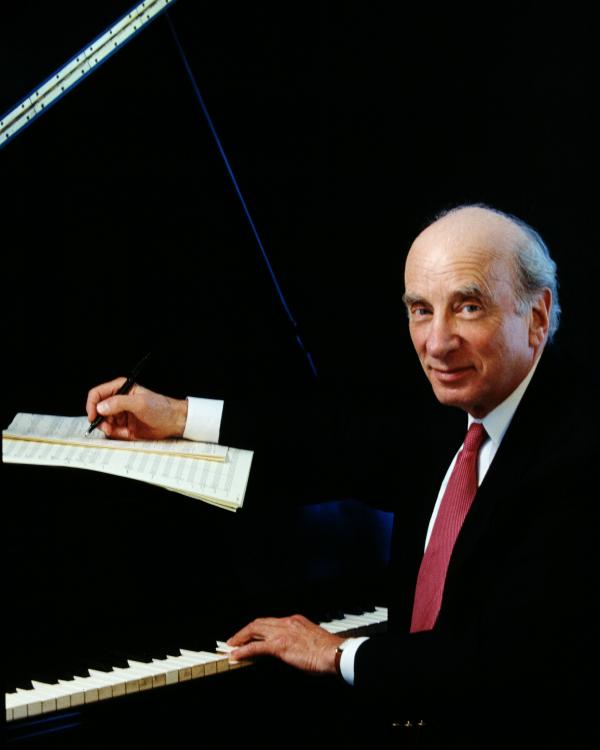 Bio
"I can hardly express how honored I am to be added to this list of great people. Starting out back in the '50s, I have heard many of the older players, got to perform with them and the younger ones who succeeded them—and the even younger talents who have more recently arrived—and I am very proud officially to join their ranks." 
Dick Hyman is a piano virtuoso who—Zelig-like—has been known for playing in any style he wants. A masterful improviser, he is also a composer of concerti and chamber music, and the soundtrack composer/arranger for more than a dozen Woody Allen films (including, appropriately, Zelig). In addition, he launched the acclaimed Jazz in July series at the 92nd Street Y in New York City and served as its artistic director for 20 years.
Hyman was classically trained by his uncle, concert pianist Anton Rovinsky, and introduced to classic jazz recordings by his brother Arthur. After completing his freshman year at Columbia University, he enlisted in the Navy in 1945, playing with various groups at Great Lakes Naval Station. Upon returning to Columbia after the war, he won an on-air music competition for 12 free piano lessons with jazz great Teddy Wilson. By 1949, he had worked with vibraphonist Red Norvo and Max Kaminsky's Dixielanders, and in 1950 toured Europe with bandleader Benny Goodman.
Back in New York, Hyman established himself in freelance recording and studio work before settling at NBC as a pianist, organist, and musical director for five years. He retained his interest in early jazz piano, including in his performances today the music of such luminaries as James P. Johnson, Scott Joplin, Jelly Roll Morton, and Fats Waller, as well as later masters such as Thelonious Monk and Bill Evans. Surprisingly, along with his musical interest in early jazz, Hyman was among the first to record on a Moog synthesizer. His 1969 release of "The Minotaur," a hit single, clearly influenced other artists (in jazz and other genres) of that era and proved to be a cutting-edge jazz improvisation ahead of its time.
Hyman is a virtuoso on the keyboard instrument, and his ability to play in any style is best illuminated by his 1977 release Themes and Variations on "A Child Is Born." On the recording, he duplicates the styles of 11 other pianists on the Thad Jones classic ballad, ranging from Scott Joplin to Cecil Taylor. No mere mimic though, Hyman features his own style in one of the variations. He continues to perform—often solo—relying on the basic standards repertoire, such as Irving Berlin and Cole Porter, for lengthy improvisations.
His work on stage and screen (both TV and film) has been rewarding as well. As a prolific studio musician, he won seven Most Valuable Player Awards from the National Academy of Recording Arts and Sciences and received two Emmy Awards for various television work. Hyman was music director for radio and television broadcaster Arthur Godfrey and orchestrator of the hit musical Sugar Babies. He also served as composer, arranger, conductor, and pianist for many films, including The Purple Rose of Cairo, Sweet and Lowdown, and Moonstruck.
Selected Discography
Moog: The Electric Eclectics of Dick Hyman, Command/Varese Sarabande, 1969
Scott Joplin: The Complete Works for Piano, RCA, 1975
The Music of Jelly Roll Morton, Columbia, 1978
Dick Hyman and Ralph Sutton, Dick Hyman and Ralph Sutton, Concord, 1993
House of Pianos, Arbors Records, 2014