Sun Ra
Keyboardist, Composer, Arranger, Bandleader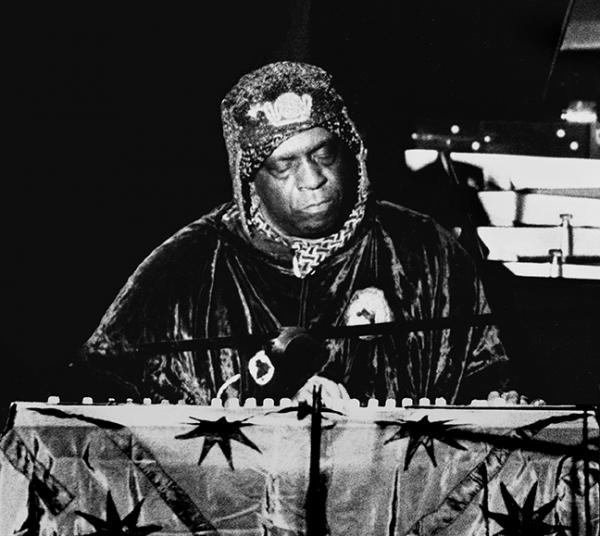 Bio
Sun Ra was one of the most unusual musicians in the history of jazz, moving from Fletcher Henderson swing to free jazz with ease, sometimes in the same song. Portraying himself as a product of outer space, he "traveled the spaceways" with a colorful troupe of musicians, using a multitude of percussion and unusual instrumentation, from tree drum to celeste.
Sun Ra, who enjoyed cloaking his origins and development in mystery, is known to have studied piano early on with Lula Randolph in Washington, DC. His first noted professional job was during 1946-47 as pianist with the Fletcher Henderson Orchestra at the Club DeLisa on the South Side of Chicago. In addition to playing piano in the band he also served as one of the staff arrangers. Finding his calling as an arranger, he put together a band to play his compositions. In the 1950s, he began issuing recordings of his unusual music on his Saturn label, becoming one of the first jazz musicians to record and sell his own albums.
Sun Ra's band became a central part of the early avant-garde jazz movement in Chicago, being one of the first jazz bands to employ electronic instruments (as early as 1956), including electric piano, clavioline, celeste, and synthesizers. In 1960, he moved his band to New York, where he established a communal home for his musicians, known as the Sun Palace. In March 1966, the band began one of its most significant residencies, playing every Monday night at Slug's nightclub on New York's Lower East Side.
By the 1970s, the Sun Ra Arkestra and its various permutations began touring Europe extensively. His performances had by then expanded to include singers, dancers, martial arts practitioners, film, and colorful homemade costumes, becoming a true multimedia attraction. Their performances would often stretch on for hours, including hypnotic, chanting processionals through the audience. Sun Ra's global following had become significant, though his recordings had become sporadic. His arrangements of his songs, however, were among the best in jazz. He made excellent use of his soloists, especially the great saxophone section: tenor John Gilmore, alto Marshall Allen, and baritone Pat Patrick, all of whom were with the Arkestra on and off for decades.
An outsider who linked the African-American experience with ancient Egyptian mythology and outer space, Sun Ra was years ahead of all other avant-garde musicians in his experimentation with sound and instruments, a pioneer in group improvisations and the use of electric instruments in jazz. Since Sun Ra's death, the Arkestra has continued to perform under the direction of Allen.
Selected Discography
The Singles, Evidence, 1954-82
Jazz in Silhouette, Evidence, 1958
The Heliocentric Worlds of Sun Ra, Vol. 1 & 2, ESP, 1965
Space is the Place, Evidence, 1972
Purple Night, A&M, 1989