Toshiko Akiyoshi
Bandleader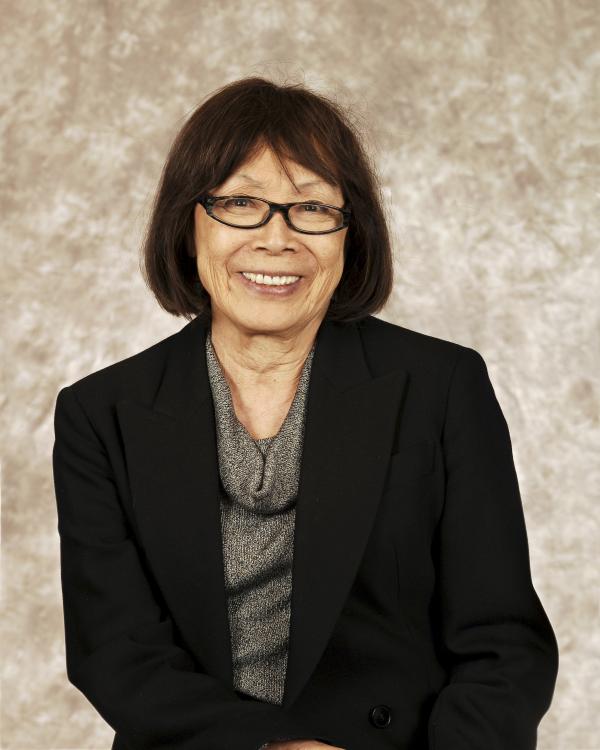 Bio
"When I received the news of the award over the phone, I was stunned for a second, disbelieving my ears. I am sure that anyone who has received this prestigious award felt quite honored; but for me, it was much, much more special, because of who I am and where I came from. It has been 60 years since I discovered jazz, and made it my life time work. I am so gratified to be recognized for my endeavors especially my infusing of Japanese culture into the jazz world, making it ever more universal."
Over the course of a six-decade career, pianist, bandleader, and composer-arranger Toshiko Akiyoshi has made a unique and vital contribution to the art of big band jazz. Born in Manchuria, where she began playing the piano at age six, Akiyoshi moved back to Japan with her parents at the end of World War II. Her family, enduring the hardships of the period, could not provide her with an instrument, and so, just to touch a piano, she took her first job as a musician, playing in a dance-hall band.
She was not exposed to real jazz until a Japanese record collector introduced her to the work of Teddy Wilson, whose music immediately impressed her. In 1952, pianist Oscar Peterson discovered Akiyoshi while he was on a Jazz at the Philharmonic tour of Japan and recommended that producer Norman Granz record her. Thanks to this opportunity, she came to the United States in 1956 to study at the Berklee School of Music in Boston. She moved to New York in 1959, playing at Birdland, the Village Gate, the Five Spot, and the Half Note; but despite a brief attempt in the 1960s to showcase her talents as a composer and arranger for large ensembles, she did not have the opportunity to form a big band until she moved to Los Angeles in 1972 with her husband, saxophonist/flutist Lew Tabackin. The following year, the couple formed the Toshiko Akiyoshi Jazz Orchestra featuring Lew Tabackin. In 1976, the band placed first in the DownBeat Critics' Poll, and Akiyoshi's album Long Yellow Road was named best jazz album of the year by Stereo Review. In the 1970s, Akiyoshi began exploring Japanese themes in her compositions and arrangements, mixing them with the strong jazz base in her music.
In 1982, the couple returned to New York, where Akiyoshi re-formed her band with New York musicians. The band enjoyed a critically successful debut at Carnegie Hall as part of the 1983 Kool Jazz Festival. Akiyoshi has recorded 22 albums to date with the orchestra. Her recording Four Seasons of Morita Village was awarded the 1996 Swing Journal Silver Award, and her big band albums have received 14 Grammy Award nominations. Akiyoshi is the first woman ever to place first in the Best Arranger and Composer category in the DownBeat Readers' Poll.
In 1995, the Toshiko Akiyoshi Jazz Orchestra was invited to play in China, and in 1996 Akiyoshi completed her autobiography Life With Jazz, which is now in its fifth printing in Japanese. Among the many honors she has received are the Shijahosho (1999, from the Emperor of Japan); the Japan Foundation Award, Order of the Rising Sun, Gold Rays with Rosetta (2004, from the Emperor of Japan); and the Asahi Award (2005, from the Asahi Shimbun newspaper).
Selected Discography
Long Yellow Road, RCA, 1974-75
Carnegie Hall Concert, Columbia, 1991
Four Seasons of Morita Village, BMG, 1996
Hiroshima: Rising from the Abyss, True Life, 2001
Toshiko Akiyoshi and the SWR Band, Let Freedom Swing, Hanssler 2007
Interview by Molly Murphy for the NEA
October 24, 2006
Edited by Don Ball, NEA
EARLY INFLUENCES
Q: I was interested to hear that you began playing piano as a little girl in Manchuria.
Toshiko Akiyoshi: Yes. I heard the third grade pupils played Mozart. I was in first grade and I thought I'd like to play just like that. So I started at seven.
Q: When you moved back to Japan I read somewhere that someone played a jazz recording for you. I believe it was Teddy Wilson?
Toshiko Akiyoshi: Yes. Well, the war was ended and all the Japanese outside of Japan, they all had to come back. It wasn't allowed to bring anything home, so my parents lost every asset they had. I was 16 at that time. The American troops set up camp, and they have to have officers' club, NCO club, what have you. I don't think they have enough musicians to go around it. So when I saw the sign in a window in a dance hall said "A Pianist Wanted," I went in and I was hired just like that. Then to some degree I think I was lucky that I was hired for the Japanese dance hall. A few days later, a Japanese jazz record collector, he said I have potential, so he invited me home [to listen to Teddy Wilson recordings]. So when I heard that I said, "Well I want to play just like that." So that's my entry.
Q: Had you ever heard any American jazz before?
Toshiko Akiyoshi: No.
Q: And what was it about Teddy Wilson's sound, or was it just the sound of jazz that got you?
Toshiko Akiyoshi: No, Teddy Wilson, as everybody knows, he's a very clean pianist. I think most swing-era pianists were very clean. I think it's easy to understand, but Teddy Wilson in particular, because he was always one of the best, very clean and nice. And then from a classical training, a pianist like myself, that was [something with which] I can identify. I think that was the main thing. People always ask me why I became a jazz player, and it's not an intellectual decision. It really appealed to me.
Q: Was it difficult to make the transition from the classical approach to the piano where there's not improvisation?
Toshiko Akiyoshi: There wasn't any book. As a matter of fact, the one book that this man who played the record for me sent to me, it's called How to Play a Jazz Piano. It's more like a ragtime piano, but I never heard that before. First of all, I didn't even know how to stride, that there was such a thing as stride. So that was the only book. The way to learn jazz is to copy from a record so that's what I did. I copied improvisation there and I tried to play it on my piano and that's the way I started. It was natural to me. It didn't even enter my mind to transform from classic to jazz or something. It was something very natural.
Q: Can you describe the scene that you found in Boston when you attended the Berklee School of Music, and maybe one or two of the most memorable sort of opportunities that you had to play with other people?
Toshiko Akiyoshi: When I moved to Tokyo, that's the first time I heard the armed forced radio service. I heard a Bud Powell recording through the radio. He was the one who I really felt in my heart, not my head. So I was heavily influenced by Bud Powell. I think I probably heard every record he ever made, you know, until I came to this country in 1956. I was proficient at playing for ten years in Japan before I came to this country, and I hate to say but I was a big frog in a small pond. Norman Grantz already recorded me; it came out in '54 in this country. When I landed in Boston, it could be the 10th of January, it was a Sunday morning, two o'clock in the morning, and that day was the Bud Powell Trio's last day at Storyville. So Sunday was the last day and I really thought, "Wow that's something, the first one I hear is the Bud Powell Trio." So I think that was the very impressive to me.
Q: And then did you ever play with Bud Powell?
Toshiko Akiyoshi: Yes. I sat in. His drummer was at that time Ed Thigpen -- who lives in Europe now I think. He was in Japan in the Korean War time on a vacation and I met him in Japan. I had a group so that [soldier musicians overseas] can sit in and play. So that's how I met Ed Thigpen. I heard that at the Storyville [with Bud Powell], he was the drummer. Oddly enough I don't remember who the bass player was.
FORMING THE BIG BAND
Q: I wanted to ask you about your decision to form a big band.
Toshiko Akiyoshi: That's a very complicated subject actually because when I was in school, as you know, in those days you can only come [to the U.S.] if you are invited by some organization. In my case it was a school -- I got a full scholarship and the school was the sponsor. You had to have a sponsor in those days. And I thought that if I learn something, I will go back to Japan and pass it on to fellow musicians. But when I finished school, about three and a half years later, I realized that I didn't think I learned anything. So I decided to stay and I moved to New York. I would be just like anybody else, just paying the rent. It's amazing that I got by because every time I thought, what I'm going to do next month with the rent, always some job came. There are many, many reasons that I felt that I really wanted to have a large ensemble because I came to the point where it's not enough for me to just improvise tunes. I would like to be able to convey my thoughts on a certain subject.
Q: So you thought of it primarily as a vehicle for your compositions?
Toshiko Akiyoshi: Yeah, because I needed more color. My original music was a trio or quartet format but I felt like I needed more color. When I did that new writing, at the first rehearsal I felt that's what I would like to do. I felt more comfortable. But I didn't have enough money to keep the band. If you form the band, you have to keep it, and in those days there wasn't any rehearsal room; even the cheapest rehearsal studio would have cost, and then I just didn't have that kind of money, so that was that. Lew's [Tabackin, Akiyoshi's husband and saxophonist with her band] job brought us to L.A. and Los Angeles doesn't really have much jazz activity, so Lew suggested that he would get the musicians together. He said, "I'll get the musicians together to play your music." That's how it started in March 1973. No one expected it to become a working band.
Q: Can you describe the sound that you try to achieve, like if someone said is there a Toshiko Akiyoshi sound?
Toshiko Akiyoshi: I'm not quite sure. There's very obvious things that I have, which another band doesn't have and still don't. There was a woodwind section. It didn't exist before and as far as I know; it doesn't exist today either.
[One song] I employed a classical concerto form, which means there is a short credenza in the middle and then a punch-like credenza at the last. You know, all big bands always had a credenza, like Duke's band has it and so on, but it's always the last part and it's very short, never in the middle. So something like that is something that people have to listen for. Things like that, I think, probably make a difference. I take a lot of time to write; I think it shows, you know.
COMPOSING
Q: Do you have any ideas about what makes a good composition?
Toshiko Akiyoshi: I'm very much a jazz snob. Every time when I hear something that [makes me think] "Boy, boy, they sound really great," there's usually someone like Frank Foster, a great player whose writing has a certain gutsiness and certain sense of swing. That's something I look for. For me, people always say what do you think your best quality is or things like that. I think the main thing is I have good judgment. [To know] where it's good, where it's not, that's probably my asset.
I'm very lucky to come to this country when the jazz scene was very open. If you know the tune, you can sit in, which I did most of the time while I was in Boston. Another thing, when someone like Oscar Pettiford was still alive and well, he used to come and sit in at Hickory House. It's a great lesson to play with a great player.
Q: When you write compositions for a large ensemble do you usually have specific instrumentalists in mind as you're writing?
Toshiko Akiyoshi: I have a band now because I wanted to have a band, but I only write for the one I know. So in the past years, I haven't accepted commissions for other organizations. I have some commission fees, but they're all written for my old band. Usually I know the idiosyncrasies of the player.
Q: When do you write and how? What's your process of writing?
Toshiko Akiyoshi: There's two different things. One is to create a vehicle for the certain player. That's one. Two is, it's a story. I'm very concerned about social issues and political issues, especially political decisions affecting us and society. Some of the political decisions aren't always made by a government. It could be a big corporation, whatever. So I like to tell the story; I usually go backwards. Like I want to tell this story and when I listen to this music I want to get the feeling about this particular story: how do I do that? That's the way it works. So it's a long process, a long, long process.
Kogun, which is my very first [big band] LP, is about a Japanese soldier discovered in a Philippine jungle not knowing the war was ended. He spent 29 years there. He didn't go to war because he wanted to go to war; he was drafted. Hiroshima: Rising from the Abyss, I think that one is really important and I think came out very well. What I always think is that the one who commissioned me is the priest from Hiroshima and probably he prayed every day. That's why it came out good.
Q: I understand you were reluctant at first?
Toshiko Akiyoshi: Yes, because after the war we came back to Japan and at the time when we came back to Japan in summer '46, it was occupation time and I never heard about Hiroshima. I knew about it, but no paper was talking about it. They probably didn't want to talk about the subject. Then when I came to this country, some of the victims came to this country for some hospital, for treatment, something like that. But I never really thought about it much. He asked me [to write a composition] and he sent me photos.
I always consider myself a pianist. I never considered myself a writer, but that seems to be where my value lies. Anyway, when I saw this photo taken after atomic bomb was dropped, it was a great shock to me. I never seen it before and it horrified me. And then I thought, I don't know if I can write something like this. I didn't know if it means anything to write something. Who is going to get benefit from that? So I was going to decline, and I just kept looking at different pages, and the first couple of times I missed one page. There was a young woman who was underground, and she wasn't affected by the bomb. When she came up and smiled a little bit, it was such a beautiful face and it had nothing to do with the war. When I saw that photo, I said, "I can write that." In other words, we must have hope. The worse the situation is, we have to have hope, learn from that and say it shouldn't happen. We all keep saying to the world, anti-war, anti-nuclear weapon, and we'll just keep hoping to have peace someday, and so on. That last part is hope. And so I thought this is a piece for hope, so I played at Hiroshima on August 6th, 2001, and it was documented and came out in this country. Jon Faddis's wife sent us the copy of Stereo -- I don't usually read things like that -- and it was a tremendously well received review [of Hiroshima].
When we came back to the United States, as you know 9/11 was shortly after that. Since then, I always play just a little part [from Hiroshima]. That's a little part with orchestration, a solo, trio, you know, whether Japan or Europe or America I always do that. I heard we are having a big '60s anniversary concert in Japan in December and the chief producer asked me, Is it okay to put lyrics on "Hope?" So I said "Well go ahead, whatever you want to do, okay." I always had a problem with lyrics because I'm very ignorant about that field. It's great lyrics, I don't doubt it. The point is, music is basically abstract, so open for any interpretation; the same music to A listener, "I think this is an apple," and then for B listener, "Oh, I think this is a pear," so there's open for interpretation how they receive it. Once you put the lyric, an apple is an apple, never a pear, so I never had any lyrics with my music, not because I didn't want it or anything, but I never thought about it.
Q: How do you write? Do you write at the piano and do you handwrite your compositions?
Toshiko Akiyoshi: I don't use computer. I'm 76 years old. I'm too late, too late for computer. I write everything by hand.
SOLO PIANO
Q: How often do you have opportunities to play as a solo pianist versus with your ensemble?
Toshiko Akiyoshi: Most of the proposals nowadays are solo. For example, this week I'm at the Seattle festival just solo and at the San Francisco festival solo. A couple of years ago, San Francisco also was solo. I would hope they would hire the trio or something, but they prefer solo, so I do a lot of solo.
I think the very first one in 2000 was at the Kennedy Center. They had, still do, the Art Tatum Piano Panorama Series. They asked me to be part of this solo [series] and that was recorded. And before that, on the Concord label, there was a piano series, Live at the Maybeck, and that was all solos. I think it started from somewhere around there. Then I started to play solo in Japan maybe over ten years ago or around there.
I go back to Japan with the orchestra. It costs a lot of money, so you can only play in a big city. And one night there was about seven or eight people that came to the concert and said "Oh, we came, you know, took a two-and-a-half hour long train," so after the concert we got together having a drink or something and that started me thinking. I thought well there's a lot of jobs that maybe number more small places. Jazz is fun all over the place and not everybody can come all the way by taking four or three hours of train. And I thought, if they don't mind me coming to them as a solo, I would like to do that. I didn't used to play solo with the band often because it takes somebody else's solo away. This would give me an opportunity to play the piano more and so that's how it started. And so to this day I try to do it once a year on my own, going into small places; this is good for me and was income for me and they are very happy to have me.
Q: Do you prefer playing solo?
Toshiko Akiyoshi: Yeah. I enjoy playing trio too, but the realistic part is the trio always costs more money. Also sometimes trying to get the musicians, that's another story. By doing this for many years, I developed my own solo style. One thing about the solo is you can't let the mind go. Once you started, you have to have tremendous concentration. In a trio, you can let your mind rest for a drum solo or something like that. I kind of enjoy playing solo, but I also enjoy playing trio. It's kind of hard to say.
AUDIENCES
Q: Are audiences important to you during a live performance?
Toshiko Akiyoshi: Oh, yes definitely. I told you I came in at a very good time, and I was playing places like Small's Paradise and you see the same face maybe three, four days a week, and they are usually standing at the bar. I think drinks were under $1 in those days for them, and there's no cover charge or anything. Of course our payroll wasn't quite high as today. But they would come up and say, "Oh, you sounded good tonight," or they would say, "Sounded better yesterday," things like that. The rapport, it keeps the music alive, I think.