Willard Jenkins
Artistic Director, Writer, Broadcaster, Educator, Oral Historian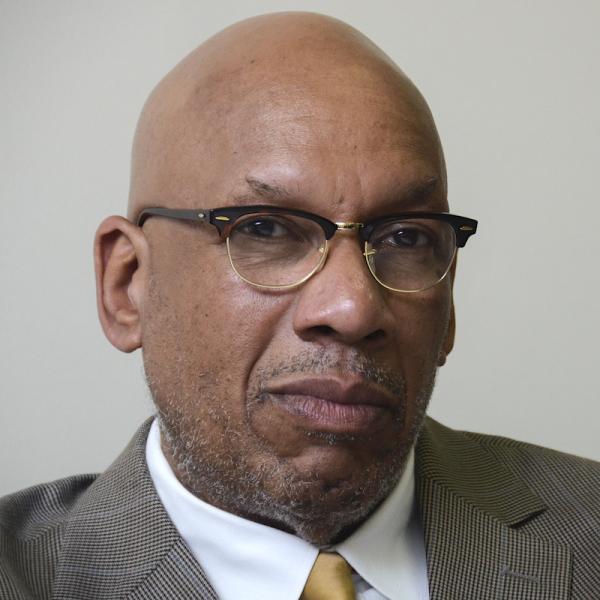 Bio
Willard Jenkins—recipient of the 2024 A.B. Spellman NEA Jazz Masters Fellowship for Jazz Advocacy—has been involved in jazz as a writer, broadcaster, educator, historian, artistic director and arts consultant since the 1970s and is one of the major voices in promulgating the music and its importance to American culture. Currently the artistic director of the DC Jazz Festival as well as the host of the Ancient/Future program on DC's WPFW radio station, the only jazz station in the nation's capital, Jenkins is an authority on the local as well as national jazz scene.
Jenkins was born in Pittsburgh, Pennsylvania, and grew up in Cleveland, Ohio, in a household that was overflowing with jazz music. He cultivated his own love of the music first through his father's record collection, then through local jazz radio station WCUY. While at Kent State University earning a BA degree in sociology, Jenkins joined Omega Psi Phi and began writing about jazz for the Black student newspaper and then became a regular contributor to the Cleveland Plain Dealer after graduating. He subsequently contributed to local, regional, national, and international publications with contributions appearing in JazzTimes, Inside Arts, DownBeat, Jazz Forum, and numerous other publications and online sites, as well as providing liner notes for jazz recordings.
In 1977, he founded the Northeast Ohio Jazz Society as a concert presenter. From 1979 until 1984, Jenkins taught jazz history at Cleveland State University, and continued his teaching through an online course, Jazz Imagines Africa, for Kent State University, which he taught starting in 2005.
In 1983, Jenkins conducted a regional needs assessment/research and feasibility study on jazz in the Midwest, which led to the development of the nation's first regional jazz service program at Arts Midwest. He went on to work at Arts Midwest until 1989, publishing the quarterly Jazzletter, developing the first regional jazz database, and writing a series of how-to technical assistance booklets for musicians, presenters, educators, and organizations. At Arts Midwest, he also produced the first jazz media conference, which led to development of the Jazz Journalist Association.
From 1989 until 1994, Jenkins was executive director of the National Jazz Service Organization in Washington, DC. In 1990, he was an architect of the Lila Wallace-Reader's Digest National Jazz Network, which received an initial funding allocation of $3.4 million to develop a network of presenting organizations and regional arts organizations.
Over the arc of his career, Jenkins has also served as 18-year artistic director of Tri-C JazzFest, BeanTown Jazz Festival, Tribeca Performing Arts Center, and as artistic consultant to the Mid-Atlantic Jazz Festival, 651 Arts, Harlem Stage/Aaron Davis, and the Smithsonian Institution. He also conducted in-depth oral history interviews for the Smithsonian Institution, the Rhythm and Blues Foundation, and Weeksville Heritage Center. In addition to WPFW, Jenkins has served as program host and producer at WWOZ in New Orleans, KFAI in Minneapolis, and BET Jazz.
In 2010, he worked with Randy Weston on his highly praised as-told-to autobiography, arranging the material in the book. He writes and edits a blog, The Independent Ear, on his website openskyjazz.com and recently used a collection of interviews he conducted on the blog with Black music critics for his new book, Ain't But a Few of Us: Black Music Writers Tell Their Story, that was released in late 2022. He also produces and hosts a biweekly online jazz trivia contest called Jazzology for the website Savage Content, for whom he wrote a 13-episode biographical podcast on Billie Holiday, No Regrets.
Select Bibliography:
Editor, Ain't But a Few of Us: Black Music Writers Tell Their Story, Duke University Press, 2022
Contributor, DC Jazz: Stories of Jazz Music in Washington, DC, Georgetown University Press, 2018
Contributor, David Baker: A Legacy in Music, Indiana University Press, 2011
Contributor, Ain't Nothing Like the Real Thing (How the Apollo Theater Shaped American Entertainment), Smithsonian Books, 2010
Collaborator, African Rhythms: The Autobiography of Randy Weston, Duke University Press, 2010
I am deeply honored and humbled to be joining this incredible pantheon of contributors to jazz music. I am particularly thrilled to be receiving this award in the name of my friend and colleague A.B. Spellman. This award is utterly and completely gratifying!