Carlisle Floyd
Opera composer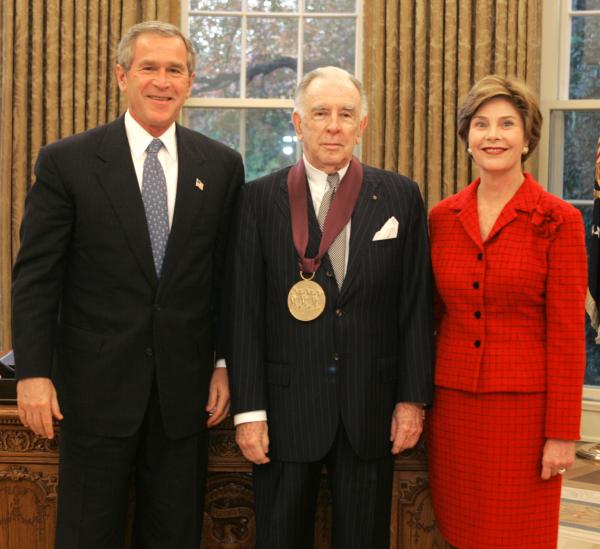 Bio
Citation: For giving American opera its national voice in a series of contemporary classics rooted in American themes.
Carlisle Floyd is the most important American opera composer and librettist in our nation's history. With Susannah (1955), Of Mice and Men (1970), and Cold Sassy Tree (2000), he has more titles in the standard repertoire than any other U.S.-born composer. In addition, his operas Willie Stark and The Passion of Jonathan Wade have been featured productions in companies such as the Houston Grand Opera, Lyric Opera of Chicago, Metropolitan Opera, San Diego Opera, and New York City Opera among others.
Floyd's commitment to American opera spans more than 50 years, representing a dedication to new works and new singers. His operas have been performed more than any other living American composer aside from Gian Carlo Menotti. Through his 12 operas, his expressive clarity, lyricism, and realization of the value of song have ensured a dedicated following among both audiences and critics.
The element that makes Floyd stand out among his peers is his ability to write successful operas that capture what it is to live in the United States. Whether set in the Appalachian Mountains, Louisiana, a small Georgia town, or California's central valley, Floyd gave America an operatic voice. Using hymns, spirituals, and jazz in sophisticated, lucid, and powerful ways, Floyd has helped shape the formation of an American operatic style.
As an educator, Floyd has played a crucial role in two important training programs. In 1977, he was co-founder of the Houston Opera Studio. He also accepted the M.D. Anderson Professorship at the University of Houston, a position he held until his retirement in 1996. Throughout his career, he has dedicated himself to passing on his vision of contemporary music to new generations of composers and singers.
Floyd has received honors from arts organizations, educational establishments, and governments and in 2001 he was inducted into the American Academy of Arts and Letters. His most performed opera, Susannah, won the New York Music Critic's Circle Award and represented America at the 1958 Brussels World Fair. Andrew Porter of The New Yorker summarized the lasting value of Floyd's oeuvre saying, "He has learned the international language of successful opera in order to speak it in his own accents and to enrich it with the musical and vernacular idioms of his own country."