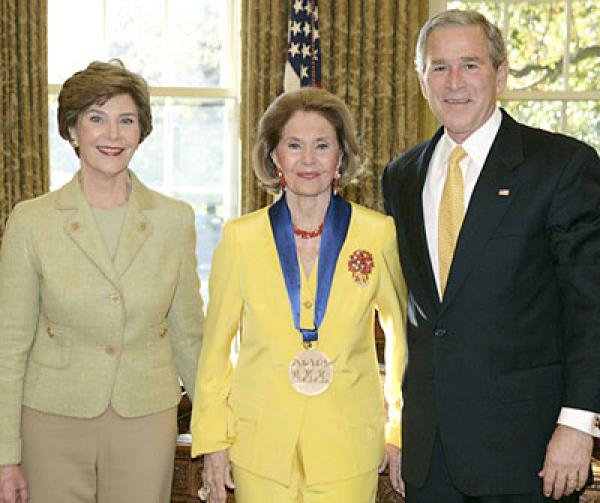 Bio
Cyd Charisse is one of Hollywood's greatest dancers best known for two acclaimed dance sequences, the "Broadway Melody Ballet" from the movie Singin' in the Rain with Gene Kelly and the "Girl Hunt Ballet" from The Band Wagon. As Fred Astaire so aptly stated about his favorite partner Cyd Charisse, "When you've danced with her, you stay danced with."
Cyd Charisse grew up in Amarillo, Texas and spent her early childhood taking ballet lessons. She joined the Ballet Russe at age 13 touring with the company in the U.S. and Europe, using the stage names of Maria Istomina and Felia Sidorova. In 1939 she married Nico Charisse, a former dance teacher.
Four years later, she appeared in her first film as Lily Norwood in Something to Shout About followed that same year by Mission to Moscow. In 1946, she was cast in Ziegfeld Follies, dancing with Fred Astaire. Although that film did not include her in the credits, it did lead to a seven-year contract with MGM and a series of films that propelled her career not only as a talented and beautiful dancer but also a compelling actress.
Other musicals over the next several years include The Harvey Girls with Judy Garland (1946), Words and Music (1948) and East Side West Side (1948). But it was Singing in the Rain (1948) that really made her a star. After the enormous success of that film, Charisse gave a wonderful performance in The Band Wagon with Fred Astaire (1953) followed by Brigadoon (1954) and It's Always Fair Weather, both with Gene Kelly (1955), and Silk Stockings (1957) among others. In 1952 she made national headlines by taking out a $5-million insurance policy on her legs.
She has been involved in 14 theater productions including Damn Yankees, Cactus Flower, and Grand Hotel. In the 1960s, musicals faded in popularity and Charisse's career reflected that shift in audience preferences. She appeared on television and performed in a nightclub revue with her second husband, singer Tony Martin.