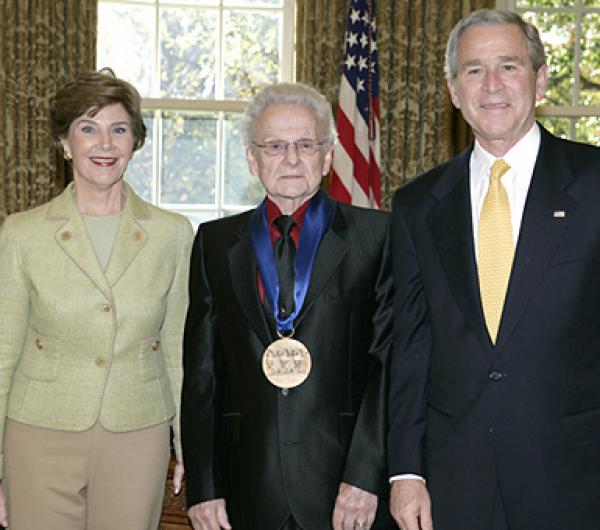 Dr. Ralph Stanley
Bluegrass musician
Bio
Dr. Ralph Stanley was born in 1927 in the Clinch Mountains of Virginia, which inspired much of his music. He and his brother Carter learned ballad singing and claw hammer-style banjo playing from their mother, whose repertoire ranged from traditional narrative songs to 19th-century hymns. After the brothers were discharged from the Army -- both in 1946 -- they formed their own band, the Stanley Brothers and the Clinch Mountain Boys. They quickly gained a following due to their broadcasts on WCYB in Bristol, Virginia, which reached a five-state area: Kentucky, North Carolina, Tennessee, Virginia, and West Virginia.
From 1947 to 1958, the Stanley Brothers recorded with Rich-R-Tone, Columbia, and Mercury record labels, where they defined their signature sound, which revolved around Ralph's mournful vocals and three-finger banjo playing and Carter's masterful lead singing. In 1966, Carter died, and after much consideration, Ralph continued his musical career and formed a new band.
Although Stanley has played primarily a traditional repertoire, he has also written his own songs. "It just hits you, comes on your mind," he said. "I've got up at three or four o'clock in the morning, wrote a song or two, maybe wrote three before I went back to bed. If I didn't get up and write them down, I wouldn't have remembered them the next day." Stanley was also responsible for the revival of a cappella singing in contemporary bluegrass music, continuing the tradition he had learned from his mother.
Many contemporary bluegrass artists have come up through the Clinch Mountain Boys band, including Ricky Skaggs, Keith Whitley, Larry Sparks and Charlie Sizemore. Stanley has seen a resurgent interest in his music after he performed on the multi-platinum soundtrack for the movie, O Brother, Where Art Thou? released in 2000.