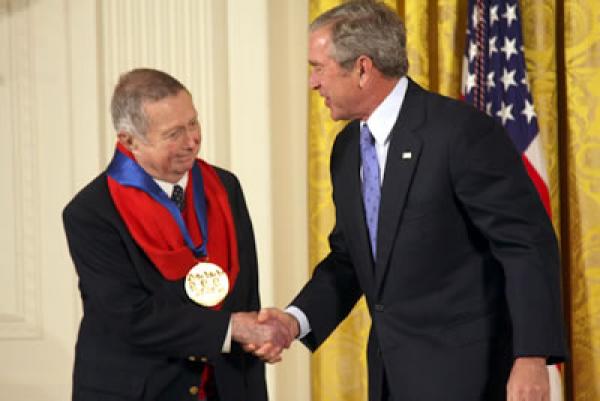 Bio
George Tooker is considered one of the America's preeminent painters. Initially a leading artist in the American Magic Realism movement, he regarded himself as a reporter of society rather than an interpreter.
George Tooker was born on August 5, 1920 in Brooklyn, New York and moved to Belleport, Long Island. He took art classes from Malcolm Frazier, a Barbizon Style painter. He attended Philips Academy, a private boarding school in Andover, Massachusetts. In contrast to the elite environment of the campus, Tooker observed the lower classes during his trips to nearby Lowell and Lawrence, experiences that would inform his political sensibilities as well as his painting.
Although interested in attending art school after graduating from Philips Academy, he went to Harvard, studying English literature and becoming active in socialist causes on campus. In 1942, he received his undergraduate degree and entered the Marine Corps only to be discharged due to a physical issue. Beginning in 1943, he studied under Reginald Marsh and Kenneth Hayes Miller at the Art Students League in New York.
It was his friend Paul Cadmus who encouraged Tooker to try egg tempera, a medium from the Italian Renaissance that was garnering renewed interest among contemporary artists. Although quick drying, egg tempera was difficult to apply and especially difficult to change once on the gesso panels he used. Regarding Tooker's subjects, his paintings depict scenes of everyday American life that he transforms into iconic images, haunting psychological landscapes of numbing isolation, anonymity, and repetition.
His human figures are often of indeterminate sexuality or race, isolated in their bulky clothes, trapped in their own worlds. His deep exploration of geometric design and symmetry were important in his work and contributed to a slow pace that allowed him to produce only two paintings a year.
Tooker is often compared with Edward Hopper, Andrew Wyeth, and Samuel Beckett in terms of his themes and visual style. Perhaps the most widely known example of his painting is The Subway (1950), in the collection of the Whitney Museum of American Art, and Government Bureau (1956) at the Metropolitan Museum of Art. His work is also in the permanent collections of the Columbus Museum of Art, and the Smithsonian American Art Museum, among others. His first major exhibition was at the Edwin Hewitt Gallery in 1951 and since then he has been exhibited at institutions including the Art Institute of Chicago, the Museum of Modern Art, and the National Gallery of Art.
For the 2008 -2009 season, a major traveling exhibition and accompanying publication are being organized by the National Academy Museum, New York City; the Pennsylvania Academy of the Fine Arts, Philadelphia; and the Columbus Museum of Art, Columbus, Ohio.
In 1968, Tooker was elected to the National Academy of Design and is also a member of the American Academy of Arts and Letters. He is represented by the DC Moore Gallery in New York.