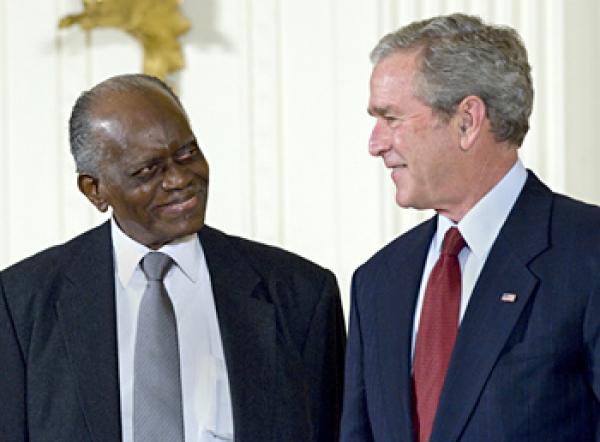 Bio
Hank Jones is being recognized for his lifetime accomplishments as an extraordinary jazz pianist. Hank Jones is a pianist who has performed in a vast array of settings, always lending his distinctive, swinging sensibility.
Although born in Mississippi, Jones grew up in Pontiac, Michigan, listening to such performers as Earl Hines, Fats Waller, and Art Tatum. A performer by the time he was 13, Jones played with territory bands that toured Michigan and Ohio. In one such band he met saxophonist Lucky Thompson, who got him a job in the Hot Lips Page band in 1944, prompting Jones' move to New York.
Once in New York, Jones was exposed to bebop, embracing the style in his playing and even recording with Charlie Parker. Meanwhile, he took jobs with such bandleaders as John Kirby, Coleman Hawkins, Andy Kirk, Billy Eckstine, and Howard McGhee. He toured with Norman Granz's Jazz at the Philharmonic from 1947-51. As a result, he became Ella Fitzgerald's pianist, touring with her from 1948-53. These experiences served to broaden his musical palette and sophistication.
A consummate freelancer, Jones found work with artists such as Benny Goodman, Artie Shaw, Milt Jackson, and Julian "Cannonball" Adderley. The versatility Jones acquired through such affiliations served him well when he joined the staff of CBS as a studio musician, remaining for 17 years. Although his studio work found him working on productions like the Ed Sullivan Show, Jones continued his touring and recording experiences in a variety of settings. His broad range and ability to fit in different settings also landed him in Broadway stage bands, where he served as pianist and conductor for such shows as Ain't Misbehavin'.
Jones was the first regular pianist in brother Thad's co-led orchestra with Mel Lewis, beginning in 1966. Throughout the 1970s, 1980s, and 1990s, Jones continued to be much in demand for record dates and tours. Among his affiliations was the Great Jazz Trio, a cooperative unit with Ron Carter and Tony Williams, who were later supplanted by Buster Williams and Ben Riley. Jones has also experienced his share of piano duos, with the likes of Tommy Flanagan -- with whom he became acquainted when both were developing around the Detroit area -- George Shearing, and John Lewis. As a leader and valued sideman, Hank Jones can be found on thousands of recordings.
In 1989, he was named a NEA Jazz Master, the nation's highest honor in jazz, by the National Endowment for the Arts. Jones continues to perform worldwide and to record in the studio, delighting audiences with his energy, musicality, and humor.