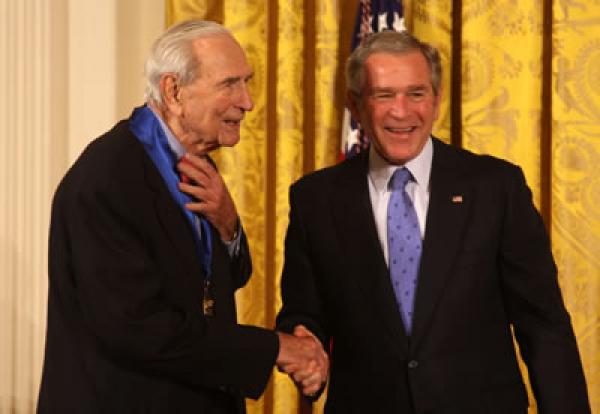 Henry Steinway
Arts patron
Bio
Henry Ziegler Steinway is the great-grandson of Henry Engelhard Steinway who founded Steinway & Sons, which handcrafts, what many consider to be, the world's finest pianos.
Born on August 23, 1915 in a New York City apartment that replaced the original Steinway factory, Steinway grew up surrounded by pianos and the famous artists who performed on them. Such artists included Alexander Brailowsky, Sergei Rachmaninoff, and Arthur Rubenstein, among many others.
Steinway's father, Theodore, never pressured his six children to enter the family business. That may explain why the younger Steinway graduated from Harvard University with a degree in history, not music or business administration. Of course, even a business degree from Harvard probably would not have spared him from his apprenticeship as a laborer in the Steinway factory yard, when he ultimately joined the company in 1937. To this day, Steinway says working with skilled workers taught him more about the piano business and why company craftsmen take more than a year to create Steinway pianos, than years of extra study would have accomplished.
Following three years of military service during World War II, Steinway returned to the family business as factory manager. He became the director of the company in 1947 and was named vice president that same year. By 1955, he was appointed company president.
Like his predecessors, Steinway made many contributions to Steinway & Sons during his years at the helm of the company. Manufacturing operations at Steinway's Long Island City facility were renovated during his watch, and a number of improvements to the piano manufacturing process also were credited to him.
Henry remained at the head of Steinway & Sons until 1977, after the company was purchased by CBS. He then served with the company as its chairman until his retirement in 1980. Since then, he has remained active as a consultant for the firm.
A strong advocate of music education, Steinway is the founding president of the Museum of Making Music, an organization that curates public exhibits relating to the history of American popular music. He is the past director of the American Music Conference and recipient of the Prix de Martell for Lifetime Contributions to the World of Classical Music. Other positions and honors include benefactor to the International Piano Archives at the University of Maryland and recipient of the James Smithson Bicentennial Medal from the Smithsonian Institution.
Steinway has been married to Polly Zinsser since 1944. They have five children and seven grandchildren.