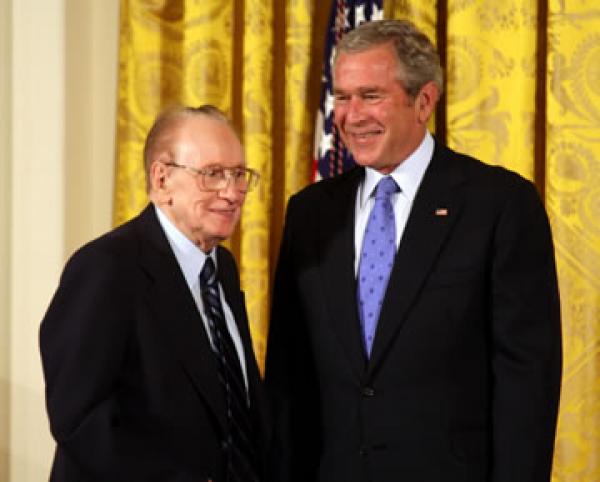 Les Paul
Guitarist, inventor
Bio
Jazz guitarist and inventor, Les Paul made the sound of American Rock 'n Roll possible with his unique solid-body electric guitar and recording innovations such as overdubbing and multi-track recording that significantly advanced the development of pop music.
Les Paul (born Lester William Polsfuss) was born on June 9, 1915 in Waukesha, Wisconsin. Paul dropped out of high school to join the Wolverton's Radio Band on KMOX in St. Louis, Missouri. By 1934, he was in Chicago maintaining a dual musical persona playing country-western under the nickname Rhubarb Red and jazz as Les Paul. Also at that time, still dissatisfied with the available electric guitars, Paul continued experimenting with the guitar designs he started when he was 12 years old.
From 1938 to 1941, Paul played with his first trio in New York City. After recovering from an electrical accident, Paul moved to Hollywood in 1944. He formed a new trio there and the band played back up for Nat King Cole and others including the Andrew Sisters. Later that year, Paul met Bing Crosby, who featured the trio on his radio show and later recorded with them, producing songs such as, "It's Been a Long, Long Time," which became a number one hit.
In 1941, Paul designed and built one of the first solid-body electric guitars. In the early 1950s, the Gibson Guitar Company produced a guitar according to Paul's specifications and he signed on with the company, allowing them to create and promote the Les Paul model. After a break in the relationship, it was renewed and today the Gibson Les Paul guitar is used by musicians worldwide.
Paul's recording innovations took off in 1947 when Capitol Records released the multi-track song "Lover." The song became a hit the following year. Bing Crosby continued to support Paul in these recording experiments.
Unfortunately, in an automobile accident in January 1948, Paul's right arm and elbow were crushed. Faced with the possibility of amputation, Paul chose to have his right arm set at a permanent right angle that would allow him to continue playing. After a year and a half of recovery, Paul teamed up with Colleen Summers, a young country singer and guitarist. She would become Paul's second wife, taking the name (from Paul) of Mary Ford.
During their musical and marital partnership, Paul's recording innovations resulted in a series of multi-layered pop discs for Capitol with Mary singing that included new takes on jazz standards such as "How High the Moon" and "Tiger Rag," turning them into smash hits.
Shortly after divorce from Mary in 1964, Paul essentially retired. However, he returned in the late 1980s with a weekly performance gig in New York and in 2006 won two Grammys for Les Paul & Friends: American Made World Played. A documentary film titled Chasing Sound: Les Paul at 90 was broadcast on PBS in July 2007 as part of the American Masters series. He continues to appear at New York's Iridium Jazz Club.