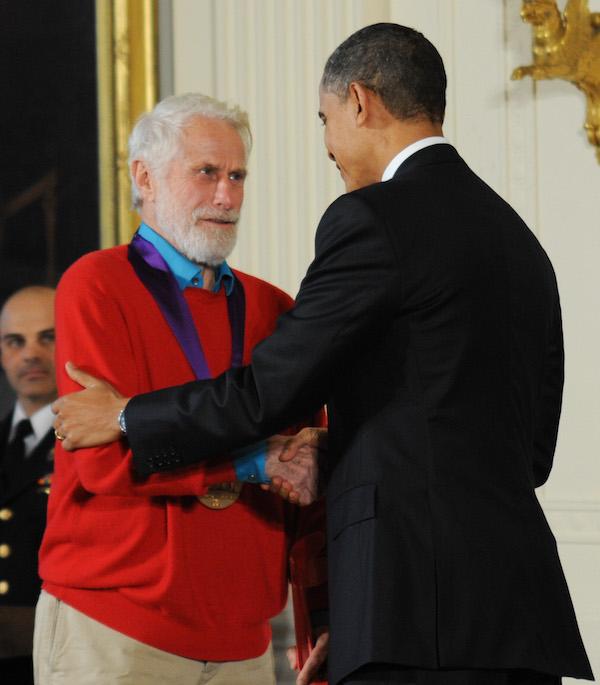 Bio
Mark di Suvero is one of the most prominent American artists to emerge from the Abstract Expressionist era and his sculptures have appeared in museums and outdoor public settings around the world. After being critically injured, di Suvero learned to operate a crane and use an electric arc welder, creating monumental steel sculptures fashioned from industrial materials and found objects. In 1975 he became the first living artist to have his work shown in the Tuileries Gardens in Paris.
Di Suvero was a founding member of the Park Place Gallery and ConStruct, both artist-owned galleries, and has shown commitment to emerging artists through the Athena Foundation and the Socrates Sculpture Park. Di Suvero has received International Sculpture Center's Lifetime Achievement in Contemporary Sculpture Award and the 11th annual Heinz Award in the Arts and Humanities for his commitment to aspiring artists.
Interview by Paulette Beete, August 24, 2012
Born in 1930s Shanghai to Italian parents, sculptor Mark di Suvero names visiting China's Forbidden City as a child as his first truly aesthetic experience. It's no wonder that when speaking of his art practice, he frequently employs words like poetry and metaphor. While he works in a variety of sizes, di Suvero is probably best known for his massive abstract expressionist sculptures, which are in collections all over the world, including New York's Storm King Art Center, Yorkshire Sculpture Park in the United Kingdom, and the National Gallery of Art Sculpture Garden in Washington, DC. In 1986, di Suvero led the founding of New York City's Socrates Sculpture Park turning what was once a landfill eye-sore into a vibrant campus for artists to work, exhibit, and engage with the public. Known for being a champion of younger artists, in 2010 di Suvero received the National Medal of Arts. From our telephone interview with him, In his own words, here's di Suvero about his definition of creative placemaking, why he continues to work by hand, "poetic necessity," among other things.
On his daily art practice…
I have coffee and then I go to change into my dirty clothes for working. I do the welding and the cutting. Usually I do the drawing of the pieces at night, but during the day… I draw on to the steel and then I burn it. If the drawings are good, I burn the best drawings. And then I bend the steel with a crane or with heat, depending upon the size. I work in many different scales, different sizes…
I've been doing it for more than fifty years, so it's just become a regular routine. I go to work until I am exhausted, and, being handicapped, I can't do as much as many healthy people, but I work on the principle of, you know, when you see an ant moving a giant twig, much bigger than they are. And they pull it in one corner, they pull it in another corner, and then eventually, the twig has traveled halfway across the sidewalk. That's the kind of principle that I work with, and I'm very much hands-on so that I don't send my work out to fabricators.
But what I do is a kind of a different practice where I examine the work, let's say, at midnight from 40 feet or 60 feet up in the air because I use a cherry picker…. I go up above the pieces and I look at the pieces after midnight when I'm in a different poetic space and what I end up doing is then they kind of radiate their dream wishes and come together and then I do the work during the day.
I've been very fortunate in the last 30, 40 years because I've been allowed to work with the tools of my dreams. I'm a crane operator. I weld so that by doing steel up to that couple thousand degree heat, it melts and fuses into one… and it allows a different exploration in space. When I first started, I used to use wood because that was the only thing that was available. I worked with wood that came out of buildings that they were destroying here in New York City, wood that was 100 years old. Then I worked on beaches. By then I knew what I wanted: I wanted a spatial art that gave people a sense of openness that they could work into and feel…. We have this very strange vision of about 210 degrees. We don't see behind us, [but] we have this ambient sense, and I wanted that sense to be able to be a part of the sculpture.
So this idea of metaphor and poetry is much more essential to human understanding and that's when the real work is happening---when the imagination of one of these steel parts wants to be part of the other one. And they come together and sometimes they've been lying around for ten years or twenty years, and they never made it, you know, 100 feet across from one end of the studio to the other.
On working by hand...
So there was this thing that happened at the beginning of the last century, and there were people that said---you know [this work] can be done perfectly by the factory…. I find that there is something that is very different, like a patina, when it is manufactured. At that moment, the pieces feel much more blank. There's a great need and a draw, a magnetic draw toward a uniformity…. it tends to work in a, I don't want to say inexpressive way, but certainly not in a way that human beings are. We're all different. The very rare human beings are the identical twins. What I find is emotional in work---and I'm talking about all work, I'm talking about archaic Greek and Egyptian and things like that---is work that the artist has somehow infused with a poetic vision.
You see that there is a real relationship between poetry and what I am trying for. And I think that people who want to do manufactured art… let's put it in terms of smell, they have the same kind of smell whenever you get into a new car. You know a new car smells a special way but it doesn't smell like that after you've lived in it for 10 years or so. Then it's part of you, of your clothes, and I think that works [where] there isn't the hands-on, there isn't that kind of thinking, leave me really much more blank.
On questions of scale in his work….
[N]othing in the world is large. You know, my sculptures are like a crumb next to a mountain, and a mountain, you know, you take a mountain, you drop it in the ocean, and the ocean doesn't rise an inch, you know? And the ocean is really like a skin on the world and the world is, you know, like, this world, our planet, is next to nothing to the sun. The sun is just enormous, it just goes on and on. In terms of large, I mean, yeah, my pieces look big for a baby.
On creative placemaking…
I think that what we do is respond to the aesthetics, the emotional feeling of a place. You know the word aesthetic is the opposite of the word anesthetic. So anesthetic means that you're totally numb... I think that people respond to [a place] and then they call it placemaking….  I think that people make these things, artists make these things, and go into places in order to achieve a vision…. There's an artist called Don Judd who went to Marfa. Well, Marfa's a small town in Texas, and you could go to 10 or 100 of those small towns and never get that aesthetic experience because the artist didn't have a vision to change kind of a military base into a place where there's art that now draws people from all over the world. And that's what's important, it's the vision of it.
On founding Socrates Sculpture Park….
It was an illegal dump site, and it was full of garbage and we decided we could change it…. We were able to first through the city rent the place for a dollar a year and we poured all our money and effort into it. And we hired the neighborhood---they needed jobs---and it was a very simple kind of direct human labor job. And we had to deal with the craziness of legality as they call it here. For instance, we were allowed to use the place as an exhibit place and hoped to make it into a park but, in terms of insurance, in order to have insurance we had to have a fence, but we couldn't build the fence unless we had insurance, right? So what we did was we just went ahead and built the fence and we got the insurance.
Now we've had more than 800 artists that have worked there and shown their works right there, like Chakaia Booker who has won the medal from the American Academy of Arts and Letters. And other people have had major shows and  they've become heads of departments and they've built other sculpture parks in the world. There's a kind of a crescendo of different artists who have expressed themselves in [the park]. I think it's gotten better and better and it's part of the cultural map of New York City, which I certainly never expected when we first started it.
On the role of the artist in the community…
We're the visionaries because we have looked at exactly what is in front of us that other people have not seen…. The role of the artist is I think strictly aesthetic and a very difficult way of existing now in a commercial world because now the commercial world has found that art and art investment and market are very important, and suddenly artists are being lured away from just the very simple work of let's say drawing or something like that. They're lured into market research and necessary cocktail parties or something like that.
I think the role of the artist remains in some way very necessary to a really living society and hopefully it is the unifying thing in terms of international culture…. [W]e know that there are not millions, but billions of tourists who have been moving around the world and they're searching for a different culture, whether, it's Italy or Angkor Wat or Kyoto. They go there and only now are people becoming aware that this is one of the real cohesive things between human beings---this symbolic structure that is art in many forms.
"If [something] works then it can deliver, and I think that the idea that art works means that it's delivering the life juice to human beings."
Things that work is something that anybody who is a mechanic and anybody who drives a car understands. If it works then it can deliver, and I think that the idea that art works means that it's delivering the life juice to human beings. It's a very direct way…. If you say "Art Works" you say it is performing, not just as performance but as delivering that necessity we have. Like people don't talk about poetic necessity and yet there is [that need]. There are people who are literally alcoholic and [users of] other kinds of drugs that need them because they don't have a poetic formation. They don't have that kind of response to the world, which is so necessary if we're going to have a joyous world and it is possible.