Olivia de Havilland
Actress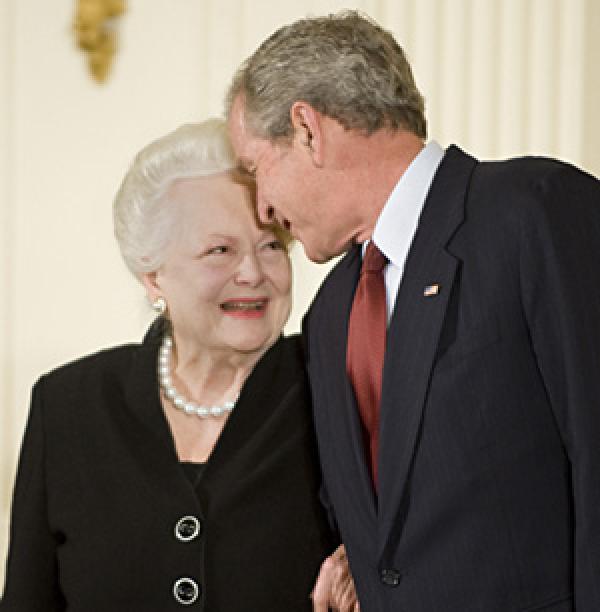 Bio
Olivia de Havilland is being recognized for the National Medal of Arts for her lifetime achievements and contributions to American culture as an actress. Born in Japan to a British father and his actress wife, Olivia de Havilland attended high school in Santa Clara County, California, graduating with honors from Los Gatos High School in the spring of 1934. She won a scholarship to study drama at Mills College that fall; over the summer, she understudied as Hermia in Max Reinhardt's production of A Midsummer Night's Dream. She eventually played the role at the opening night performance at the Hollywood Bowl in September, and later toured the production at several California theaters.
Within three months she was signed by Warner Brothers to play Hermia in Reinhardt's celebrated film version of the play -- with a cast that included James Cagney, Dick Powell, and Mickey Rooney. She was simultaneously signed to a long-term contract, and soon appeared in films such as Alibi Ike, a baseball picture written by the master American humorist Ring Lardner. Those were followed by performances in three screen triumphs that defined 1930s cinema: Captain Blood(1935), Anthony Adverse (1936), and The Charge of the Light Brigade (1936).
The American public knows her best for her portrayal of Melanie Hamilton in the Civil War and Reconstruction era drama, Gone with the Wind, a role that earned her a 1939 Academy Award nomination for Best Supporting Actress. Her resume also includes Westerns like Dodge City (1938) and The Santa Fe Trail (1940), both with Errol Flynn.
A conflict over Olivia de Havilland's contract with Warner Brothers sidelined her film career during the mid-1940s. However, she changed the rules in Hollywood substantially by taking legal action that forced the studios to limit contracts to seven years. Her victory in that case was seen as a major step for film actors' rights.
Emerging from the legal battle unscathed, she turned in a number of outstanding performances on screen. She received an Academy Award nomination for her portrayal of a woman suffering a mental breakdown in The Snake Pit (1948), and she received two Academy Awards for Best Actress for her performance in the tragic romance To Each His Own (1946) and her devastating portrayal in The Heiress (1949), an outstanding adaptation of Henry James novel Washington Square.
After completing The Heiress, de Havilland spent several years on Broadway. In 1955, she moved to France with her second husband, Pierre Galante. The National Medal of Arts is the latest of her numerous honors and awards that include the Academy of Achievement Award, the American Legion Humanitarian Medal, and the John F. Kennedy Center for the Performing Arts Gold Medal in the Arts for Artistic Achievement.