Paquito D'Rivera
Jazz Musician, Composer, Writer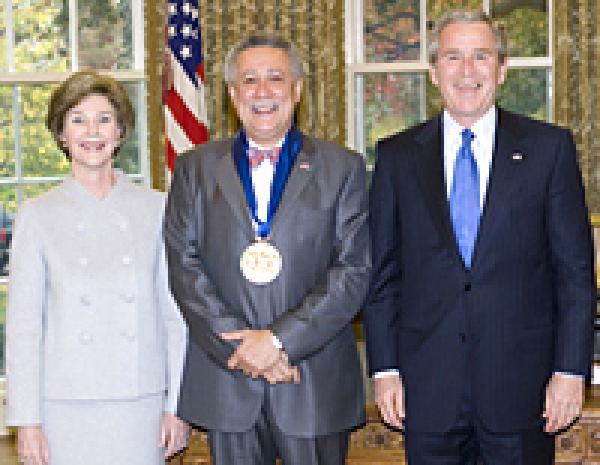 Bio
Paquito D'Rivera defies categorization. The winner of eight Grammy Awards, he is celebrated both for his artistry in Latin jazz and his achievements as a classical composer.
Born in Havana, Cuba, he performed at age 10 with the National Theater Orchestra, studied at the Havana Conservatory of Music and, at 17, became a featured soloist with the Cuban National Symphony. He co-founded the Orquesta Cubana de Música Moderna and served as the band's conductor for two years. In 1973, he was co-director of Irakere, a highly popular ensemble whose explosive mixture of jazz, rock, classical, and traditional Cuban music had never before been heard. The band toured extensively and in 1979 was awarded the Grammy for Best Latin Jazz Ensemble.
In 1981, while on tour in Spain, D'Rivera sought asylum in the United States embassy. Since then he has toured the world with his ensembles - the Paquito D'Rivera Big Band, the Paquito D'Rivera Quintet, and the Chamber Jazz Ensemble.
His numerous recordings include more than 30 solo albums. In 1988, he was a founding member of the United Nations Orchestra, a 15-piece ensemble organized by Dizzy Gillespie(JM) to showcase the fusion of Latin and Caribbean influences with jazz. In 1991, he received a Lifetime Achievement Award from Carnegie Hall for his contributions to Latin music, and that same year he worked with James Moody(JM), Slide Hampton(JM), Airto Moreira, Flora Purim, Arturo Sandoval, Steve Turre, and others on the Grammy Award-winning Dizzy Gillespie's United Nations Orchestra.
He has appeared at, or written commissions for, Jazz at Lincoln Center, the Library of Congress, the National Symphony Orchestra, Brooklyn Philharmonic, London Philharmonic, Costa Rican National Symphony Orchestra, Simón Bolivar Symphonic Orchestra, and Montreal's Gerald Danovich Saxophone Quartet.
He serves as artistic director of jazz programming at the New Jersey Chamber Music Society and is artistic director of the Festival Internacional de Jazz en el Tambo (Punta del Este, Uruguay). He has become the consummate multinational ambassador, creating and promoting a cross-culture of music that moves effortlessly among jazz, Latin, and Mozart.
In January 2005 the National Endowment for the Arts named Paquito D'Rivera an NEA Jazz Master, America's highest honor in jazz.