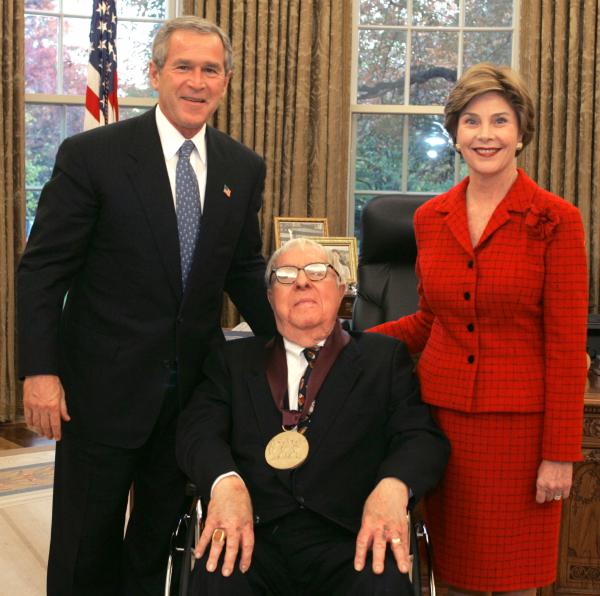 Bio
Citation: For his incomparable contributions to American fiction as one of its great storytellers who, through his explorations of science and space, has illuminated the human condition.
The author of The Martian Chronicles and Fahrenheit 451, Ray Bradbury is the greatest living American writer of science fiction. His singular achievement in this genre is rooted in the imaginative originality of his works, his gift for language, his insights into the human condition, and his commitment to the freedom of the individual.
Born in 1920 in Waukegan, Illinois, Bradbury moved with his family to Los Angeles at the age of 14. After graduating high school, he ended his formal education and found work selling newspapers. In 1943 he began his career as a writer, and in 1947 he published his first collection of short stories, Dark Carnival. His ascent towards becoming one of the preeminent science fiction writers began in 1950 with the publication of his story cycle, The Martian Chronicles, followed in 1951 by The Illustrated Man. In 1953, Bradbury published his literary masterpiece Fahrenheit 451; the following year, the 34 year-old author received the National Institute of Arts and Letters Award for contributions to American literature.
Bradbury has published more than 30 books and has written nearly 600 short stories. His literary awards include the National Book Foundation Medal for Distinguished Contribution to American Letters (2000), the O. Henry Prize (1947 and 1948), the Benjamin Franklin Award (1953-54), the World Fantasy Award for Lifetime Achievement (1977), the Grand Master Award from the Science Fiction Writers of America, and the PEN Center USA West Lifetime Achievement Award (1985).
Bradbury has also authored numerous screenplays and television scripts. In 1963, his animated film, Icarus Montgolfier Wright, garnered an Academy Award nomination. His additional screenplays include Moby Dick (1956), It Came from Outer Space (1953), and a 1983 adaptation of his novel, Something Wicked This Way Comes. Bradbury, who has written television scripts for such series as Alfred Hitchcock Presents and The Twilight Zone, is the recipient of an Emmy Award for his teleplay of The Halloween Tree. From 1985 to 1990, he adapted many of his stories for his television show Ray Bradbury Theater. In 2002, he was awarded a star on the Hollywood Walk of Fame for his contributions to literature, the sci-fi film genre, and television.