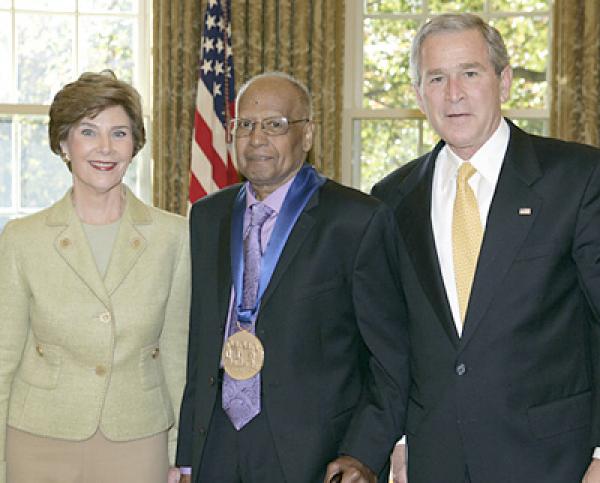 Roy R. DeCarava
Photographer
Bio
Roy R. DeCarava is a master photographer and pioneer in the art of photography, a vocation to which he devoted his life for more than 60 years. Living and working primarily in New York City, he used a 35-millimeter camera to develop and print his own images. He is acknowledged as "the first to devote serious attention to the black aesthetic as it relates to photography and the black experience in America," according to critic Alain Locke. He was also the first African American photographer to win a Guggenheim Fellowship.
Born in 1919 in Harlem, DeCarava came of age in the 1940s, during the Harlem Renaissance when the neighborhood was the site of extraordinary artistic ferment and home to many prominent artists, musicians, and writers. He attended The Cooper Union Institute for two years and then left to attend the Harlem Art Center. His early jobs were as a painter and commercial illustrator but he was attracted to photography because of its directness.
From the beginning, DeCarava's style combined intimacy of tone with a formal vocabulary. Most strikingly in interiors -- the portraits of saxophonist John Coltrane performing or the still lifes in "Coathanger" (1961) and "Ketchup Bottles, Table and Coat" -- light and dark values offer expressive qualities, rather than literal records. In images such as the radically compressed "Force" (1963) or buoyant "Haynes, Jones, and Benjamin" (1956), the picture frame serves to strengthen the composition's overall structure. The point of view of the photos does not monumentalize or dramatize the captured moment. He relies only on ambient light, even in cramped apartments and dim nightclubs, becoming a master of dark, not-quite-blacks tones that invite viewers to see into the shadows.
Unlike many photographers of his day, DeCarava did not intend that his photos be viewed as visual documentation but rather as artistic expressions in their own right so that his images were, in his words, "serious," "artistic," and universally "human." The affection he felt for the people and places of New York are evident in the integrity of his images. Among the many subjects his camera focused upon, he expressed an early desire to portray black people, illuminating the artistic and human qualities of each individual life through the lens of his perceptions.
DeCarava worked for a time at Sports Illustrated but left that job eventually to take a teaching position at Hunter College where he has been named a Distinguished Professor on the faculty of art. He has been the subject of 15 solo exhibitions. His work resides in the collections of the National Gallery of Art in Washington, DC, the Museum of Modern Art and The Metropolitan Museum of Art in New York as well as in the Museum of Fine Arts in Houston, Texas, the Corcoran Gallery of Art and the Smithsonian American Art Museum.