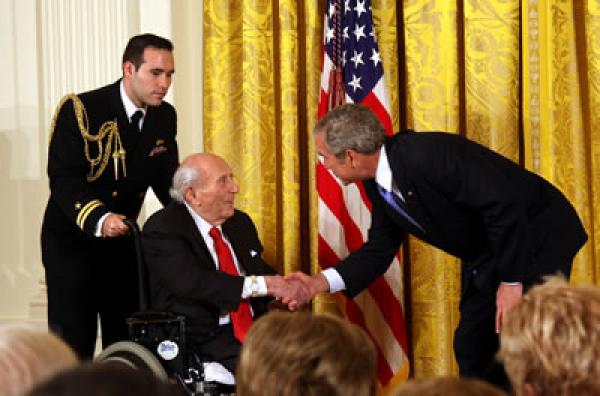 Roy R. Neuberger
Arts patron
Bio
One of America's foremost art collectors, Roy R. Neuberger's support for emerging artists and encouragement of corporate art collecting has resulted in the donation of thousands of important works to dozens of American art institutions. His support of the visual arts has served as a model for private philanthropy.
Roy R. Neuberger was born July 21, 1903 in Bridgeport, Connecticut, and spent his childhood in New York City. He entered New York University but left after one semester to work at the Manhattan department store B. Altman's. At age 20, he left the company and sailed to Paris where he lived for four years and studied art informally.
In 1928, having read a heart-rending biography of Van Gogh by Florent Fels, Neuberger seized upon his guiding principle: to support living American artists by purchasing their works. He returned to the United States the following year and went to work on Wall Street. He founded Neuberger Berman with Robert Berman in 1939. In 1950, the firm was among the first to start a no-load mutual fund, the Guardian Mutual Fund.
In the late 1930s, Neuberger began collecting art. His collecting was risky because most of the artists whose work he purchased were young and not well-recognized by the fine art world; many have now become iconic. Among the painters and sculptors he collected were Milton Avery, Romare Bearden, Alexander Calder, Helen Frankenthaler, Willem de Kooning, Edward Hopper, Lee Krasner, Jacob Lawrence, Georgia O'Keeffe, Jackson Pollock, David Smith, and Max Weber.
In addition to his collecting, Neuberger hung art in his company's offices, helping to pioneer what has become a common practice -- corporate art collections. In the 1940s, Neuberger began donating hundreds of paintings to museums and colleges across the United States, including the Whitney Museum of American Art, the Metropolitan Museum of Art, and the Museum of Modern Art.
In 1969, at the request of Governor Nelson Rockefeller, he donated a significant portion of his collection, more than 900 works, to New York State to establish the Neuberger Museum of Art (NMA) at Purchase College. The NMA now has more than 6,000 pieces of modern, contemporary, and African art. To provide support for the NMA, Neuberger founded the Friends of the NMA in 1972, which now raises more than 60 percent of the Museum's annual expenses. He continues to make substantial contributions.
In 1997, Neuberger published his memoir, So Far, So Good - the First 94 Years. His life as an art collector is chronicled in the 2003 book, The Passionate Collector: Eighty Years in the World of Art. He has served on numerous museum boards and was elected a Benjamin Franklin Fellow of the Royal Society of Arts in London. Philippe de Montebello, Director of the Metropolitan Museum of Art and recipient of the 2002 National Medal of Arts said of him, "A man of taste, passion, persistence, and generosity, he has shared much of his private collection with the public, and for generations has supported activities that bring people to museums, and motivates them to return again and again."