The Sherman Brothers
Songwriting Team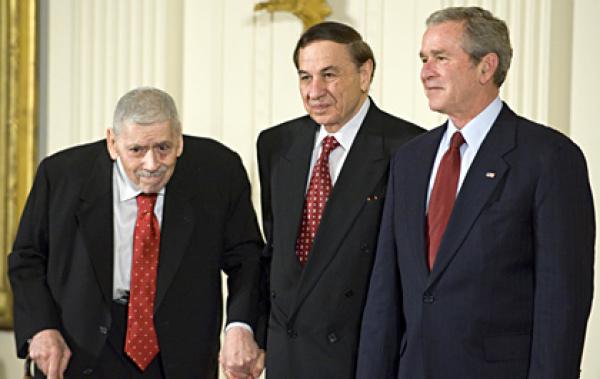 Bio
Brothers Robert B. Sherman (born December 19, 1925 in London, England) and Richard M. Sherman (born June 12, 1928 in Los Angeles, California) have a song-writing career spanning five decades that includes two Academy Awards, one for Mary Poppins (score) and one for "Chim Chim Cher-ee" (song). The Sherman Brothers also wrote the world's most translated and performed song, "It's A Small World (After All)". In the early 1950s, after both serving in the U.S. army, Robert and Richard began writing songs together on a challenge from their father, Al Sherman, a successful popular songwriter in the "Tin Pan Alley" days. They first gained recognition in popular music with such top-ten hits as "You're Sixteen", "Let's Get Together" and "Tall Paul".
In 1960 the brothers marked the start of their ten-year exclusive association with Walt Disney, where, as his staff songwriters, they wrote over 200 songs for his films, television shows and theme parks. Their 36 feature Disney film credits include Jungle Book, The Parent Trap, The Aristocats, Bedknobs and Broomsticks, The Happiest Millionaire, The Family Band, The Sword in the Stone, and the Winnie the Pooh series. They also wrote the Disney TV theme song, "The Wonderful World of Color", and for the theme parks, "The Tiki Tiki Tiki Room," "There's a Great Big, Beautiful Tomorrow" (Carousel of Progress), and "One Little Spark" (Epcot). 
After Disney, they wrote song scores for Chitty Chitty Bang Bang, Snoopy Come Home, Charlotte's Web, and the Broadway musical, Over Here!. The brothers then created both the screenplays and song scores for Tom Sawyer, Huckleberry Finn, The Magic Of Lassie, and The Slipper And The Rose (the 1976 Royal Command film). More recently, they wrote the songs for the Disney animated feature, The Tigger Movie, and the stage musical, Busker Alley.
After an almost four-year run in London and a tour of England, the stage production of Chitty Chitty Bang Bang is now launching a national tour of the U.S, and the stage production of Mary Poppins, going into its third year on Broadway, has worldwide touring companies circling the globe. Both brothers were inducted into the Songwriters Hall of Fame on June 9, 2005 and in 2006, Richard Sherman was awarded the Gold Medallion of Honor by UNICEF for his help in raising funds for children with HIV/AIDS.