Twyla Tharp
Choreographer, artistic director, dancer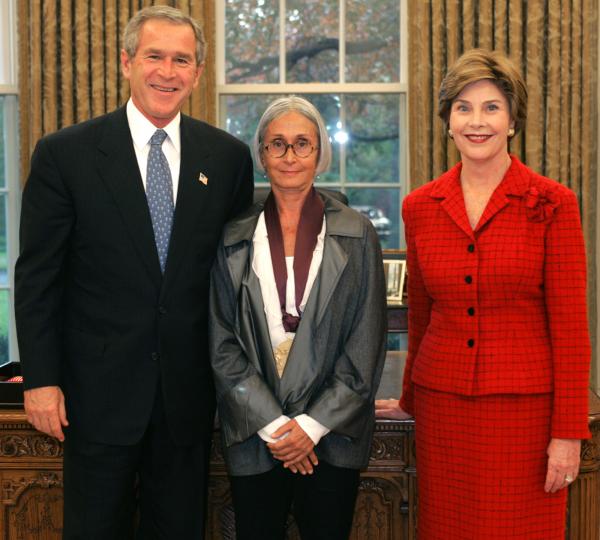 Bio
Citation: In recognition of her revolutionary contributions to American dance -- combining classical discipline and ballet technique with modern dance and natural movements -- and for her innovative choreography for stage and film.
Twyla Tharp is one of America's most important contemporary dance choreographers. Since graduating from Barnard College in 1963, she has choreographed more than 125 dances, five Hollywood movies, directed and choreographed two Broadway shows, written two books, and received numerous awards.
In 1965, Tharp began the dance company Twyla Tharp Dance. In 1988, Tharp Dance merged with American Ballet Theatre where Tharp created more than a dozen works. Since that time, she has choreographed dances for many companies including: The Paris Opera Ballet, The Royal Ballet, New York City Ballet, The Boston Ballet, Hubbard Street Dance and The Martha Graham Dance Company.
In 1991, Tharp regrouped her company Twyla Tharp Dance and created a program with Mikhail Baryshnikov called Cutting Up, which went on to become one of contemporary dance's most successful tours, appearing in 28 cities over a two-month period. Since 1999 Twyla Tharp Dance and has been touring internationally to critical acclaim.
Tharp's work first went to Broadway in 1980 with When We Were Very Young, followed in 1981 by her collaboration with David Byrne on The Catherine Wheel; and her 1985 staging of Singin' in the Rain, which played for 367 performances followed by an extensive national tour.
In 2002, Tharp and Billy Joel's dance musical Movin' Out premiered on Broadway. The recipient of a 2003 Tony Award for Movin' Out, Tharp was also honored with the 2003 Astaire Award; the Drama League Award for Sustained Achievement in Musical Theater; and both the Drama Desk Award and the Outer Critics Circle Award for Outstanding Choreography.
In film, Tharp has collaborated with directors Milos Forman on Hair (1978), Ragtime (1980) and Amadeus (1984); with Taylor Hackford on White Nights (1985) and with James Brooks on I'll Do Anything (1994).
Her television credits include choreographing Sue's Leg for the inaugural episode of PBS' "Dance in America," co-producing and directing "Making Television Dance," which won the Chicago International Film Festival Award; and directing The Catherine Wheel for BBC Television. Tharp co-directed the television special "Baryshnikov by Tharp," which won two Emmy Awards as well as the Director's Guild of America Award for Outstanding Director Achievement.
Tharp wrote her first book in 1992, her autobiography Push Comes to Shove. Her second book, The Creative Habit: Learn It and Use It for Life was published in October 2003. She continues to create works and lecture around the world.