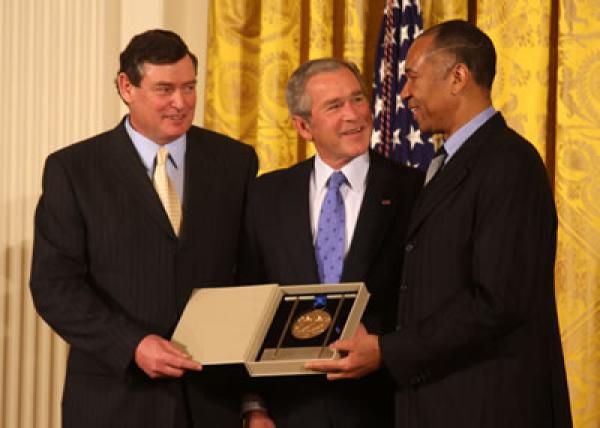 University of Idaho Lionel Hampton International Jazz Festival
Music competition and festival
Bio
The University of Idaho Lionel Hampton International Jazz Festival nurtures jazz talent and enthusiasm among America's young aspiring musicians. Located at the university campus in Moscow, the Festival is housed in the Lionel Hampton School of Music and celebrated its 40 anniversary in 2007.
The first University of Idaho Jazz Festival, held in 1967, was one day long and featured one jazz artist performing at an evening concert and 15 student groups participating in competitions during the day. The relationship between Lionel Hampton and the Festival began in 1984 when Hampton and his New York Big Band made their first appearance. He and the band returned each year after that to perform and teach.
In 1987, the School of Music was renamed for this eminent American jazz musician, the first music school to be named for a jazz musician -- and remains the only one named for an African American jazz musician. In 1994, the Festival was named for him as well.
The Jazz in the Schools program began the following year, taking visiting musicians to elementary schools in northern Idaho and eastern Washington State to introduce them to this truly American artform. Hampton began an annual tradition of performing at Lapwai Elementary School on the Nez Perce Indian Reservation, sparking interest in jazz among Nez Perce musicians. The Jazz in the Schools program is now year-round, coming to students throughout Idaho and Washington.
Over the years, artists who have performed at the Festival include Ella Fitzgerald, Gerry Mulligan, Dizzy Gillespie, Dianne Reeves, Stan Getz, Carmen McRae, Diana Krall, Wynton Marsalis, and Sarah Vaughan.
Today the Festival runs for four days, includes four concerts by professional jazz musicians, three student concerts, adjudicates student performances in more than 20 different sites on campus and in the community, and hosts a series of workshops. Attendance has leapt to approximately 14,000 students representing 300 schools, in addition to teachers, parents, and local jazz enthusiasts. Students who are judged as outstanding through the adjudicated competitions are able to perform in their own nightclub setting, Hamp's Club, following the evening concerts.
In recent years, the Festival has hosted Russian jazz musicians for short term residences as part of the Open World Leadership program funded by the Library of Congress and the National Endowment for the Arts. When Hampton passed away in 2002, he left his papers and jazz collections to the University.