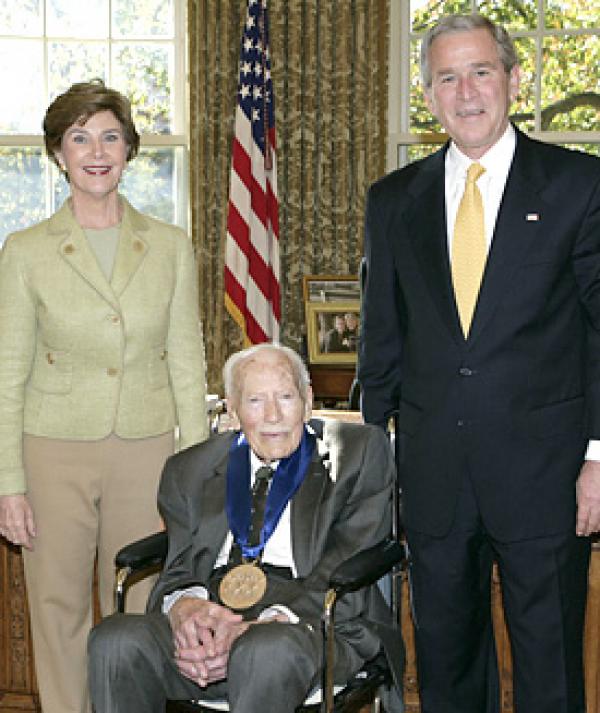 Viktor Schreckengost
Industrial designer/sculptor
Bio
Viktor Schreckengost is the last survivor of the great age of industrial design. His inventiveness has affected the lives of millions of people who never heard his name but have used his products. Those include streetlamps, exhaust fans, toys, lawn furniture, bicycles, lawn mowers, and countless other items.
Born in Sebring, Ohio in 1906 to a commercial potter, Schreckengost attended the Cleveland Institute of Art to study cartooning but then changed his focus to ceramics. After graduation, he attended the Kunstgewerbeschule in Vienna at the height of design experimentation in Europe. He then returned to the U.S. and went to work at the Cowan Pottery Studio, in Rocky River, Ohio.
One of his first commissions, in 1930, was a large punch bowl for Eleanor Roosevelt. The Jazz Bowl, as it is known, has become one of the signature pieces of American Art Deco and an icon in the Jazz Age. Decorated with black and aqua images of jazz bands, pipe organs, skyscrapers, and street lamps, it reflects Schreckengost's interpretation of the energy of New York City in 1931. Roosevelt loved it so much that she ordered two.
He designed the world's first cab-over-engine truck as well as one of the first American modernist dinnerware patterns: the 1933 Manhattan Dinner Service. Much of his work was done for Sears, Roebuck & Co. He was particularly devoted to the design of children's bicycles and other pedal vehicles including the banana-seat bike with its smaller front wheel and protective bar behind the seat.
Schreckengost joined the Navy during World War II and was chosen for a special assignment when the Navy recruited him to create a radar recognition system. For his achievement, he won the Secretary of Navy's commendation.
Returning to industrial design after the war, he created products for a variety of companies including Murray, Sears, General Electric, Salem China Company, and Harris Printing. It is estimated that 100 million bicycles and children's pedal cars were produced from his designs, which made Murray the largest bicycle-maker in the world at that time.
He retired in 1972 but continued to teach at the Cleveland Institute of Art where he is now Professor Emeritus. A symposium on Schreckengost held at the Cleveland Museum of Art included such former students as Giuseppe Delena, chief designer at Ford Motor Company, Larry Nagode, principal designer at Fisher-Price; Jerry Hirshberg, former president of Nissan Design International; and Joe Oros, designer of the 1965 Ford Mustang.