Vincent Scully
Architectural historian and educator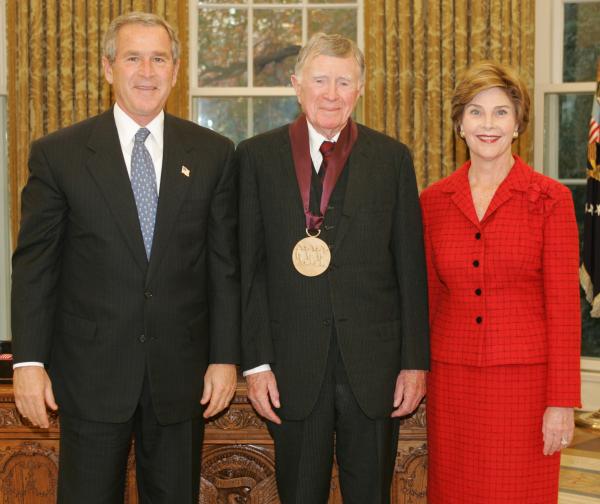 Bio
Citation: For his remarkable contributions to the history of design and modern architecture, including his influential teaching as an architectural historian.
Vincent Scully, one of the nation's foremost architectural historians, is a longtime Yale University professor who has taught generations of architects, planners, art historians, and politicians. He has defined architecture as a "continuing dialogue between generations that creates an environment across time." Scully has been described by world-renowned architect Phillip Johnson as "the most influential architectural teacher ever."
Scully enrolled in Yale as a 16-year old freshman on a full scholarship. His undergraduate education led to an illustrious teaching career and his legacy at the university will be ensured through two endowed professorships. A strong believer in the power of images to make lasting impressions, he became widely known for teaching in darkened classrooms and urging his students to absorb the slides not to just jot down every word of lecture. His standing room-only lectures were among the most popular classes at Yale and were given in the law school that had the only hall large enough to hold 500 students.
According to the New Yorker's Paul Goldberger, who once studied under Scully, "His thinking has always been based on the notion that architecture is not purely aesthetics, and that the real meaning [of architecture] is how it can be used to make better places. He has taught the social value of architecture not just to architects, but to lawyers, real estate developers and others who have made the world a better place."
His numerous books including: Architecture: The Natural and the Manmade; American Architecture and Urbanism; The Shingle Style and the Stick Style; The Earth, the Temple, and the Gods; and Pueblo: Mountain, Village, Dance have made remarkable contributions to the history of modern architecture. They feature his studies of the American Shingle Style, Louis Sullivan's humanism, Frank Lloyd Wright's symbolism, and the iconographic power of the landscape from Classical Greece to the pre-Colonial American Southwest.
In 1999 the National Building Museum in Washington established the Vincent Scully Prize to honor individuals who have made outstanding contributions to the built environment through scholarship, research, writing or professional practice; the first prize was awarded to Scully. In 1995 Scully was honored as the Jefferson Lecturer of the National Endowment for the Humanities and in 2003 was awarded the J.C. Nichols Prize by the Urban Land Institute. He still teaches part-time at Yale University and the University of Miami.