Wilhelmina Holladay
Arts patron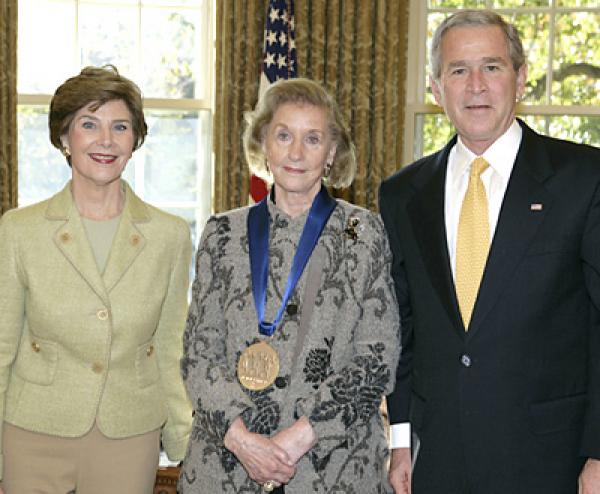 Bio
Wilhelmina Cole Holladay patronage has greatly benefited the American arts through her founding the National Museum of Women in the Arts in Washington, D.C.
Mrs. Holladay and husband, Wallace F. Holladay, began collecting work by women artists in the 1960s. The core collection resided in the Holladay home. By the late 1970s as the collection grew, Mrs. Holladay's first thought was to donate the works to an existing art museum. At the recommendation of National Endowment for the Arts Chairman, Nancy Hanks, Mrs. Holladay decided to devote her energies and resources to creating a museum that would showcase women artists.
The National Museum of Women in the Arts was incorporated in November 1981 as a private, non-profit. The Holladay collection of approximately 500 works by women and Mrs. Holladay's personal library form the foundation of the museum's permanent collection of more than 3,000 works dating from the Renaissance to the present. During its first five years, NMWA operated from temporary offices with docent-led tours of the collection at the Holladay residence. Special exhibitions also were presented.
Mrs. Holladay's vision and her ability to motivate others to share that vision resulted in an ambitious capital campaign to purchase and restore a landmark building in downtown Washington, DC. The former Masonic headquarters, a 78,810-square-foot Washington landmark near the White House, was refurbished in accordance with the highest design, museum, and security standards. It won numerous architectural awards. After years of tireless effort and $17 million in funds raised privately, the museum officially opened to the public in 1987 at a ribbon-cutting ceremony with Mrs. Barbara Bush.
In creating the museum, Mrs. Holladay also established the foremost library and research center dedicated to art by women, and an arts education program that reaches diverse audiences throughout the country. Additionally, NMWA has firmly established itself as a venue for exhibitions and important literary, film, and musical presentations, which have received critical acclaim. The museum is a national institution with a network of members in all 50 states because of Mrs. Holladay's determination to engage people across the nation as well as countries around the globe. National Museum of Women in the Arts reaches out beyond Washington through state and international committees and promoting cross-cultural awareness and understanding.