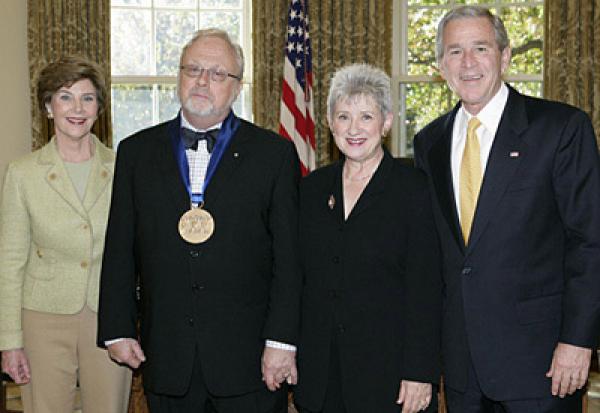 William Bolcom
Classical composer
Bio
William Bolcom is widely recognized for his outstanding compositions of American music that encompass chamber, choral, and orchestral works as well as opera, musical theater, cabaret, and popular song. Among his many compositions are four violin sonatas; eight symphonies; three operas (McTeague, A View from the Bridge, and A Wedding) written with the late poet/librettist Arnold Weinstein; 11 string quartets; two film scores (Hester Street and Illuminata); incidental music for numerous stage plays (including Arthur Miller's Broken Glass); and three theater-operas for actors (also written with Weinstein).
Born in Seattle, Washington in 1938, Bolcom exhibited musical talent very young, studying composition at the University of Washington with George Frederick McKay at age eight. He received his B.A. from that university, later studying with Darius Milhaud at the Aspen Music Festival, Mills College, and the Paris Conservatoire de Musique. He earned a doctorate in composition in 1964 from Stanford University working with Leland Smith. Returning to the Paris Conservatoire, he won the 2e Prix in Composition in 1965.
Among Bolcom's noted compositions is New Etudes for Piano, which won the Pulitzer Prize for music in 1988. His setting of William Blake's Songs of Innocence and of Experience premiered at the Stuttgart Opera in 1984 under Dennis Russell Davies. The 2004 recording of the work on Naxos Records received four Grammy Awards for the 2005 Best Classical Album, Best Choral Performance, Best Classical Contemporary Composition, and Best Producer of the Year/Classical.
The list of recordings of his music includes four of the symphonies, the opera A View from the Bridge, and approximately 20 recordings of his piano rag Graceful Ghost. To appear soon on disc are the complete violin and piano works and the totality to date of his works for violoncello and solo piano.
Among Bolcom's other awards are the Marc Blitzstein Award (1965) from the Academy of Arts and Letters for Dynamite Tonite. He has received Grammy nominations for his Fourth Symphony (in 1988), featuring Joan Morris as mezzo-soprano soloist with Leonard Slatkin and the Saint Louis Symphony Orchestra, and for Orphéé-Sérénade (in 1992) recorded by the Orpheus Chamber Orchestra with Bolcom as pianist. He has received two Guggenheim fellowships, four Rockefeller Foundation awards and four fellowships from the National Endowment for the Arts.
In addition to concertizing together for more than 30 years, Bolcom and his wife, mezzo-soprano Joan Morris, have recorded more than two dozen albums together. Their first, After the Ball, garnered a Grammy nomination in 1974 for Morris. Most recently, Bolcom and Morris recorded two albums of songs by lyricist E. Y. "Yip" Harburg and Gus Kahn on Original Cast Records, and all of the Bolcom/Weinstein Cabaret Songs and Ancient Cabaret on Centaur. Bolcom currently serves as the Ross Lee Finney Distinguished University Professor of Composition at the University of Michigan, where he has been on the faculty since 1973.