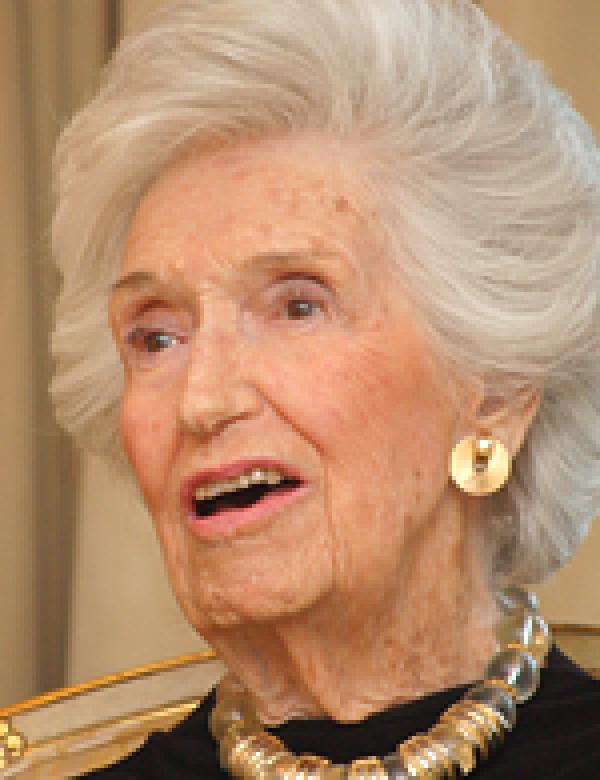 Bio
Born Risë Steenberg in the Bronx on June 11, 1913, and raised in Queens, mezzo-soprano Risë Stevens is known and respected worldwide for her vibrant career in opera. A pupil of Anna Schoen-René at the Juilliard School, Stevens turned down a contract offer from the Metropolitan Opera in the mid 1930s to develop her artistry in Europe, mostly at the opera in Prague.
She returned to the United States in 1938, making her debut with the Metropolitan Opera on tour in Philadelphia as Octavian in Richard Strauss' Der Rosenkavalier. Later that same year, she made her New York Metropolitan Opera debut in the title role of Ambroise Thomas' Mignon. She virtually owned many of the great mezzo roles such as Gluck's Orpheus (Orfeo ed Euridice) and Saint-Saën's Delilah (Samson et Dalila); she boasted a repertory that also included Mozart's Cherubino (Le Nozze di Figaro), Ponchielli's Laura (La Gioconda), and Johann Strauss' Orlofsky (Die Fledermaus). Her portrayal of Bizet's Carmen was a role she performed 124 times at the Met - one in which she was described as voluptuous, earthy, and white-hot in her alternating moods of passion and anger.
Millions more fell in love with Stevens through her frequent radio appearances and through the films The Chocolate Soldier (1941) with Nelson Eddy and Going My Way (1944) with Bing Crosby. She appeared often on such early television programs as The Voice of Firestone and The Ed Sullivan Show, where she sang both operatic and popular songs. She also appeared on one of the first Met telecasts singing Carmen (1952) opposite leading American tenor Richard Tucker as Don José.
She often is credited not only for saving the day at more than one performance of the Metropolitan Opera, but also for saving the company's 1961 season. After the company had canceled its entire 1961-62 schedule due to stalled labor negotiations, a persuasive telegram from Stevens convinced President Kennedy to intervene, and he ordered the Secretary of Labor to arbitrate the dispute. Just three weeks later, the entire season was reinstated on schedule. President Kennedy and the nation had been devoted fans of the Met's reigning mezzo for nearly a quarter of a century.
Following 353 Met performances, in 1961 Stevens retired from her role as a Met performer. In 1964, she inaugurated the Music Theater of Lincoln Center as Anna in a revival of The King and I, produced by Richard Rodgers. She assumed several important roles in developing the future of opera in the United States. She was named co-director of the Met's newly created National Company (1964), which was dedicated to taking opera on tour to dozens of American cities where opera was not available and for two seasons provided many young singers their first chance to perform professionally on the opera stage. She also served as president of the Mannes College of Music (1975-78) and rejoined the Met as Advisor on the Young Artist Development Program and Executive Director of its National Council Auditions (1980-88). For her numerous activities "in the discovery, training, and championing of young American singers," Stevens was honored by the National Opera Institute (1982) and by the Kennedy Center (1990).