Disability Design: Summary Report from a Field Scan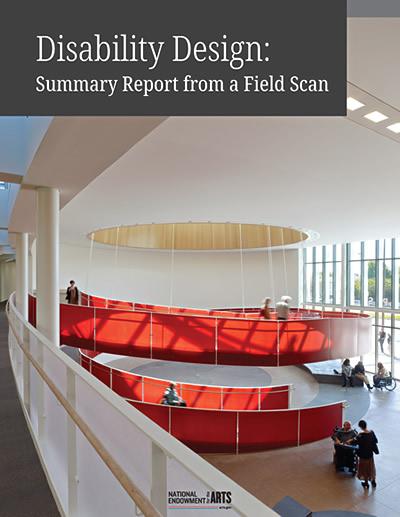 Beginning in 2019, the National Endowment for the Arts' (NEA) Office of Accessibility, in collaboration with the NEA's Design program, set out to gain a better understanding of how designers in the U.S. are responding to the needs of people with disabilities and their inclusion in the design process as designers, leaders, and decision-makers. The NEA commissioned a field scan specifically looking at disability as it relates to public space (including architecture, landscape architecture, urban design, and other public space design) and disability and the human body and mind (including fashion design, industrial design, and graphic design and computer science). Through the scan, the NEA sought to assess the current trends and needs of the disability design field, to identify innovative programs and initiatives, and to engage scholars and designers who are advancing the work.
The NEA's commissioned field scan, from which this summary report is derived, contributes to a growing field-wide understanding of disability design in this moment. A few of the most prominent findings across design disciplines include:
Justice-centered frameworks: By integrating disability as part of justice frameworks that address race, gender, class, and more, the design field has the potential to advance disability equity within design and more broadly in society.
Design for all: Disability-led and accessible design is good for everyone.
Shifting landscape: People with disabilities are more open about sharing their experiences with disability, which in turn transforms how designers are engaged and broadens the spectrum of public understanding about disability.
Design thinking and disability as a design problem: Disability is generally positioned as a "problem" to be solved by designers, which has roots in design thinking methodology and other answer-driven approaches that can erase or exclude disabled designers and expertise.
Broadening the "business case": Growing awareness of the economic potential for accessible design can expand inclusion and more deeply engage and benefit all disabled communities.
Corporate engagement: Influential technology companies' responses to disability inclusion make disability issues more legible to designers and the general public, but don't necessarily build on existing disability-driven design work. 
Exclusions and Underrepresentation: A number of disability communities are being left out of design discourse. Among them are disabled Black, Indigenous, People of Color (BIPOC) and those who identify as neurodiverse (i.e., having a variation or difference in the human brain such as autism, dyslexia, or attention-deficit/hyperactivity disorder), mad, and sick.
Through films, articles, and increased visibility in design, mainstream media and design culture are devoting more attention to disability issues. With heightened awareness, however, comes the work of education, shepherding, and forging new connections and networks. The field scan and interviews yielded four main field needs. The following recommendations address these needs, demonstrating that there are many opportunities for growth and progress in the field of disability design:
Embed disability rights and justice-centered frameworks into design education to include the disability narrative and challenge traditional ableist notions (i.e., discriminatory or prejudiced against people with disabilities).
Establish fellowships and professional development for disabled designers, with a focus on bridging the disparity between their non-disabled counterparts and developing programming for disabled aspiring designers who do not have access to formal design education.
Establish long-term funding for field infrastructure, with an urgency placed on supporting projects that are interdisciplinary and integrate across disability groups, design fields, and related disciplines. Sustained support for disabled-led design programs and organizations can ultimately impact global policy and design practices.
Build interdisciplinary support networks and resource repositories for designers and for people with disabilities who want to participate in the design process.
Download Disability Design: Summary Report from a Field Scan