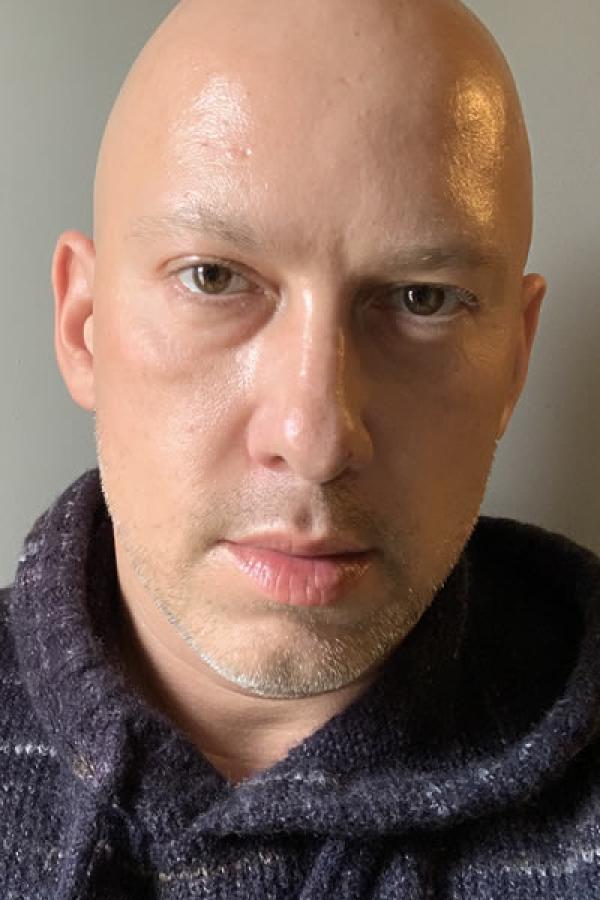 Bio
Chris Dennis, a writer and overdose prevention specialist in southern Illinois, is the author of the story collection Here Is What You Do (Soho Press, 2019). His fiction and essays have appeared in the Paris Review, Playgirl, McSweeney's, Lit Hub, Guernica, and Granta. He holds an MFA from Washington University in St. Louis, where he also won a postgraduate fellowship.
I did the final revisions for my last book from a detention center in Illinois. For 25 cents a minute my friend, Melissa, reread line edits with me over the phone. I dictated the acknowledgments page to her with a heavy sort of thankfulness, and now, years later, I get to look out from my own front porch each day to a little concrete bench in front of the public library across the street where I used to sit at night, high, with nowhere else to go.
Today I work in public health, as an overdose educator. This year, 3,500 people died of overdose in Illinois. During the meeting with everyone from the National Endowment for the Arts, only a week after learning I was awarded a fellowship, we were supposed to speak a little about our projects. I'd written a response ahead of time, and practiced reading it aloud, but when it was my turn to speak, I started crying. I hadn't expected to be so emotional, but when I said to the group, "My name is Chris Dennis, and I work in overdose prevention," I also saw a version of myself in the year ahead who would take a small break from the rising death toll of people struggling with addiction in Illinois.
The story of my life over the past several years has been about moving out of crisis and into action—the crisis of my own addiction, and now the crisis of other people in my community who are struggling beneath the unnamable power of drugs. But art, too, is a kind of action. So here is the statement I couldn't read to the other fellows because, unfortunately, I am a very messy crier:
The year after I got sober, I tried to solve a 40-year-old murder in my hometown. My project is an investigation into the life and death of a gay record producer whose body was found in 1980 in a house across the street from where I lived. Informed by my own experiences as a gay, homeless person struggling with substance use in the same small Midwestern town, I look at the ways rural geography shapes consciousness and justice. Through memoir, community interviews, and court and police reports, I try to tell a larger story of queerness, crime, and class in rural America.
I can't help but think that all those decades ago, this murder went unsolved because it was difficult for the state to look too long at the death of a gay man from the middle of nowhere. And now, unbelievably, the NEA wants to help me tell his story. It feels miraculous, and I'm stunned with gratitude.