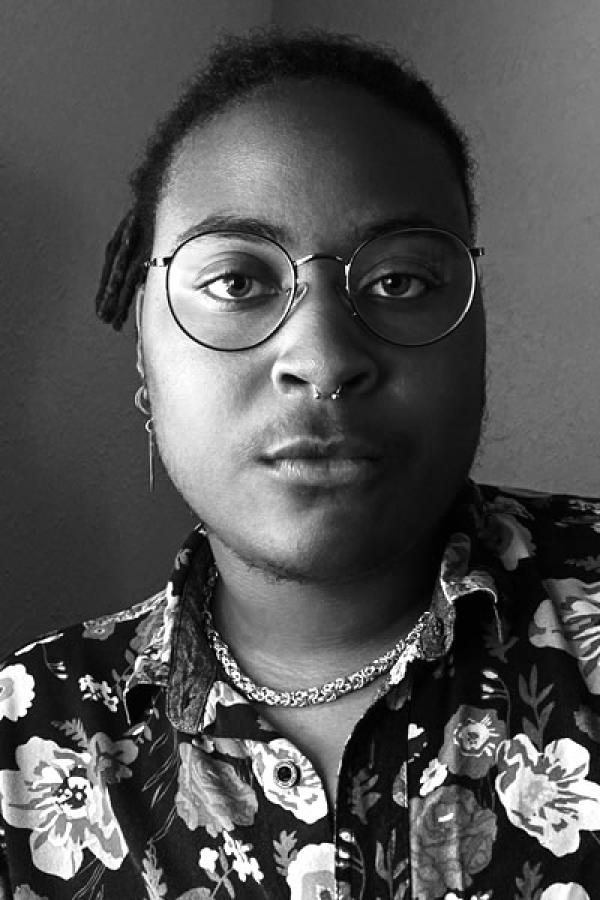 Bio
KB Brookins is a Black, queer, and trans multi-genre writer and cultural worker from Fort Worth, Texas. They authored How To Identify Yourself with a Wound (Kallisto Gaia Press), winner of the 2021 Saguaro Poetry Prize.  Their poem "Good Grief" won the Academy of American Poets 2022 Treehouse Climate Action Poem Prize. Brookins' poems and essays are published in Poets.org, Huffington Post, American Poetry Review, Teen Vogue, Electric Literature, Okayplayer, Oxford American, and elsewhere. Brookins has earned fellowships from PEN America, Civil Rights Corps, The Watering Hole, and Lambda Literary, among others. They have two forthcoming books, Freedom House (Deep Vellum Publishing, 2023) and Pretty (Alfred A. Knopf, 2024). Brookins is based in Austin, Texas, where they are an MFA candidate at the University of Texas at Austin, and a board member for Ground Floor Theatre and Texas Pride Health's PrEP for ALL Project.
I write to say something—politically, physically, sonically, emotionally—that gives light to the otherwise mystified experiences of my people. My people are those racialized, pathologized, disenfranchised; those who have had to feel their way through the dark to find themselves. Growing up, it was near impossible for me to find someone like me in my immediate space. To survive that experience, I immersed myself in books, diaries, and lit communities, always attempting to join/make space for others who were also under those conditions. Because that immersion quite literally saved me, I'm committed to writing towards my people and pouring back into the political-literary landscape for as long as I'm breathing.
Getting this support from the National Endowment for the Arts means I'm finally able to create without the added anxiety of money. Often, I've felt as if I'm not rich or noteworthy enough to be a writer, so having the validation of being an NEA Fellow, along with funding that will go towards my craft and community, will propel me into heights young KB could never fathom. During this fellowship, I will work on VINTAGE, a novel in verse and screenplay project on the life-saving necessity of Black queer friendship, and do my best to contribute to a future where my people get to learn, create, and be.