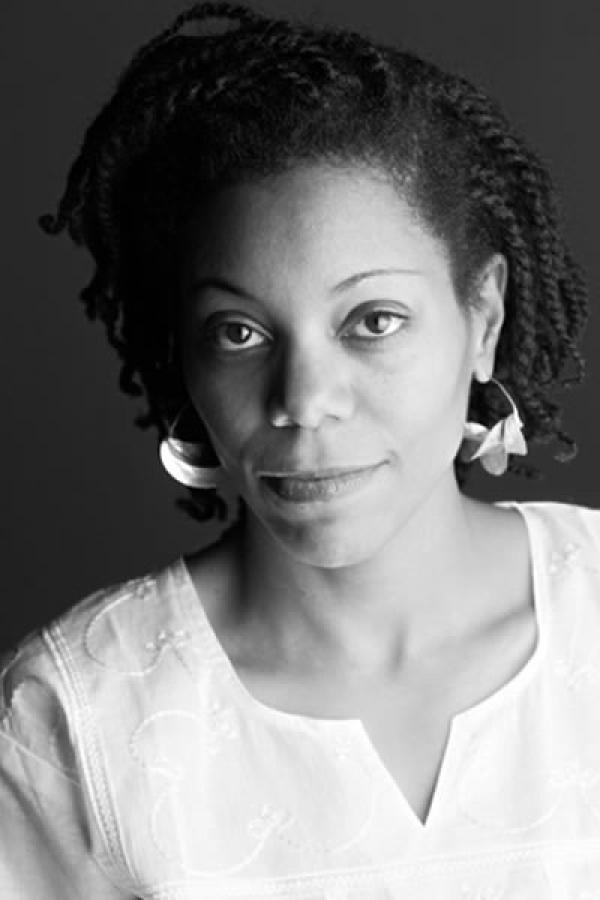 Bio
Kim Coleman Foote spent a year in Ghana, West Africa, as a Fulbright Fellow conducting research on the trans-Atlantic slave trade for her novel, Salt Water Sister. She inadvertently wrote a memoir and screenplay as well. Her essays, fiction, and experimental prose have appeared in Black Renaissance Noire, The Literary Review, Crab Orchard Review, Potomac Review, Obsidian, Homelands (Seal Press), and elsewhere. Writing honors include a Rona Jaffe Foundation/Vermont Studio Center Fellowship, Pan African Literary Forum Africana Creative Nonfiction Award, Illinois Arts Council Fellowship for creative nonfiction, Fine Arts Work Center Walker Foundation Scholarship, and residencies at Hedgebrook and VCCA. She earned an MFA in  creative writing from Chicago State University and is the fiction/nonfiction editor for Tidal Basin Review. She grew up in New Jersey and now lives in Brooklyn.
Author's Statement
Thirteen being my lucky number, I thought 2013 would be my year for writing. But with barely a month left, the stats were dismal. For three years, I'd faced a river of writing rejections and my resume had a gap as a result. For three years, I couldn't snag a residency, to use my precious vacation days to work in a supportive artists' community. For three years, I'd been unsuccessful at finding a home for my novel Salt Water Sister. After spending ten years on the manuscript, intent on sharing rarely heard African women's voices and the complexities of the slave trade with a larger audience, I was gearing up to give up.
And then the call came from the NEA.
This honor gave me the push I needed to continue trying to publish my novel. It's made me question less where I fall in the equation of commitment v. obsession v. self-deception. It's made me look forward to possibilities of travel to inspire my current novel-in-progress, and residencies I can create on my own if need be, now that I can afford it. It's made me grateful that my country supports and recognizes artistic labor by allocating funds for it. And despite the official award year of 2014, I've maintained my trust in thirteen.
Excerpt from Salt Water Sister
A few days later, Adwoa had been reduced to a prisoner, filthy and half-starved in one of the kasteel's dungeons. She'd lost count of how many times she'd vomited since entering that place. When her stomach eventually settled, she started to express relief but stopped herself; it meant she'd gotten accustomed to the lifestyle of a pig. The urine, menstrual blood, and other fluids on the floor no longer pierced her nose like daggers. She felt so shamed she refused to speak to the other women crowded into the cell, even her sister Tawia.
She wasn't the only silent one. The others sat slumped over or lay prone against the filthy floor. Those who weren't completely nude wore the same scrap of indigo they had arrived to the kasteel wearing. Adwoa didn't want to look at anyone but the women were everywhere. If she focused her gaze through the bars, she could spot more sad faces in the cells around the perimeter of the small yard.
Adwoa understood most of the languages of the few women who spoke, even though they used unfamiliar words. And then there was Tawia, with her lisp. Her blabbering that night two months ago—telling Adwoa and Owusu to quickly finish whatever they were doing in the hills outside Kwakrom—had alerted the roaming Asante soldiers to their presence.
"My sister here will help us all escape," Tawia announced to anyone who cared to listen. "When she's feeling better. You shall see."
"She should save her strength," one of the women responded.
"Don't let her small size mislead you. Where we come from, she hunted with the men. She almost killed the fat Fantse man who brought us here."
Adwoa had been resting her head on Tawia's thigh so her face wouldn't touch the floor. She met the girl's eyes and gave her a warning look as the women tsked in disbelief. It had been boys who she hunted with, and in secrecy, trailing far behind.
"Save your tales for children," said a woman who rested her head against the bars.
"I do not lie. I'm telling the truth."
"Wherever it is you come from," said another, "the men must have breasts and wear waist beads."
The insult almost made Adwoa lift her head from Tawia's thigh to spit out curses, but she was too tired. Tawia jerked her head in search of the women's laughter.
"Only if they are brothers of yours," she retorted.
In spite of herself, Adwoa smiled. She had always thought of Tawia as being meek because she was so obedient. Her mother sometimes complained about Tawia's sharp tongue, but Adwoa had never spent enough time around her to notice. Looking up at the girl, Adwoa saw that her eyeteeth were narrowed to points. Adwoa's four front teeth had been shaved similarly, at their father's request. She'd thought she was the only daughter he'd done it to. It was as though he'd decided to mold the younger Tawia after her. She'd never paid enough attention to realize it.
One of the women called out, "Our small huntress there is from Akyem Abuakwa."
"Akyem, eh?" asked a woman with a big gap between her front teeth. Her accent was unmistakably Asante. "It's no wonder they let their women hunt. Why do you think Asante so easily defeated them?"
"If Adwoa had been fighting in the war," Tawia muttered, "there would be another dead Asante soldier, which to me is a good thing."
The gap-toothed woman's foot would have landed on Adwoa's face if Tawia hadn't shielded her. Adwoa pulled her knees to her chest to avoid being trampled by the women who crowded in on Tawia. She felt her sister's arms flinging out and heard smacks and screams around them. They didn't settle down until the Burofo soldiers in the courtyard threw cold water through the bars of the cell. Adwoa noticed Tawia's nose was bleeding. Several of the women had cuts on their faces and chests.
Adwoa wanted the shush the woman who suddenly sucked her teeth and muttered, "If this Akyem girl frees us, I shall not go. It was Akyem soldiers who raided my community and sold everyone they didn't kill."
Adwoa refused to believe that. The majority of the people she'd seen on the coffles passing through Kwakrom had been men. From the glowers on their faces, everyone understood most of them to be enemy soldiers captured in retaliation attacks. She and other children would throw stones at them and sing the song they'd invented during the great war between Akyem Abuakwa and Asante: "See the Asante porcupine! He has lost his quills-o. Even a child's rocks can hurt him. He has become a rat-o!" If the people of Kwakrom had seen those kasteel cells, maybe they would have stopped their singing.
"Does it matter what any of us have done?" a Fantse woman cried. "Is there anyone here who thinks she deserved this?" All was silent. "I thought I knew hatred before, but I would not wish this life on my enemies. And who were my enemies but Asantes and now Akyem? We women didn't create these wars. These Burofo who have bought us, they know nothing of who we are. When it comes to trading, a Fantse is the same as an Asante to them. They don't care."
Interview by Paulette Beete, December 16, 2013
Kim Coleman Foote is no stranger to awards--her FY 14 NEA Literature Fellowship joins a long list of honors, including an Illinois Arts Council Fellowship, a Pan-African Literary Forum Africana Creative Nonfiction Award, and a Fulbright Fellowship to Ghana. Foote's resume is not surprising given that she wrote her first query letter--to Scholastic--at 13, and spent a chunk of her childhood writing five one-hundred-plus-page fiction manuscripts by hand. For her NEA-supported project, Foote enters the world of speculative fiction to explore the West African slave trade. As she told us when we interviewed her by e-mail, Foote considers her writing a type of advocacy and a way "to give my readers hope that we can work to eliminate social inequality." Read on to learn more about Foote, including her list of must-reads, why she traded in the pursuit of a PhD for an MFA, and how a yellow ukulele just may have been the thing that started her career in the arts.
NEA: What's your five-word bio?
KIM COLEMAN FOOTE: She whose daydreams demand words.
NEA: What do you remember as your earliest experience of or engagement with the arts?
FOOTE: My mind immediately pulled up the familiar anecdote: I am seven years old and jealous. My brother has written a story that's stolen the attention of my mother's friend away from me. I can write a story, too, I think, rushing into the bedroom. I grab one of those fat red pencils and green paper—the kind turned sideways, with lines to help you shape your letters. In minutes, I bang out a piece of flash fiction years before the name is invented. And it does the trick: the spotlight returns to me.
I was halfway into this memory when I realized it's not an accurate response to your question. I'd somehow associated "the arts" with the physical act of writing. After all, I've received the NEA fellowship for writing, and writing has been the most dominant creative expression in my life for so many years. When I broaden my definition of "the arts," though, it's easy to fly back in time to my second birthday, when I get the yellow ukulele-sized guitar. But technically, that doesn't quite count as engagement either. My father, demonstrating how to play the thing, snaps a string before I can try it.
My mind leaps ahead to age three, when I'm wearing a leotard and white stockings. I'm at the back of a class full of girls anxious to learn tap and ballet. By age seven, when I pencil that first story, I'm in the front row of dance class, studying tap exclusively, determined to become not only a writer but a dancer and visual artist as well.
I guess it was so hard to figure out my earliest engagement because the arts formed a natural part of my surroundings growing up. Beyond dance class, the living room housed my father's pair of conga drums, which he played for the local band he managed. On weekends, I awoke to classic soul playing on the kitchen radio, and my mother taught my brother and me to clap along. She read many books to us, and my brother and I were inspired to create our own drawings and stories. My parents also took us to museums, libraries, and dance performances. This was all reinforced in my elementary school, where art was my favorite period, and where creative writing was part of the curriculum.
NEA: Why do you write?
FOOTE: It's like this: you're at a concert for your favorite band, and someone's mummy-wrapped you (why they've done such a thing is of no consequence here). Being so wrapped, you can't even tap a toe to the beat. That's how I would feel if I couldn't write.
My imagination functions like a TV that channel surfs on its own. My head is always full of snippets of dialogue, scenarios, music clips, dance moves, and ideas for clothing design and hairstyles. Writing is the most consistent way that I've released this creative energy.
I also write to give voice to the lion's tale, after the proverb, "Until the lion tells its history, the story of the hunt will always glorify the hunter." I write to challenge notions of a social hierarchy, to give my readers hope that we can work to eliminate social inequality. I've rarely been one to join rallies, organize people, or help to build a social movement, and I used to feel conflicted about it. But the more that I share my writing, [the more] I realize its impact. It's the best feeling when I give readings and learn that the audience has connected with my characters' lives and emotions despite having very different backgrounds.
NEA:  What was your path to becoming a professional writer?
FOOTE: In a nutshell: overdosing on reading, unconsciously learning narrative structure through it, writing many manuscripts, and receiving positive feedback along the way.
As I mentioned, I was pretty young when I first envisioned becoming a writer. By thirteen, I'd read countless novels and had handwritten five 100-plus-page fiction manuscripts. I solicited Scholastic to publish one of them. I didn't even know what a query letter was; mine was hand-written, on yellow legal paper! Soon after, I received my first professional rejection letter, from an editor who urged me to keep writing.
I might not be writing today if I hadn't received encouragement so early from that editor and other people. There was my mother, telling me that my writing was a gift. "Even if someone took away your hands," she used to say, "you still have what's in your head." Then there were her cousins, who gave me poetry books and declared, "A writer writes," when I lamented about a dry spell in my teens. There were my teachers, who were excited that I was writing. I'll never forget my seventh-grade English teacher, who'd volunteered to critique one of my novels, telling my mother with glowing eyes, "We haven't seen one like her in years!" There were my friends, who talked about my characters like they were members of our circle. There was my writing mentor, a local published author my mother helped me find, who taught me I could live my dream. Upon graduating from high school, I'd completed twenty short stories, ten novellas, and a novel.
Creative writing continued throughout college. I edited a campus lit mag, wrote short stories and poems, and plunged into a novel. I considered pursuing a PhD in history or anthropology when I graduated, but after four years of rigorous undergrad coursework, I feared my creative writing skills would atrophy even more. This became clear after college, when I finally had time for pleasure reading again. When I reviewed my novel, I was shocked to recognize that my working-class black protagonist narrated in the formal diction of my college research papers, complete with semicolons and words like "however," and "therefore."
Two opportunities pushed me to consider an MFA in writing. Not long after college, I received a yearlong Fulbright Fellowship to conduct historical research in Ghana, where I'd studied for a semester in college. After having learned about the horrors of the trans-Atlantic slave trade there, I felt compelled to write a novel, to give voice to African women's rarely recorded stories. Around the same time, I was growing frustrated in my search for PhD programs. I'd compiled a list of several, but none of them quite fit my research interest: the historical and cultural legacy of African slavery in Latin America. The summer before my Fulbright began, I chanced on applying to a fiction workshop sponsored by the Zora Neale Hurston-Richard Wright Foundation. Surrounded by a plethora of writers for the week, I realized that my research interests were all related to my passion for writing fiction, not a dissertation. I started my MFA program two weeks after returning from Ghana.
Midway through the program, I was in trouble: I had no prospect for a thesis. I'd given up on the novel I used to apply to the program, realizing it was going nowhere. I'd taken a screenwriting class and had written a script based on ideas for my Ghana novel, but I couldn't submit it for a thesis since the class wasn't part of my MFA program. My Ghana novel was barely 60 pages, and I couldn't foresee completing it in a year, so that wouldn't work either. I'd also registered for a creative nonfiction workshop and had nothing to submit. In desperation, I turned to the pile of notebooks I'd filled in Ghana, hoping I could use them as notes to cobble together an essay for class, and to whip up an essay collection for my thesis.
At the time, I didn't consider anything in my journals "writing." In fact, I never had, even though I'd kept journals consistently since I was twelve. My rationale was that I was a fiction writer, and journaling was random thoughts. When I'd finished typing my Ghana journal entries, I was astounded to discover that I had more than 300 pages of text that was far from random. I was able to shape these words into vignettes, using the fiction techniques I'd known for so long: characterization, dialogue, plot. I further developed these vignettes into a memoir—the first book-length manuscript I'd finished since high school. It was this manuscript that enabled me to graduate from my MFA program and launch my professional writing career. I would go on to send a query letter for the first time since I was a kid. An excerpt from the memoir would give me my first publication. In fact, the bulk of my publications thus far have come from the memoir. I would also win two writing fellowships, one of which would bring me back to Ghana. And it's crazy to think that the memoir almost never existed.
NEA: What's the "elevator-pitch" description of the project for which you've received your NEA fellowship?
FOOTE: Imagine a place where you can buy a woman at the market and call her your sister. Where Dutch men, far from home, have secret black families and live in a castle. A castle where black women, men, and children are locked in dungeons, destined to never return home.
This is a place most of us never learned about in school: the West African seaport of Edina. The year is 1744, and a young mulatta is on the verge of suicide. She finds salvation through an unlikely bond with two captive African women, who desire their freedom more than friendship. But the only way out of Edina might be on a slave ship headed to America.
NEA: What is speculative fiction, and what attracts you to it as a genre? As a writer? As a reader?
FOOTE: First, I must say I'm not a big fan of labels. Labels can confuse or overcomplicate things, and they allow little breathing room for hybridity. I use these disclaimers in hopes that die-hard sci-fi fans won't cringe too much as I continue.
The term "speculative fiction" is relatively new to my vocabulary. From my understanding, some consider it a subgenre of science fiction, whereas others use it as an alternate name for science fiction itself. It seems to refer to alternate realities that force us to suspend disbelief in a major way. There can be invented countries or political systems, ghosts, or elements of non-Western spirituality, for example. If they're set in the future, they don't delve so much into technological advances. The term also seems to apply to texts that are literary in nature.
My attraction to the genre began like I suspect it did for many: during childhood, when you accepted that a little train engine had a human face and aspirations, and that there really was a goblin hiding under the bed at night. You also believed that a portly man could squeeze down your nonexistent chimney each year—talk about suspending disbelief! Beyond this, my family wasn't very religious, which allowed me to develop an interest in the occult. My father, a fan of sci-fi and horror movies, had a series of books on ESP, reincarnation, UFOs, astral projection, and the like—the perfect fuel for my already overactive imagination. My earliest works of fiction featured a woman who was part fish, and a boy who shrinks to the size of his hamster. During high school, I wrote a story from a rat's perspective, and another where an elderly man transforms himself into a cat.
Fortunately, it wasn't until many years later that I heard that adage, "write what you know." Many of us encounter this for the first time through a well-intentioned creative writing instructor. While it's a helpful guide for beginning writers of realistic fiction, I think it's detrimental for those craving to do something different.
As a reader, speculative fiction represents for me the ultimate escape from reality in literature; I'm sucked into foreign landscapes that should make no sense. As a writer, it allows me to challenge myself to the utmost, push boundaries, and stretch my imagination to unbelievable heights. In my African novel, one of the characters hears voices and sees visions. The novels of Amos Tutuola and Ben Okri, with their detailed descriptions of beings encountered in the spiritual world, inspired me most. You can do that? I remember thinking. As I brainstormed from my character's perspective, I was shocked by the scenes that flashed into my head. Her visions became even more vivid and bizarre. I had moments where I wondered just where my imagination came from, if it was really just me, alone, inventing from air.
With my novel-in-progress, a utopia/dystopia narrative set in the future, I get to make all the rules, creating a country from scratch—government, economy, society, history—in addition to creating the characters and plot. It's terribly daunting but exciting at the same time.
NEA: If I wanted to take a crash course in speculative fiction, who would you recommend I read--and why?
FOOTE: I must admit that I prefer realistic fiction, but since I tend to avoid reading dust-jacket blurbs, some other types of fiction have snuck onto my favorites shelf. I'm cautious about labeling anyone's work, so I'll give you a list of books that were powerful enough to make me momentarily lose my grip on reality. Many of them influenced my novel-in-progress.
Octavia Butler tops the list. I've read most of her fiction, and none of it is situated in reality. It seems like many people enter her work through her novel, Kindred. The black protagonist travels back in time, where she must save her ancestor—a white slave master—so she can survive in the present. As intriguing as that sounds, I would start with Dawn, The Parable of the Sower, and Wild Seed. These involve aliens with dreadlock-like tentacles, a bleak California future, and an extended clan of immortals, respectively. Not my typical go-to for fiction, but Butler's narrative authority reigns supreme: her worlds are just so convincing, horrifying, and mesmerizing, and the fast pace makes her books hard to put down. I also admire how she challenges characters of different races, ages, and cultures to solve problems together.
Margaret Atwood's The Handmaid's Tale: Women are forced to serve as breeders for older married couples. If they don't give birth, they're presumably eliminated. For the bulk of the novel, the protagonist is confined to her bedroom, but Atwood manages to weave in a brilliant story of this very twisted society, along with the protagonist's palpable despair and moments of hope.
George Orwell's 1984: Though the year 1984 is long gone, Orwell's classic still manages to feel like an imminent future that thankfully hasn't happened, at least not in its entirety.
Agymah Kamau's Flickering Shadows: The protagonist drops dead in the first few pages and narrates the rest of the novel as a duppy—a ghost. I wasn't expecting that at all. The ghost tries to interfere in his family and friends' lives, with sometimes humorous, heartwarming, and tragic results.
Gloria Naylor's Mama Day: What seemingly begins as a New York love story turns into a mystical battle between good and evil in the Carolinas, led by a woman who can conjure lightning from the sky. I wanted to take a trip down South to find my own Mama Day.
Charlotte Perkins Gilman's Herland: Male explorers stumble across a society completely inhabited and governed by women who've never encountered gender bias. Gilman had eugenics leanings—which I was disheartened to learn—but through her novel, she inadvertently created a template for challenging and combatting prejudice and ignorance in general. At least, for those who believe that human equality isn't science fiction.
NEA:  The holidays are upon us. So which artists--past or present--would you invite to your fantasy holiday party, and why?
FOOTE: I've had opportunities to hobnob with many of my favorite contemporary writers through readings and classes, so I'd invite writers I'll never have a chance to meet. In particular, just about everybody who was active during the Harlem Renaissance. In addition to being great writers, they knew how to party, if Richard Bruce Nugent's and Wallace Thurman's novels are anything true to life. I'd keep Ann Petry, Nella Larsen, Zora Neale Hurston, Lorraine Hansberry, Langston Hughes, and James Baldwin especially close the whole night. It would be amazing to engage in deep conversation one moment and be up dancing the next. And I'm sure someone could teach me how to jitterbug. And someone would have ignored the "writers only" invite to bring along Cab Calloway, Jelly Roll Morton, and Ella for live music, and James Van Der Zee to photograph it all.
NEA:  What are your art-full resolutions or plans for 2014?
FOOTE: Write more. Get accepted to a residency so I can write more. Travel and get inspired to write even more. Finish a draft of my novel, in particular. Thanks to the NEA, it'll be easier for me to accomplish these things without having to worry about finances.
Beyond writing, I'd like to continue studying sabar, a high-energy dance from Senegal. I've also had DJ and singing lessons on my to-do list for a long time, so 2014 might finally be the year. Basically, I've been having a love affair with Congolese popular music, and I intend to spread its wonders to as many people as possible. For the past few years, I've helped coordinate a pan-African dance party, African Soul Jam, so the DJ hat shouldn't be too hard to fit. My ultimate fantasy, though, is to create a Congolese rumba revival band, '70s style: bell bottoms, platforms, and the horn section restored. Even if it takes me 20 years (I can't quite sing, can't quite play the guitar, can't quite convince my non-Congolese friends to sing in Lingala with me).
NEA: Here at the  NEA, we say "Art works," meaning the works of art themselves, the work that art does on us as people, and also to reinforce that artists are workers. What does the phrase "Art works" mean to you?
FOOTE: I agree with your definitions, especially art as work. Of course art is work. Dancers don't develop muscles from doing nothing. Musicians don't develop callouses from doing nothing. And even writers, who tend to be more sedentary as they create, risk a repetitive stress injury (aka, carpal tunnel)!
This question makes me consider a few others: "Why does art work?" and "How does art work?" and "For whom/what does art work?" A friend of mine once shared an observation he'd heard, that most of the material objects surrounding us today are the result of someone's vision. We were in a restaurant at the time. As I looked around the room, I realized I could never see anything the same again. Because in addition to the photos and paintings on the walls, I started wondering who'd designed the spoon I held, the table, the floor tiles, the light fixtures.
Beyond that, there are the things that are so mass produced or common that some might never venture to consider them works of art, like a screw, or a light bulb filament, or the design of a city street, or the shape of a bread loaf. The way I now see it, all art works to serve a function, even if the result is something intangible and personal, like an emotion. And I know I'm not alone when I declare that this matters: art works to shake the rickety rafts of my half-truths. Art works to give me nightmares and dreams. Art works to help me see a way out of life's many mazes. Art works to keep me connected to others and to the world around me.