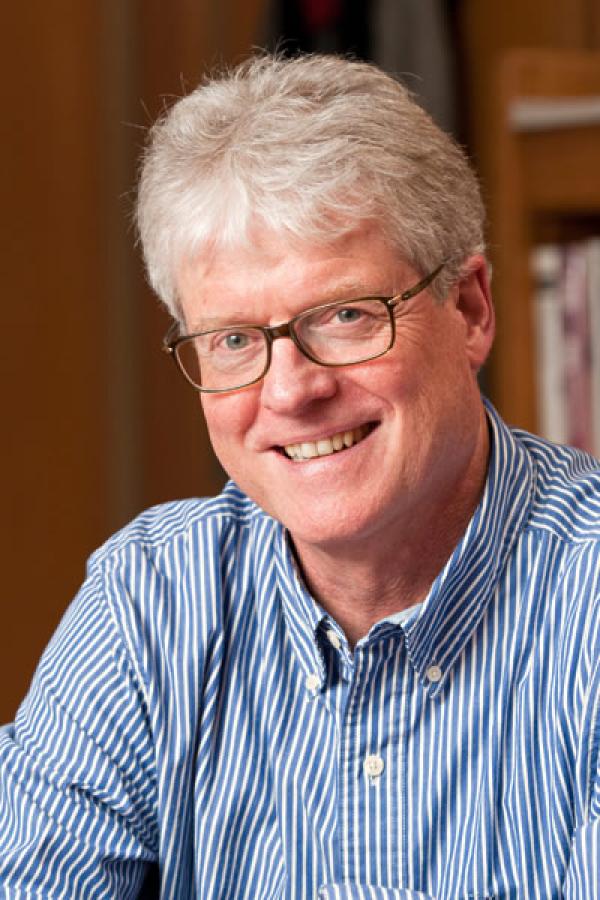 Bio
Richard Holeton is author of the hypertext novel Figurski at Findhorn on Acid (Eastgate Systems, 2001), other electronic and new media fiction, and short stories, as well as college textbooks and scholarly articles. His stories have appeared in the Indiana Review, Mississippi Review, ZYZZYVA, Black Ice, and other literary journals; his previous awards include a fellowship from the California Arts Council. He has published, exhibited, or performed electronic literature in venues including Kairos, Counterpath Press Online, The Future of Writing conference, and the Humanities, Arts, Science, and Technology Advanced Collaboratory (HASTAC), and his work is included in the Electronic Literature Organization's 2006 anthology, The Electronic Literature Collection, Vol. 1. He's currently Director of Academic Computing Services at Stanford University, where he previously taught writing for 12 years. He has a BA from Stanford, and MA and MFA degrees from San Francisco State University. Links to publications are available at richardholeton.org.
Author's Statement
The NEA fellowship has been like a pivot point for me, instantly changing my attitude and confidence about my writing, and especially altering my sense of urgency about creating new work. It may sound cliched to say that it's not the money but the recognition and acknowledgement by the panel that is really meaningful. Nevertheless, that is certainly the case for me. I'm not widely published and only a handful of people have read my fiction. My corpus of finished work is very small -- more like a homunculus than a body of work. To get this kind of concrete encouragement from the NEA -- including the infectious enthusiasm of the staffer who called me with the pre-announcement -- is for me a beacon in the fog (and I live south of San Francisco, where the fog can really roll in off the Pacific).
Excerpt from "Product Placement"
Fiona pads back down the stairs in her Splaff Gladiator flipflops (which, I never tire of reminding her, to her endless mortification, were known to the Older Generation as thongs). She has thrown her Old Navy® Tropical-Print Poplin Capri's on over the BC Apparel Blackwatch Tartan Classic Flannel boxers she had been sleeping in, whose waistband sticks up, just so, around her midriff. Fiona is nothing if not stylish, even at 4 a.m. She carries the two steaming cups of Celestial Seasonings Red Zinger®, but there is no place to put them -- there are barely spots on the carpet where one can put one's feet -- amidst the Domino's Ultimate Deep Dish™ Pizza box (doesn't she know that Domino's is evil and fascist?); crumpled cans of Diet Cherry Coke™ (same as the characters had been drinking on TV); rumpled pairs of Gap® Pencil Cut Tinted Authentic jeans; Old Navy® (again!) Ribbon Tanks with Satiny Bow in Fresh Air Blue, Bungalow Pink, and Surfer Orange; and countless thongs (the barely-underwear kind) which I do not wish to discuss, except insofar as they are Target® Women's Seamless Thongs, and Target participates in vaguely progressive community causes by giving to schools and by hiring Special People, unlike anti-abortion Domino's.
Standing, I hit my head on the Epoxy Powder Coated Steel Frame of her Ikea® Tromso bunk bed. I swear and drop the phone, half hoping it will now be lost forever in this teenage morass. However, guided by the glowing, blinking, and oddly comforting Sleep light of her 14" Apple iBook G4/933 1-GHz with FireWire and USB 2.0 -- somehow still visible on her desk through a thick camouflage of paper and clothing -- we retrieve the Nokia, which I think Fiona could find even if the whole house collapsed into a rubble from the 7.5-magnitude earthquake that scientists say is inevitable around here in the next decade or two.
-- You still there Lawrence?
-- Yeah.
Warmed by the tea, I listen as Lawrence shares his suicide options. Last time, I recall, he threatened to hang himself, from a tree in the woods near our house, with a 30-foot length of Ace® Hardware 3-Strand Twisted Nylon Rope ("too much elasticity" wryly commented the police officer who intervened, along with my wife and half the neighborhood, following the frantic calls from Fiona). Now he is considering:
Ingest bottle of Benadryl® Severe Allergy & Sinus Headache Easy Swallow Caplets.
Tie Safeway plastic produce and grocery bags over head and seal with Duck Brand® 3" Core Gray Duct Tape.
Combine Benadryl®, Safeway bags, and Duck Tape®.
Slice wrists with Schick® Quattro™, The World's First 4-Bladed Razor with Ergonomic Handle Design for Advanced Precision and Control and Anti-Clog Technology for Improved Rinsability.
Suck exhaust from mom's Forest Green 1996 Dodge Grand Caravan ES minivan with 3.8L engine, Captain's Chairs, Easy-Out® Roller Seats, and Towing Package.
Jump off Golden Gate Bridge.
Blow out brains with friend's dad's 10mm Auto Glock® 20 handgun with Aro-Tek™ Hybrid Compensator and Titanium Spring Guides™.
Take Our Instant Poll -- I imagine the text scrolling on CNN's ticker -- which method of suicide do you think Lawrence should choose?
Fiona has excavated her 14" iBook G4/933, flipped open its familiar Apple icon and Think Different® sticker on the Opaque White lid, and brought to life about two dozen slumbering windows containing, mostly, AOL Instant Messenger (AIM®) sessions with various friends or groups of friends -- speedy IM sessions made wirelessly possible, as I often remind her, by my SURFboard® SB3100 Cable Modem, Instant Broadband Series™ Linksys Etherfast Cable/DSL Router, and strategically placed Apple AirPort® Wireless Base Station, whose sleek flying-saucer shape can be glimpsed in the hallway through Fiona's bedroom door.
As if reading my mind, Fiona Googles the suicide question in a window of her Mozilla Firebird 0.7.1 beta Web browser: statistically, she finds, 86% of teen suicides are male, and teenage boys prefer the gun by far.
-- Crap, Fiona says from her keyboard, Lawrence is saying he's listened to all the songs about suicide at songsaboutsuicide.org. She is IMing furiously with Lawrence and, I gather, several others.
-- How many of your friends are online at this hour?
-- God, Dad. Please. She squirms away as I try to peer over her shoulder.
The Nokia flashes and makes a Custom Downloadable Ring Tone that I haven't heard before. Helplessly I hand the phone to Fiona. She reads her incoming Text Message and replies in a blur of bilateral thumbing, demonstrating a digital dexterity that ensures I will never again challenge her to one of the Thumb Wars we loved back when she was Daddy's Little Girl. So long ago. Lawrence has sent Fiona "Adam's Song" by Blink-182 from the album Enema of the State (Parental Advisory: Explicit Content, available on the Apple iTunes® Music Store but illegally fileshared by Lawrence and Fiona), the song that gained national notoriety as the soundtrack for a Columbine High School student's suicide in 2000.
CNN is showing an inventory of the contents of Saddam's shack, and I gesture urgently for the phone. Helpfully, as a kind of compromise, Fiona places it into the cradle of her bedside DCH-12K Nokia 3285 Hands Free Speakerphone.
-- Lawrence, listen to this.
Amidst Saddam's rusty bed with fuzzy, mismatched blankets, the salami hanging from a clothesline, the fly swatter and the garlic press and the mini-frig with brown eggs, vegetables, and fruit are a book on interpreting dreams, two volumes of classical Arabic poetry titled Discipline and Sin, and a copy of Crime and Punishment by Dostoyevsky.
-- Who cares, says Lawrence, although there was a slight modulation of his breathing with mention of the Dostoyevsky. Lawrence may be troubled, but he is well-read. The intrepid, embedded TV reporters complete the catalog of Saddam's bunker, which will no doubt appear on the front pages of tomorrow's newspapers:
box of Lipton® Ice Tea;
two cans of Raid® Ant & Roach Killer;
cake of Palmolive Naturals™ Original soap;
bottle of Dove® Intense Moisturizing Shampoo; and finally,
75-gram stick of Lacoste Pour Homme® deodorant, the elegant, fresh, green and tonic eau de toilette for all sportsmen with a winning attitude.
I am spellbound by the inventory, repelled yet delighted at the same time. What does it mean that Saddam's pathetic hideout is stocked with the same products as our kitchens and bathrooms? Did Proctor and Gamble and the others try to prevent -- or conspire to obtain -- these free product placements?
-- You can't make this stuff up, Lawrence! I say Hands Free. It's on CNN, The World's News Leader®!
Fiona shoots me the look that means I am Talking Way Too Loud, Stop Shouting at the Speakerphone. I thought I detected from Lawrence a stifled giggle (it may have been a suppressed sob) at Saddam's deodorant, my favorite item also, but he does not admit to sharing my enthusiasm:
-- The News is, the World sucks, man.
-- Tell me about it.
And he does. Lawrence tells me the Gnostic belief that the Soul is trapped at birth within the Flesh of a human body and is released only upon Death.
I am impressed, stunned even, and at the same time strangely calmed by Lawrence's research and erudition on the logic of suicide.
-- I agree that our species is behaving badly, I say. And I agree that All We Are is Dust in the Wind (Fiona scowls and sticks her finger down her throat at the allusion to a '70s song)... Or that, as they said on some Star Trek episode, we are just Ugly Bags of Mostly Water.
-- It was Star Trek: The Next Generation, says Lawrence. It was Episode #18, "Home Soil," Stardate: 41463.9.
-- Right, I say, as if knowing the episode numbers and Stardates of specific Star Trek shows is normal, but thinking that at least we have some cultural currency in common.