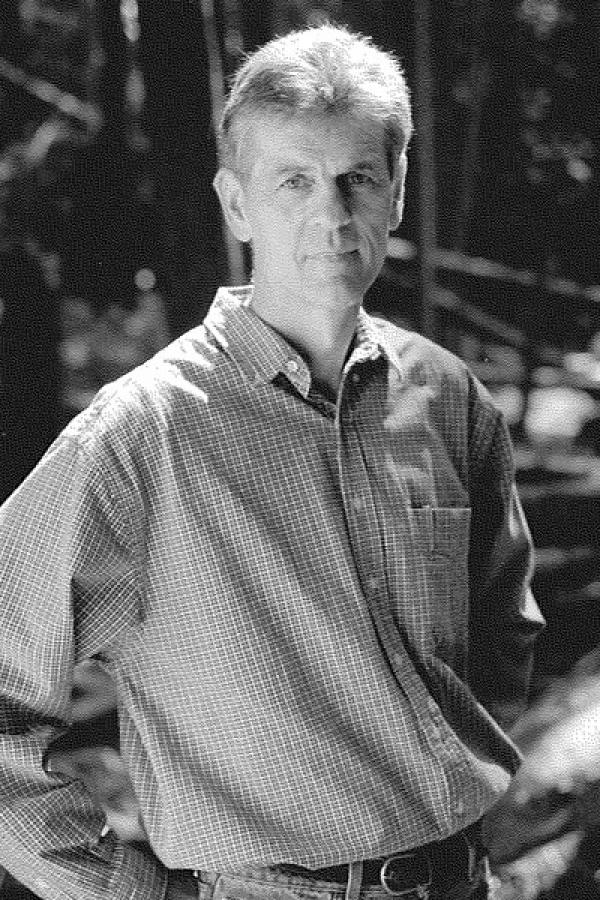 Bio
William Johnson teaches at Lewis-Clark State College in Lewiston, Idaho. His critical study, What Thoreau Said, appeared in 1991. Published later are two collections of his poetry, a chapbook, At the Wilderness Boundary, and a full collection, Out of the Ruins, which won the Idaho Book Award for 2000. Johnson has received fellowships from Fishtrap, the Environmental Writing Institute, the Idaho Humanities Council, the Idaho Commission on the Arts, and the National Endowment for the Arts. He served as Idaho Writer in Residence from 1998-2001.
Author's Statement
In the woods near my father's apartment, I found a mouse on the path. It lay in the cleft of a tree-root, as if asleep, and when I knelt to touch it, its body was still warm. I saw no sign of a wound. Had an owl or hawk swooped down, caught and lifted it, then unwittingly let go? Had it succumbed to a malignity that left no visible calling card? 
The ground cottoned with frost, I saw no tracks, no sign of struggle. Staring at the mouse, I thought of my father in his rocker nodding, half asleep. He was ninety, incontinent, asthmatic, feeble in the wake of a stroke, slipping away from me. Suddenly the mouse seemed to tremble. In the instant before I thought, it had risen from the dead. It had been silently speaking to me, saying Look, Listen, Touch, Feel. . . 
Angles, avenues, tangents of possibility began to widen -- hawk, owl, mouse, my father -- and slowly, the mouse's left ear (a tiny tufted petal) began to twitch. Awkwardly, a yellowjacket backed out, rubbed its front legs and sputtered up toward the cool October sun.
A recurrent anxiety prods me to write. It's a feeling seeking form, half-given form, by whatever nags or prods me; glint of bottle glass by the road, a woman's downcast eyes, or a mouse dead on a path. Intersections as yet inarticulate, perhaps unsayable, trigger a felt change, and if I'm lucky my anxiety -- whether dread, bliss or something between -- lets words in, and the words move toward a pattern, jumping ahead in hopes the pattern will grow, lapsing back to find it again, and in the process, if I'm lucky, in moments rare as they are redemptive, becoming a poem.
"After Barnswallows"
In a heart-blink--the time it takes
to climb a stubble-cluttered hill--
they burst through shinglecracks of light
unroofed in a barn sagging under
warped slats, laminar gold
a rapture of ribgaps swallows
dart through, shrapnel scattered
over a pine-stippled windbreak only
to regather, blueblack backs and rust
flared breast-quakes as they tack and
veer, motes on the evening's hem
when from a rain-rotted woodpile
moths cocooned in crannies rise
to be taken, dozens--no, hundreds
snuffed as the door falls shut,
the bluff squeezing its last bronze
hinge, a wing stuck in my throat.